CNers have asked about a donation box for Cloudy Nights over the years, so here you go. Donation is not required by any means, so please enjoy your stay.


0
West Virginia Observing Part II
Nov 20 2006 07:01 AM | galaxyman in
Travels
Discuss this article in our forums
West Virginia Observing Part II
For the last couple years, I have been able to setup a vacation/astronomy trip in the Fall for the Chesmont Astronomical Society, to my favorite place called West Virginia.
My family has been going there for nearly 20 years, and I just can't get enough of it. The scenery during the peak of Autumn is astounding. Of course very dark skies are also a huge draw for me.
Last year when we went down to WV, tropical storm Tammy ruined the possibility of observing. Even though we didn't get lots of rain, the mist and clouds kept us in during the nights.
This year was a different story. The first night, my wife, Dr. Robert Werkman (Doc), and I had a great time on Dolly Sods Mountain as talked about in a previous post. The following day more of the Chesmont troops came down from Pa., though it wouldn't be till Saturday that we would be able to observe again. That really didn't matter, because of how Saturday night turned out!
On Friday morning the last of us which included both my daughters and as Doc called them "their male concubines in tow". Most of us were staying at a real nice place in the Canaan Valley called the Windwood Fly-in. Doc and his wife stayed at Blackwater Falls that is just north of the Valley.
So the forecast on Friday was after a front passed, we would have great weather till later Sunday morning, and that Saturday night would be very good. So it was time to start planning for Spruce Knob. Saturday morning was bright and sunny with not a cloud in sight, and it stayed that way all day and of course all night!
The plan was to leave well before sunset, and get up to the mountain for some sight seeing and leaving much time to set the scopes up.
The view from atop of Spruce Knob is inspiring. As you look out at the surrounding region with mountains, some topped with neat granite formations, and forest with the colorful leaves, you could hear the words of John Denver "Mountain Mama"!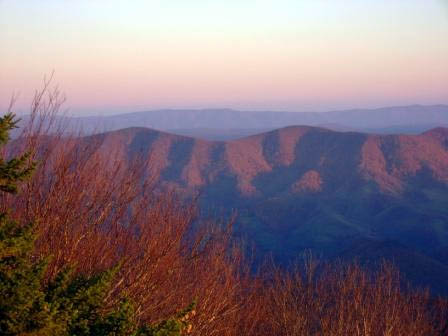 The sunset was and is amazing from up there. As the Sun sinks in the West, shadows from the distant mountain peaks trace dark rays in the sky. That brings allot of Oohs –aahs!
Now it starts to get dark, many stars are appearing, and the Milky Way overhead is starting to appear, though its not even close to dark. This is going to be a good night, and the Orionids will also be an added attraction.
The line up for this night whereas follows. First the virgins of the Knob.
Doc with his 18" Obsession (wife back at the lodge). Tom with his 8" f/6 Orion dob and his wife Jan. Josh with his Meade 8" SCT and his wife Jen. My daughters Jillian and Allison (though she has been on Spruce Knob years ago). Their boyfriends John and Christian.
Then we had the following that have been to the Knob. Ted with his 18" f/4.5 Obsession and his wife Tracy (she was a first timer). My wife and I with my Antares 6" f/6.5 refractor. Then coming up just after night fall was Rob and his 16" f/4 dob. We also had a fellow from Maryland named Dave with his 11" SCT.
Now that night was really settling in, everyone was amazed looking at the sky above. There were so many comments already going on about the starry rich sky and the vivid Milky Way, that nobody was using their scope, though that would change quickly.
I started again with M-27 so the gang, and in particular the family could get a view of the Dumbbell. With a 10mm Radian (99x) they were not disappointed. The view itself was even better than the other night from Dolly Sods.
Next was M-57 in which my daughters would call the "Eye in the Sky" when they were little. At 141x using a 7mm Nagler, the Ring took on a textured look, with light variances throughout the "Eye". The background sky was the blackest of blacks.
On to the Veil nebula. Using a 2" Orion Ultrablock filter on a GSO 42mm SW (24x) showed much of the complex. So I installed a Meade 5k 18mm UWA (100x) to get a closer look at each part. Ngc-6960 looked like a dagger driven through 52 Cygni. Ngc-6974/6979 the central part of the complex was fainter, though could easily be seen. Ngc-6992 the bright arc had that tatter rope appearance, with lots of stands. Using the slow motion controls, I could follow the arc from one side to the other.
In Pegasus, I found the galaxy Ngc-7217. This bright face-on spiral gave the appearance of a planetary nebula. In the Meade 5k 8.8 UWA (113x), the galaxy had a very bright nucleus surrounded by a round mottled disc. It did look like a planetary nebula with a bright central star.
On to Ngc-7331. With a 10mm Radian (99x) the bright galaxy stood out very well. It had a broad bulging nucleus and was very elongated. Switching to a 7mm Nagler (141x) Ngc-7331 was even better. Then I noticed the background galaxy Ngc-7335 was visible, as was Ngc-7340. These galaxies are 13.5 mag and 13.7 mag respectively. Not bad for a 6" scope! The other two Ngc-7336 and Ngc-7337 were not seen.
M-15 was next. Started with the 10mm Radian (99x), which resolved many stars, and showed that blazing tight center region. So I went right up to a 3.5mm Nagler (283x). At this power the glob was resolved beautifully. Stars remained tiny points against a pitch black sky. Refractor views are nice!
M-2 in Aquarius was next. I used the same eyepieces as with M-15 to compare views. Here again lots of stars at 99x, and resolved very well at 283x. I like M-2, but I love M-15 more.
Now going a bit out in space to the Pegasus 1 galaxy cluster located about 250 million light years. The cluster is dominated by two large elliptical galaxies Ngc-7619 and Ngc7626. At 71x (Meade 14mm plossl), both galaxies looked like fuzzy headlights with bright nucleuses. Pumping the power up to 141x with the 7mm Nagler, I was able to make out other members Ngc-7611 (slightly elongated), Ngc-7623 (slightly elongated), and Ngc-7631 (faint disc).
Swung the scope over to Cassiopeia, and the great cluster Ngc-7789. Using a Meade 24.5mm SWA (40x) the cluster appeared as a very rich group of stars in a mass of non-cluster field stars. With an 11mm Nagler (90x) really resolved the cluster well, and did look like illuminated diamond dust of very black velvet. Sorry about the cliche!
Dropped down to the Double Cluster. At 40x both clusters were well incased in the eyepiece field. Wow, truly a great view!
Now I didn't really need the finder scope to find M-31. In fact with the naked eye on Spruce Knob, the Andromeda galaxy looks like you looking through binos. It is amazing in very dark skies, how much of the galaxy is visible just with the eyes alone.
So I inserted the GSO 42mm SW (24x), which gives just under 3 degrees of field. The view was poster like with much of the galaxy seen, as well as both M-32 and M-110. With the 11mm Nagler (90x) the dark lanes on the NW side were quite visible, and so was the star cloud Ngc-206 in the southern region. Stayed with this for about 10 minutes before moving on.
I continued on by pointing the scope at Beta Andromeda (Mirach) with the 14mm plossl (71x) which showed that beautiful golden star and the galaxy Ngc-404. Putting in a 5mm Nagler (198x) I was able to keep the bright star out of the field. The galaxy showed a round disc with a bright stellar nucleus.
Now to M-33. In good darks skies this is very detailed object in many scopes. So how does it look in a 6" refractor, when it's visible to the naked eye? GREAT!
With the Meade 24.5mm SWA (40x) the galaxy was already showing lots of detail, but the best results were with the 11mm Nagler (90x). With this eyepiece, it showed a very bright nucleus within spiral arms forming an "S" shape. The large HII region Ngc-604 also showed very well.
Now in the 18" dobs (Doc's, Ted's) were going back and forth with multiple magnifications. The views of M-33 in the large dobs were sensational!
Going south to Sculptor to catch Ngc-253. First though in Cetus was the large faint galaxy Ngc-247. This galaxy though large has a very low surface brightness. With an 18mm UWA (55x) the galaxy is very elongated north and south with a 9th magnitude star on the south edge. There is a brightening closer toward the core area.
Now I slipped further south to Ngc-253. If you have a good southern sky, then this is a gem. It was easily seen in the 8x50mm finder, and with the 18mm UWA (55x) was really a fine sight. With higher power using a Meade 8.8mm UWA (113x) showed dark patches and lanes around the core, with hints of star clouds. WOW!
The views in the large dobs of Ngc-253 were photographic! There were words said that I cannot write for this "family" friendly article.
Another galaxy that I really like is the highly elongated Ngc-1023 in Perseus. With a 10mm Radian (99x), the galaxy and the field stars were perfect. The galaxy itself showed an extremely bright bulge core area, a stellar nucleus, with the extensions pointing east and west.
On to Taurus and M-1. The view using a Meade 5k 32mm plossl (31x) gave the Crab a bit of a three dimensional effect. With lots of field stars and the irregular cloud of nebula gave the impression of lots of depth. Then using a 7mm Nagler (141x) light variations showed across the face of the Crab. Really a great view in the 6" refractor.
In Gemini the star cluster duo of M-35 and Ngc-2158 gave an impressive view in the Meade 32mm plossl (31x). M-35 was well encased in this eyepiece, with Ngc-2158 showing as a hazy patch of light just of edge of the foreground cluster. So I centered Ngc-2158, and put in the 5mm Nagler (198x). This power resolved the hazy patch into many faint stars.
On to Eridanus and the bright planetary Ngc1535. The 5mm Nagler (198x) gave a real nice view. The inner part of the nebula is very bright, and is surrounded by a faint fuzzy disc. The central star was visible. This planetary is a treat for very large scopes (12"+). If the sky is steady, really pump the power on this one. I guarantee you'll get great results!
Another planetary that I like is in Orion, Ngc-2022. Though its not large or bright compared to Ngc-1535, it has for me a bit of a personality. So after locating Ngc-2022, I inserted a 3.5mm Nagler (283x). The personality is that to me it is shaped kind of like a football (I love football). The disc was fairly even in brightness, but at almost 15th mag, the central star remained non-visible.
Now it was time to head to M-42. With a Meade 24.5mm SWA (40x) the overall view of the Orion nebula was stunning. No need of a filter here, "el natural" is quite fine! I thought the 11mm Nagler gave the best all around view. Great detail is visible throughout! The contrast and clarity of a large refractor with extremely dark skies is just a thing of beauty with an object like the Great Orion nebula!
Now I would have seen many more objects in the 6" refractor, but I had my name called out during the whole night saying "Karl, look at this"! I certainly didn't mine, and really enjoyed the comradely. Hey, that is what so great about a club.
Some of the other observer's highlights were as follows:
Rob's galaxy upon galaxy of the Perseus galaxy cluster (Abell 426) in his 16" dob.
Ted's view of M-33 in his 18" dob, showing multiple arms, HII regions, star clouds.
Doc's view of the Rosette nebula in his 18" dob, that showed photographic detail.
Tom and Josh with their 8" dob and SCT, were freelancing allot, and just couldn't get over the very dark, very starry sky!
As an added feature the Orionids did not disappoint. Meteor after meteor, both bright and dim streak across the sky, like it was performing just for us on the mountain!
With the meteor shower, great telescopes, great sky, great family and friends to share it with, it certainly doesn't get any better.
So I end this with the lyrics from a song most of us know.
"Almost Heaven, West Virginia"!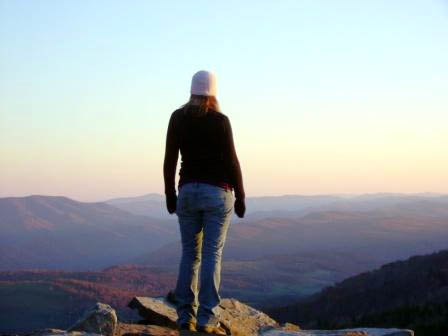 Article: West Virginia Observing Part II