CNers have asked about a donation box for Cloudy Nights over the years, so here you go. Donation is not required by any means, so please enjoy your stay.


0
Accessory Caps from EyepieceCaps.com
Discuss this article in our forums
Accessory Caps from EyepieceCaps.com
2/07
Tom Trusock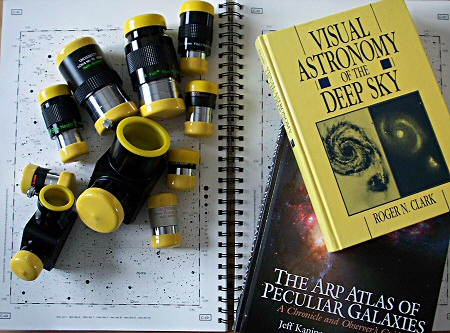 Tired of losing those black eyepiece caps?

Gavin from EyepieceCaps.com has a fix for you.  A while back, like many of us, he evidently decided that he was tired of those black caps for eyepieces and accessories.  I'm guessing again, like many of us, Gavin had misplaced one to many on a cold dark night and wound up putting his eyepieces to bed – uhhh - au natural.  Now if you're like me, you cringe at the thought of putting an expensive (or even an inexpensive) eyepiece into the case without protection for that bit of glass.  That just ain't right.

Well, unlike many of us, Gavin decided to do something about it.  Sure, he sells replacement caps, but with a small twist.  They're (for the most part) bright yellow!  The idea is they'll be easier to locate while lying on the cold dark earth. The prices are reasonable too – a bundle of 5-10 caps cost around $6, while larger bundles are available for $20.

Most of the caps in Gavin's line are made of a soft plastic, so as not to damage your investment.  As such, they'll do a more than adequate job of protecting the lens from dust and finger leavings.  Be aware though, that the caps are soft with a small amount of give/flex to them.  If you're a serious eyepiece abuser, they may not offer the degree of protection that hard caps might.  On the other hand, if the hard caps are lost somewhere on the observing field then – well, they aren't doing you any good at all.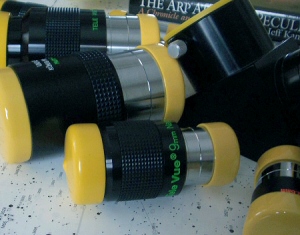 Gavin shipped me a sample bag, and I tried them on a dozen or so eyepieces and accessories I had lying around.  (While fitting them, I had to snag several back from my two year old.  She was delighted with her new "tea set", and wasn't happy when asked to part with them.) Even though some of them weren't listed as compatible, I usually found a cap that was a good fit.   Here the soft plastic/rubber was definitely a bonus, as I got a stretch to fit for those odd size eyepieces.  You should be aware that with the dimple on the end of the 1.25" and 2" barrel caps, your lighter eyepieces probably won't stand up – but for me, that's not a problem because like most astronomers I generally keep my eyepieces in the case, and mainly rely on the caps to keep the dust off and my fingers out.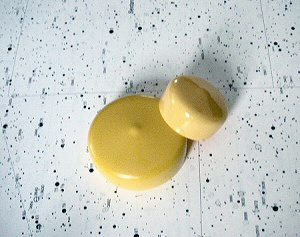 EyepieceCaps.com guarantees their caps will fit the following:

1.25" and 2" barrel caps (soft) – eyepiece and accessory barrels
1.25" and 2" plugs (hard) – barlows, focusers, diagonals
1.4" eyepiece caps - For Meade, Orion and other generic Plossls, 4.8mm Nagler
1.5" eyepiece caps - For Nagler Type 6, Takahashi LE and Vixen LV eyepieces
1.9" eyepiece caps - For Meade Ultrawide 8.8, 14mm (previous Japanese made version), all Radians, Panoptic 41,35,27,22mm, Nagler Type 4 22,17,12mm, Nagler Type 5 31,26mm, TV Plossl 50,40,32mm, Meade QX 26,36mm
SCT visual back caps for both 1.25" and 2" threads
-and from experience, I can tell you they'll fit a few more as well.

If you need to pick up a couple replacements (and who doesn't) then maybe you should take a few moments and pay EyepieceCaps.com a visit.  Remember - Star Party season is just around the corner – why not give yourself a gift to make the inevitable game of "Find the Cap" a little easier?

Now if I can just get mine away from my toddler…


What I liked
What to be aware of

Inexpensive
Bright Yellow
Fit just about everything
Makes a nifty "Tea Set"
Did I mention they were inexpensive?

Light eyepieces may not stand on end because of the dimple in the cap
May not offer the same degree of protection hard caps do


Available From (I'd bet you can see this one coming): http://www.eyepiececaps.com
Or Contact: sales@eyepiececaps.com


Article: Accessory Caps from EyepieceCaps.com