CNers have asked about a donation box for Cloudy Nights over the years, so here you go. Donation is not required by any means, so please enjoy your stay.


0
Books Reports
One class of target which often seems to be slighted by amateur astronomers is double stars.
Read story →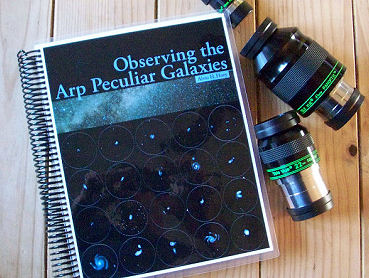 Looking for some different observing targets? Take a look at the unusual denizens of Dr. Halton Arp's realm with the help of Alvin H. Huey's latest guide - Observing the Arp Peculiar Galaxies.
Read story →





Need some help in figuring out what to observe on the moon? Tom Watson examines the Moon Observers Guide
Read story →





Daniel Huang takes a look at this book which is aimed at helping a beginner who knows nothing about the night sky
Read story →





David Knisely takes an in-depth look at this popular two-volume set
Read story →





Tom Trusock gives us a closeup view of Kriege and Berry's famous treatise on large Newtonian telescope construction
Read story →





Tom Trusock delivers a report on Stephen James O'Meara's followup to his Messier treatise - this time examining the Caldwell object list
Read story →





Tom Trusock examines Charles A. Wood's personal view of our Moon
Read story →





Tom Trusock shares his impressions of Jeffrey Kluger's description of JPL and the unmanned space program
Read story →





Tom Trusock reports on Sheehan and Dobbins' history of Earthbound Lunar exploration
Read story →