CNers have asked about a donation box for Cloudy Nights over the years, so here you go. Donation is not required by any means, so please enjoy your stay.


2
Baader Planetarium 36mm Hyperion-Aspheric Modular Eyepiece
Discuss this article in our forums
msrp: $200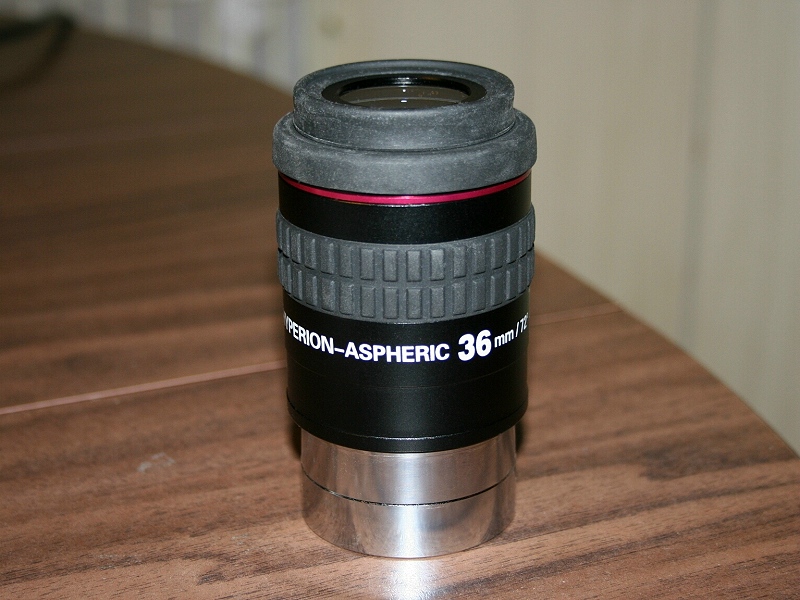 by David Knisely
Wider-field "budget" eyepieces seem to be all the rage these days. Some are not all that great in the performance department (especially in faster scopes), but once in a while, one comes by which sets itself apart. Baader Planetarium now has a new entry in this class: the 36mm Hyperion-Aspheric eyepiece, and this one seems to be one of the better moderate-cost eyepieces I have run into lately.
The 36mm Hyperion Aspheric: This eyepiece is a six-element wide field (72 degree Apparent field) modest-sized 2" barrel ocular, with at least some of the optical elements allegedly being non-spherical in nature. It is of a fairly manageable size, being about four inches long by 2.5 inches wide. The eyepiece has a hard low-profile rubber eye-cup, along with a knurled rubber mid-section halfway down the eyepiece for better gripping. The eye lens is about 28mm in diameter and is recessed slightly in the rather shallow eye-cup. The eyepiece weighs-in at a modest 410 grams (0.9 lb), so it isn't exactly a heavy unit. The chrome barrel has the usual safety groove and is threaded for standard 2" filters. The barrel also does unscrew, allowing the eyepiece alone to screw into some SCT rear optical ports when needed for imaging. The eye end is allegedly compatible with some of the astigmatism-correcting systems for those who wear glasses (not tested). The unit also comes with a rather unusual horn-like 1.25" screw-on adapter which lets one use the eyepiece in an 1.25" focuser, although the field of view becomes noticeably more limited when this is done. With drift testing and a little rough optical bench work, the following specifications were noted for this eyepiece:
36mm Hyperion-Aspheric Eyepiece Specifications
Dimensions: 4" x 2.5" (2" O.D. standard barrel).
Weight: 410 grams.
Eye Lens Diameter: 28mm
Eye Relief: 18mm
Measured Apparent Field of View: 72.3 degrees.
Eyepiece Field Stop Diameter: 44mm (31.5mm in 1.25" adapter mode)
The eyepiece was a fairly solid unit, with no signs of looseness or rattling when moved or shaken. All optical surfaces seem to be well coated. The filter threads worked fairly well even with my "problem" filter (Orion Skyglow, which doesn't like to thread very far on any 2" eyepiece).
Performance: I tested the 36mm Hyperion Aspheric in my 100mm f/6 refractor, an 8 inch f/5 Newtonian, and my Nexstar 9.25 inch f/10 SCT. All in all, the eyepiece performs pretty well, providing reasonably sharp star images across a fairly wide field of view. Most of the major aberrations are well controlled, although they are not exactly absent. Chief among these were mild outer field astigmatism and slight pin-cushion distortion, although again, they were not extremely detracting. Star images were pretty pin-point over much of the field, making for very nice views of the Double Cluster region in my 100mm f/6 refractor (17x, 4.2 degree true field of view). The astigmatism tended to gradually build-up with increasing field radius rather than suddenly appearing at some point and getting rapidly worse as one looked closer to the field stop. The astigmatism was somewhat less than I see using my 40mm Mk-70 Konig, visibly less than in the 33mm Swan, and vastly lower than I see with my 30mm Widescan III (even in the Schmidt). I noted little in the way of significant lateral color, field curvature, or kidney-beaning. The field stop was fairly sharp and the 18mm eye relief was particularly pleasing, as for once, I could just see the entire field stop while using my glasses. Indeed, the view of the moon using a low-magnification Barlow was particularly nice, allowing me to view comfortably with my glasses on (something few eyepieces ever provide me). There was some very slight flaring of bright star images as you moved your eye position, but again, it was a fairly minor effect. The coatings appear to work quite well and the overall view was fairly color neutral (neither warm nor cold). The view of M31 in all its glory from my driveway using the Orion Skyglow was very nice, with the main dust lane and the star cloud NGC 206 both being seen. Even M33 showed hints of its southern spiral arm with some mottling in its outer haze. The eyepiece may not be quite on par with the more expensive Panoptics or Naglers, but as a modest-cost "finder" eyepiece, the 36mm Hyperion Aspheric looks to be a pretty good choice. However, I found the included 1.25" screw-in adapter to be a little bit of a gimmick, as it yielded a true field less than 72% the size of the 2" barrel field and which was noticeably vignetted in its outer portions.
Summary "grades": As I have often stated in the past, it can sometimes be difficult to give a fully-accurate judgment of how good an eyepiece may be. However, I can give the 36mm Hyperion the following grades:
Construction: B+ (needs a tapered barrel rather than a safety groove).
Field of view: B+
Astigmatism Correction: B+
Lateral Color Correction: A
Distortion Correction: B+
Curvature of Field Correction: A
Eye Relief: A (allows use with some glasses)
Cost/Benefit Ratio: A
Overall Performance: B+
Conclusion: The Baader Planetarium 36mm Hyperion-Aspheric Eyepiece is a good wide-field low to moderate power eyepiece with good eye relief and a modest cost that should make it attractive to many in the amateur community.
David Knisely
KeithC, peter k, SMark and 2 others like this
Article: Baader Planetarium 36mm Hyperion-Aspheric Modular Eyepiece