CNers have asked about a donation box for Cloudy Nights over the years, so here you go. Donation is not required by any means, so please enjoy your stay.


0
First Look: The Tele Vue 17mm Ethos
Discuss this article in our forums
First Look: The Tele Vue 17mm Ethos
Tom Trusock
3/09


With the introduction of the Ethos line of eyepieces, I'd say that Tele Vue is doing it's level best to unfreeze the money from our wallets and get it into circulation.

Unless you're not an amateur astronomer,  or you've been totally isolated for the past two years, I expect you know exactly what the ethos line is, and by now what the attraction is.   For those who just got off their deserted island, I'll take a minute and bring you up to speed.

The Ethos is the first commercially available eyepiece with a 100 deg apparent field of view.  It was designed by Tele Vue's Paul Dellechiaie (under the tutelage of Al Nagler) initially released in 2007 at a focal length of 13mm, and a nearly unheard of price - $620. 

The price tag sent shocks throughout the community.

Not since the release of the original Nagler eyepieces has there been this much of an uproar.  I'm thinking Tele Vue had a hunch this was coming as they did their level best to get the prototypes into the community so people could see for themselves what the Ethos was all about - and quite frankly it worked.   I've been told by several reliable sources that the original Ethos sold like hotcakes.  And if you've used one, there's little wonder why, they are truly amazing eyepieces.  At NEAF the following year, Tele Vue followed  the introduction of the galaxy grabber 13 with a glob buster 8mm (in an unscaled package) and made wide field junkies happy.  Broke, but very happy.

The only thing better yet would have been a longer focal length..

Enter Fall 2008.

Not only did we get a new 6mm Ethos, we got what we were waiting for - or at least a step closer - a 17mm.

In an NP101, this eyepiece  provides a true field of over 3 deg and 7 arc minutes.  To put it in terms that apply to every telescope - That's a true field greater than a 24 Panoptic yields while just slightly less than that of a 22 Nagler.   

There may be a few of you out there saying: so what?  It's just another wide field eyepiece - well, allow me to quote myself (those of you who have read my previous articles on the Ethos feel free to skip over the following):


---

Why Ethos? At this point everybody knows WHAT the Ethos is, but there are some folks who simply don't realize the advantages of such a wide field. This is similar to the challenge that the Nagler line faced when they were introduced, and the answer remains much the same as then.  The fact is, there are several ways to look at the benefits of uberwide fields.  The first and most obvious is that they pile on the Wow factor - but after that initial emotional high wears off, what's the real reason for using one?

Tele Vue eyepieces are known for their superior aberration correction - and the ethos is no exception. This frequently means that stars which would be distorted off axis (and often become invisible) are still focused to points and remain in view. Another key advantage for undriven telescopes lies in the very wide field - this coupled with the excellent off axis correction means that you have more time to inspect an object before you have to concentrate on moving the telescope.

Now consider the following.

In order to maintain the true field of view, you can select between the following eyepieces: 13 Ethos, 17 Nagler, Pentax 20 or a 26mm Plossl. In a typical 8" f6 dobsonian, these yield 94x and a 2.15mm EP, 72x and a 2.82mm EP, 61x and a 3.33mm EP and finally 47x and a 4.32mm. By raising the power you increase apparent contrast, optimize the exit pupil and with the uberwide field - maintain the TFOV. Because of the increase in apparent contrast per magnification I'm coming to think that wide field eyepieces should not only be compared at similar magnifications, but at the view presented at similar true fields of view.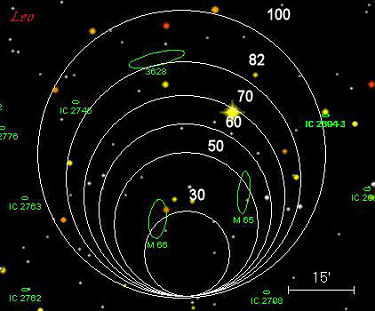 Apparent field size comparison for similar focal lengths


The increase in field size has another additional benefits for me: higher power gotos (the 8mm serves this fairly well in my 18" f4.5 as well, but ymmv).

In my opinion, the correct way to select the proper eyepiece is to go for the highest power that seeing will support which properly frames the target while taking the sky background to black.  Beyond that, contrast is simply lost between the target and the sky and increased magnification becomes counterproductive.  This is the Nagler / Tele Vue basic premise for eyepiece selection and (one must think) the raison d'etre behind wide field design. Roger Clark explores this idea of an optimum magnification (but neglects the field size) in his book Visual Astronomy of the Deep Sky (highly recommended).


---

Ahem - ok, we're back.  Sorry for the rehash.  I've just said that so many times at this point I'm kinda getting tired of repeating it.  Although, it absolutely does bear repeating.  And lets get this out of the way right now - no, you don't have to have an Ethos to be an amateur astronomer.  BUT - if you're a widefield junky, these are nirvana.
 
Physically, the 17 bears more than a passing resemblance to the 13.  It's about the same size, but it is noticeably heavier. 1.55lbs to the 13's 1.3lbs  - ironically that's a ratio of 1.2 - just about the same ratio as the price.  (I guess we're paying for the view on a pound by pound basis. Heh, thinking about it this way, we're getting a quite a bargain for the increase in focal length.)  The eye relief is listed as 15mm - in line with the other members of it's family.  For some eyeglass wearers, this may be a bit on the tight side, but it's about perfect for me.

For Dobsonian owners, Tele Vue recommends a Paracorr setting of 5 for the 17 Ethos.

The 17mm is an good addition for owners of large SCTs.  In my C11, I often find that 13mm yields just too much power, but the magnification my 17mm t4 Nagler provided was just about perfect.  With the 17 Ethos, I get the magnification and effective magnified contrast of the  17 Nagler (in practice, a bit better actual contrast), but with a much larger field of view.

Performance seems assured, however the Ethoi / Ethoses  - after two years, I still don't know what to call them when I'm referring to several - aren't scaled designs so the only assurance of performance is to use the dang thing.   And let's face it - $750 isn't inexpensive, so this thing had best perform to it's potential.  Frankly, after owning both the 8mm and 13mm Ethoi / Ethoses, I had no worries about the 17's performance, and some experimentation showed that I'd had no cause to be worried either.  The 17 is clearly an Ethos.     Optically, there were no surprises - that is, the 17mm Ethos is perhaps the finest 17mm wide field that I've ever had the pleasure to use - and for the price, it'd better be.  The field was flat, with little to no distortion even at the extreme edge.  Color rendition was similar to it's brothers - cool  and pure.  This  is a beautiful eyepiece, that performs well in both fast and slow scopes.

And yes, you CAN take in the whole field.





The first "true" 2" Ethos


The thing that really stands out for me with these eyepieces is the fact that Tele Vue has simply managed to  get so many things "right" -  and all at once.  The color rendition is dead on, and while scanning starfields there's little to no noticable rectilinear distortion to my eye (especially as compared to something like the 22 panoptic). Further, the apparent field generates a this massive true field all while redefining the term spacewalk.  In addition, the Ethos line seems both sharper and brighter than any other wide field eyepiece I've ever used (and that's nearly everything that's been on the market for the last 25 years).

Drawbacks?  Sure it's got em.  The biggest: it's big and it's pricey. And the eye relief may not be enough for some eyeglass wearers.  And some folks, for a reason I've never quite figured out, simply don't appear to like that green lettering on the side.  Minimal glass folks need not apply, but I've gotta add for however many lenses are in there it certainly does not seem to have much effect on transmission.

But bluntly - the Ethoi/Ethos/Ethoses - whatever you call them, are an amazing line of eyepieces.  One could call them first in the class, but that wouldn't be accurate - they're simply in a class by themselves, both in performance and price.  While there are people who will own the whole line, for many that will undoubtedly somewhat cost prohibitive.  To that end, I'd suggest the best way to purchase an Ethos would be to look at the focal length you use the most and obtain the Ethoi closest to that size.    It's ok to go a little higher on the magnification, but remember you're still going to be seeing limited - these are amazing eyepieces, but they don't break the laws of physics.


Eye Relief is quite comfortable (without glasses)


If you're looking at getting an Ethos, my favorite - in either refractors or newt's -  is still the 13mm.  There's a reason they came out with that focal length first methinks.  It's simply fantastic.  Plus, it barlows amazingly well.  Add an Antares 1.6x and it turns into something resembling an 8mm, add a 2x TV barlow and you're looking into something close to a 6.5mm.
 
The 17mm is extremely nice in longer focal lengths tho - how could it not be?  It's an Ethos.  If my main scope was a big SCT or Mak, the 17mm would top my list.  Indeed, it's spectacular in my 11" SCT, where the 13mm is often just too much power.

After using the 17mm I find two thoughts concerning future Ethoi wander through my brain:  What's next and, of course, how much? 

And here I'd deluded myself into thinking I was just about done buying eyepieces...



JuhaH and jconroy like this
Article: First Look: The Tele Vue 17mm Ethos