CNers have asked about a donation box for Cloudy Nights over the years, so here you go. Donation is not required by any means, so please enjoy your stay.


0
CN Report: The WO EZ Touch Mount
Discuss this article in our forums
The WO Easy Touch Alt/Az Mount

WO Easy Touch Mount

Alt/Az Mount
Dual scope capability
Vixen Compatible Saddle (standard)
Losmandy Compatible Saddle (optional)
Load Capacity (mfr recommendation): 22 lbs per side
Load Capacity (my recommendation) : 18-22 lbs total (max)
Weight (Head): ~4.5 kg, 10 lbs
Weight (Head and Tripod): ~12kg, 26.5 lbs
Encoders: No
Drive: No
Price: $499 (Includes Tripod)



I'm an alt/az kinda guy.

There's something Zen about a good alt/az mount. No power, no counter weights, intuitive motions, light weight – if you're a visual observer, you know what I'm talking about. These mounts have a lot to recommend themselves. The only question is; which one to choose? There are a lot on the market today – from the Microstar to the Discmount, and they come in all shapes, sizes and price points. Most are fairly capable and good for low to medium power observing, but if you want to pour on the magnification, you usually have to sink in some major bucks or put up with less than stellar performance and ease of use.

I've owned lots of alt/az mounts - heck, I've got three or four in the garage at the moment. I prefer them to GEMs for general visual use. Like many of you, much of my observing is grab and go, and these make a great mate for a small scope. But as I mentioned there are only a few alt/az mounts that have the stability and smoothness to let you take them to high powers. The Discmounts are a prime example, and frankly, I still feel they are the best alt/az mount that money can buy – if you can afford the price of admission.

But what do you do if you can't fork out the money for a Discmount? Well, there are several good options on the market, depending on your specific need.


EZ Touch Executive Summary


Pros




Cons



Inexpensive
Smooth motions
Decent load capacity
Lightweight
Dual standard plate compatibilty

Non-captive knobs
Inability to mount encoders
Lightweight Tripod
Small Eyepiece Tray
No lock knob for saddle plate


The mount submitted for your consideration today is the William Optics Easy Touch. This is a double headed mount that allows you to use two scopes at the same time – one on the included Vixen compatible saddle (be aware some users have noted incompatibility with certain Vixen style plates, so be sure to check the forums for the specific units folks are using) , and the other on an additional, optional, saddle of your choosing. In the configuration I'm reviewing I can mount Losmandy plates (via the WO Universal Saddle) in addition to the Vixen.  You don't need to use the WO Universal Saddle, but it's convenient and easily available. It works well, and looks good on the mount. It should be noted that the WO combo plate mounts on the alt arm a bit off center. While this was disconcerting at first, I found in use it didn't matter much, and in fact had some distinct advantages when it came to balancing the scope as it allowed me to effectively throw weight more to one side or the other.

WO made a good decision when they choose to go with industry standard saddles. Vixen, which is compatible with ASGT/LXD55/LXD75/CG5 among others, and Losmandy are the two styles that dominate the market. The ability to use both ensures that I can mount just about anything that comes my way - a huge plus for a gear hound like myself.








If you are mounting two telescopes at the same time – another big plus with this mount - it is possible to generally align the two OTAs so you are viewing the same object when using low to moderate powers. This is done via 4 hex screws found in the arm where the additional saddle is mounted. While this system worked well enough for adjustments / alignments in altitude, I had less luck trying to align the azimuth. It did work well enough to use a small scope as a finder, but I haven't been able to get the alignment exact enough to use two scopes at high powers, and truth be told, it can be a little fiddly.



Whaddya get?



For the package price you get the mount head, tripod and eyepiece tray. The mount head includes the Vixen saddle plate, and as mentioned, does not include the WO Universal Saddle which must be purchased separately. The head itself can also be purchased separately and mounted to a tripod of your choosing - including ever popular options from Bogen / Manfrotto and Vixen.  There is no safety bolt for the Vixen saddle (note the single point of contact in the image below), but if this is a concern there are dovetails available which have a safety stop built in - the Universal Astronomics Vixen compatible plate being one.


The WO Deluxe Saddle (purchased separately) does not have a safety catch either - but this isn't uncommon for Losmandy style saddles.



Like all WO products, fit and finish is quite good, especially considering what you pay. At launch, the price of $499 included the head, tripod and tray.

The eyepiece tray is quite small and screws directly (via one bolt) into the spreader. As you can see below, there are holes for three 1.25" eyepieces. I found the tray to be a bit on the small side. Several forum members have elected to construct a replacement out of wood. There is an easier option as well – a small aluminum pizza pan with a hole drilled in the center for the bolt.



The two knobs that adjust the axial tension are well machined, but not captive. You may wish to remove them for transport so there is no possibility of them getting bent. At this point, I'll fess up and admit I don't know my own strength. A bit of care is warranted when attempting to lock the head. My only serious issue occurred when I accidentally stripped the az tension socket trying to align two telescopes. Unfortunately, this wasn't covered under warranty (Duh), but WO (US) offered me two choices to get me back up and running again – a straight up replacement, at a reasonable cost, or ship it to the manufacturer in Switzerland for repair. Since I wasn't able to get a firm figure on the repair price, I opted for replacement.

The current Easy Touch offers no provision for encoders - ergo computerized pointing is out. But goto heads take note - WO's Swiss partner (Beat Kohler, owner and operator of AOK - Astro-Optik Kohler) offers three different versions in Europe - a small, a medium and a grande. The grande offers computerized pointing, so this may be something we see offered down the road. Personally, I find mounts like this are ideally used with small telescopes – 5" and under, and those scopes are basically a giant finder anyway, so a lack of DSCs isn't a huge loss for me.



Field Performance



I've had the Easy Touch for several months now and have used it to mount everything from 66mm to 110 mm. I wouldn't recommend it for two 4" (or larger) scopes simultaneously, at least not on the standard tripod, but the combination of lightweight 4" and 3" telescopes worked fairly well. The WO105, WO110 and FS102NSV were all well supported when mounted solo.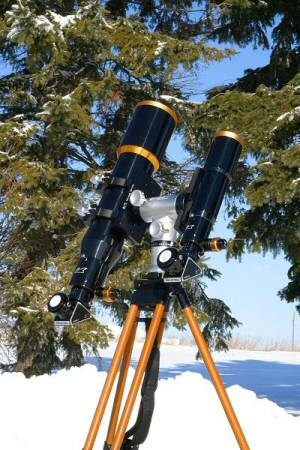 The top (leftmost) knob is the Alt Tension
The bottom (rightmost) knob is the Az Tension


For my first outing, I mounted a WO105 and WO66SD, and was very pleased with the results. Motions were smooth, yet there was enough friction in the axes to allow for some changing of eyepieces without scope movement that results in a loss of target.

I found dampening times acceptable. When I setup on concrete without using vibration suppression pads (VSPs), which is the worst possible way to use this mount, I found the above load took around 3-5 seconds to settle out after a light rap. With this load, motions and stability were smooth enough to allow for hand tracking of Saturn at ~185x through a 4mm UWAN.

Moving on to a slightly bigger load, I hauled out the FS102 NSV and the WO66. Again, I found the mount fairly solid and useable up to around 200x. Damping time was around 4-6 seconds, and settled down in 1 – 2 seconds when using fine focus. In my opinion, this was quite good - the FS102 NSV is not exactly a small telescope.

Then I removed the 66SD and placed VSPs under the feet. At ~200x the rap test yielded a settle time of just over a second (the combination of a few lbs less and VSPs makes an astounding difference), and when focusing I found the jiggles stopped as soon as I removed my hand from the knob. At 275x, damping time from the rap test was still right around 1 second. When moving the scope to re-center the target, the scope stopped jiggling immediately after I removed my hand from the telescope, and I saw no detectable backlash or slop. On further use, I also found that setting it up on grass and pushing the feet into the ground pretty much gives identical performance as using VSPs.  Also be certain to spread the legs as far apart as possible, and ensure the mount is level.

While the motions of the mount are smooth and the settle times quick enough for high powers, I'd recommend ultrawide angle eyepieces to reduce the amount of nudging required. Unlike the DM4/6, the setup isn't stable enough to track and observe at the same time. The Discmounts are the only At/Az mounts I've ever used that I've been able to pull that trick with.

I had little issue reaching zenith with any of the scopes I tried.



One of the best things that can be said for any mount is that it disappears in use. Let's face it – for a visual observer, a mount is typically a rather unsexy piece of gear. Many would rather purchase a new eyepiece or telescope than a mount. As a result, people often find themselves fighting with a balky, less than adequate mount. The Easy Touch gets out of the way and just lets you observe. When you consider its dual arm capability and price this is one of the better alt/az mounts I've used.

As per its top load capacity, while I've heard folks say you can mount one 5" apo and a smaller telescope or two 4" apos,  I wouldn't attempt that. I think it's a limitation tripod rather than the head.  Those wishing to mount heavier gear may be better served by purchasing the head and mounting it to  different tripod.  In its standard configuration, it was an acceptable mount for most 80mm and 4" refractors simultaneously.



Final Words (Sorta)



The few semi-significant downsides people will see are the lack of encoders, and the small size of the tripod tray (easily remedied). The tripod could be a little beefier, but it does a fairly decent job.

Overall, the EZ Touch is smooth, stable, and low priced. I find the ability to mount two scopes at once particularly cool.

The bottom line is the WO Easy Touch offers excellent performance in a lightweight, inexpensive mount.






Unexpected Benefits
- a forum post


Well, I just had my best observing experience ever. And you'll never guess what piece of equipment was responsible.

It had nothing to do with the telescope or eyepieces (although those were pretty nice). Ironically, it revolved around - of all things - the mount.

Here's the story:

One night earlier this week, on a beautiful sunny day, I'd picked my daughter up from daycare, and we were headed home. It's about a 15 minute drive and usually it's pretty quite.

Today however, she had a question for me.

"Daddy, if it's clear tonight, can we look through the telescopes?" (Note the plural )

"Well, honey, it's kinda cold."

"Please Daddy? I really want to see Saturn."

In the face of a concerted attack, my defenses crumbled. After dinner, I pondered the scope choice for the evening: 18" - no, too long of a cool down. LightgBridge? No - SWMBO (she who must be obeyed - IE da wife) tells me we have to finish putting stuff in the attic before I can even set that one up - no room otherwise. The 4" FS102nsv on the CI700? No - too heavy. How about the WO105 mounted side by side with the WO66 on the Easy Touch mount? Light, easy to carry out, the refractors will cool down quickly and to top it off, they are mounted side by side so I can use the 66 as a finder - sounds good. So after dinner I carry these out and get the stool ready for my daughter to stand on.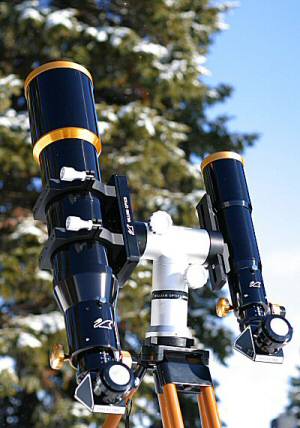 Shortly before bedtime (after being reminded a dozen times about my promise) we bundled her up and let her waddle out to the telescopes (imagine a child in 10 layers of winter clothes).

She's never seen anything but the moon through a telescope before - although that she's seen often. I was careful to use eyepieces with eyecups that guided her eye into the correct position, and we kept it to low powers. Once I had the scope(s) centered on Saturn, I guided her eye to the eyepiece and heard her exclaim - "Daddy - I SEE IT!!! I SEE SATURN - HIS EARS AND EVERYTHING!!!" With her looking through the 105, I risked a peek through the 66 and asked her to describe the scene -

There was no doubt that we were looking at the identical target at the very same time.

I can't even begin to tell you how cool that was.

We let Saturns photons soak into our eyes for a while, and she asked - "Daddy? What's all those stars right above Saturn?"

Looking through the 66, while she was looking through the 105, I knew exactly what she was seeing, so I was able to answer - "The Beehive"

"What's that"

"Well, honey, it's kinda like a family of stars - they were all born together and they hang out together in space."

"Stars are born?"

[slewing over to m42]

"Look here honey - it's places like this where stars are born." Again, we both stared...

After another 2-3 minutes of silence (except for those 15 minutes in the car when she's strapped down and the music is playing,  this is very unusual for my daughter - for her to be either still or quiet - let alone both at the same time):

"Stars live in families?"

"Yup - "

[slewing over to the double cluster]

"Daddy, I see two families of stars!"

And so on through the night.

Now I've looked through scopes big and small. I've owned and used all different kinds of gear. I've had some amazing nights in some amazing places; mag 7.5 skies that were totally clear overhead yet vicious lighting storms on the distant horizon. The call of a wolf, the sudden appearance of a spectacular aurora, but nothing compared to looking at those simple targets. I've seen them a half a thousand times, but never with my daughter.

I'll tell ya, it's an advantage of a double armed mount I never would have thought of in a million years.
gilbert80, Martin A Cohen and Sangej01 like this
Article: CN Report: The WO EZ Touch Mount