CNers have asked about a donation box for Cloudy Nights over the years, so here you go. Donation is not required by any means, so please enjoy your stay.


2
Observer's Handbook 2016
observing
Discuss this article in our forums
Observer's Handbook 2016
Tom Trusock
December 2015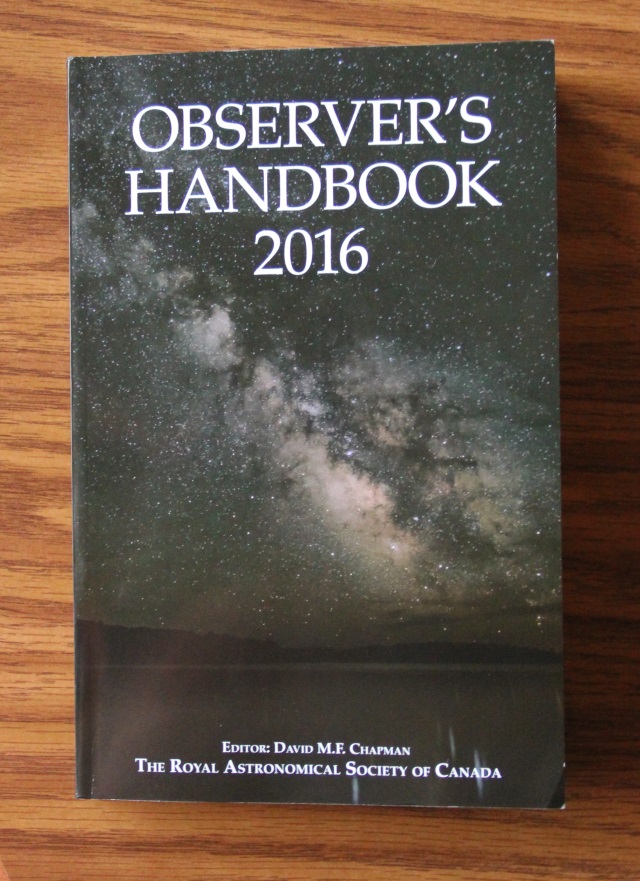 This is always a tough article to write. Seriously, how do you sum up the RASC Observers handbook? Yeah, it's a little book. BUT it's about EVERYTHING in amateur astronomy.
The easy thing to do would be for me to say - if you're an amatuer astronomer, you need this book. So…
If you're an amateur astronomer, you need this book.
Ok. Done.
Wait... What?
Y'all got questions? Sighhh…. I knew that was too easy. No, I guess I don't really expect you to buy this on that kind of a statement. Heck, I probably wouldn't either. And, well, I know me. So, let me try for a summation.
There's a sense of history lurking within the pages. The first edition was published in 1907, making the Observer's Handbook one of the oldest scientific publications in North America. (Fitting, as the Royal Astronomical Society of Canada's roots date back to the 1800s.) Since it's inception, the RASC has striven to make it a handbook indispensable to the Amateur Astronomer, a challenge that in the age of the internet - takes a lot to make happen.
Now begin with dozens of contributors submitting tens of articles. And big name contributors too - folks like: Alan Dyer, Fred Espenak, Geoff Gaherty, David Levy, Allan Rahill and Alister Ling.
And the topics? You'll find selections on everything from Internet Resources and Education, to target lists for just about any style of observing. Binocular, telescopic and even radio! While it won't replace your star atlas, there are constellation finding charts and a moon map. You'll find articles on aurora, occultations, comets and eclipses. There are introductory articles on optics, binoculars and directories of weather resources. These live happily alongside lists of star parties, recommended print and internet resources, and articles about light pollution. Limiting magnitude, solar observing, martian surface maps and the moons of the gas giants.
I could go on all afternoon.
The Observing guide covers nearly the entire spectrum for the amateur astronomer.
As an additional plus in today's electronic centric world, it's available in print. No batteries (or data connection) required. No worries about if your ereader or tablet is charged. Best yet, it looks good on a bookshelf and makes an effective missile weapon against fauna looking to steal your Naglers.
So I've at least convinced you it sounds interesting, right? What's that? You're curious about the 2016 on the cover. Is that just to denote the latest edition? Or is it only for use in 2016?
While some of the information is indeed about celestial events occurring during 2016, there's lots that will ensure the handbook's usefulness well beyond the next year. (And, I suppose if you were to invent time travel, much of it would be equally applicable in the past as well.)
It's a resource that would be much appreciated in any astronomers observing kit.
Haven't heard enough? Check out the RASC website for more information:
Northvanner, ScottHelmann and AmyGP like this
Article: Observer's Handbook 2016