CNers have asked about a donation box for Cloudy Nights over the years, so here you go. Donation is not required by any means, so please enjoy your stay.


1
From the Editor's Desk: Eyepiece Case Roundup
Discuss this article in our forums
Eyepiece Case Roundup
by Allister St. Claire
From the Editor's Desk articles are the opinions and musings of Allister St. Claire. These articles do not represent facts nor are they objective in any way.
Introduction
Eyepieces are like a mated pair of bunnies - before you've even cleaned out the cage they've multiplied. It's easy to justify another eyepiece purchase. Unless you're buying the ultra premium eyepieces, spending $50 here or $60 there is easy to justify. Unlike a telescope purchase, an eyepiece falls under the "miscellaneous" category in home accounting and doesn't require approval from the family CFO. To add insult to financial injury, they are just so dog garn cheap on the used market.
We all start off with the standard two eyepieces that come bundled with our telescope. Since it's only two, we thrust them into our pockets, put them in the tripod eyepiece holder or just plopped them on our observing desk. Time rolls on, you buy a few more eyepieces and you run out of pockets. It's time to buy the one accessory that officially makes you an equipment nut - an eyepiece case.
An eyepiece case serves 4 important purposes (note these purposes if challenged by your family CFO on the purchase)
They protect the eyepieces from dust, lint, cat hair and crazed chipmunks living in your garage
They protect the eyepieces during transport
They protect the eyepieces from dew when out observing (note, CFO's will believe that dew will degrade the coatings and ruin your "investment")
They insure you won't forget about the eyepiece in your pocket until it's pulled out of the washer (been there, done that)
Honestly, if you've any amount of money sunk into your eyepieces, get an eyepiece case. It's only a matter of time before some unforeseen accident occurs.
To ease the decision making process on which eyepiece case to buy, I've rounded up my six eyepiece cases. If you're wondering why I own six eyepiece cases, I assure you, I don't have a problem. Really, I don't!
Testing methodology (such as it is)
I've owned all reviewed eyepiece cases for at least a year. My oldest is the Orion plastic case which recently had a birthday at 7 years. I've used them all, whether in my back yard or trucking to an observing site.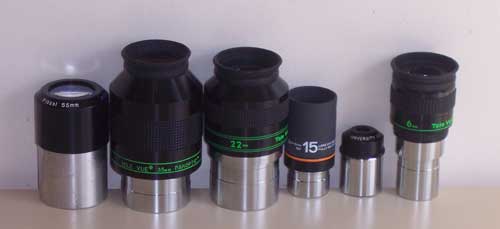 I picked 6 eyepieces from my collection as a representative sample. They're in the photo above (left to right)
55mm UO Plossel
35mm Tele Vue Panoptic
22mm Nagler
15mm Vixen Lanthanum
12.5mm UO Ortho
6mm Tele Vue Radian
All six were used in each of the eyepiece cases and are pictured along with them. So, without any further ramblings, here are the cases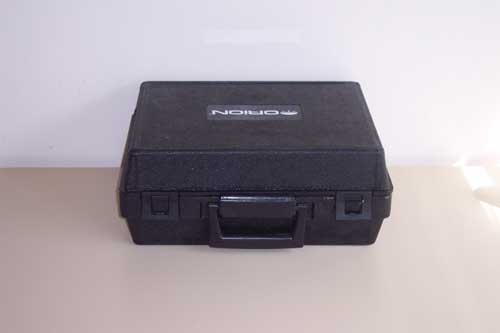 Orion Polyethylene Accessory Case (medium)
$36.00 Orion Telescopes and Binoculars
The Orion polyethylene cases have been around forever. I purchased mine 7 years ago and it has been in constant use since then. Orion sells these cases in a small and medium versions. The reviewed case is the medium version. Measuring 12.5" x 9" x 5" it's very lightweight and handles s****es and bangs with aplomb.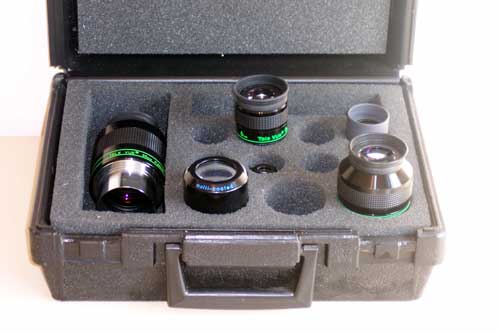 Inside it has (3) 2" and (8) 1.25" eyepiece holders. It also has (2) accessory compartments, one vertical on the left side and one horizontal in the upper back. It uses stiff, high density pre-cut foam that has never lost it's shape in mine. Eyepieces ride snug in the stiff foam and are safe and secure during transport.
Unfortunately, this case would NOT accommodate either the 22mm Nagler or the 6mm Radian. Both sit too tall for the case to close completely. My 35mm Nagler had to go into the accessory compartment.
Be warned, I had a 22mm Nagler where the 35mm Nagler is in the picture a few years ago. The weight of the Nagler coupled with the fact that the plastic latches were not "clicked" shut all the way resulted in the case spilling open when I was carrying it. Nagler dropped to the road and dented the lower barrel. My advice, if you own heavy, premium eyepieces, buy a more substantial case. However, if you own lighter weight eyepieces, this is a great eyepiece case to carry them in.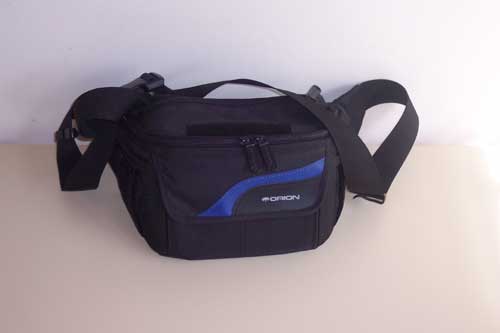 Orion Waist Case Eyepiece Holder
$32.95 Orion Telescope and Binoculars
The Waist Case holder is an adoption of the fanny pack. Take a large fanny pack, add pre-cut foam and sell it as an eyepiece case. It's actually a pretty good idea.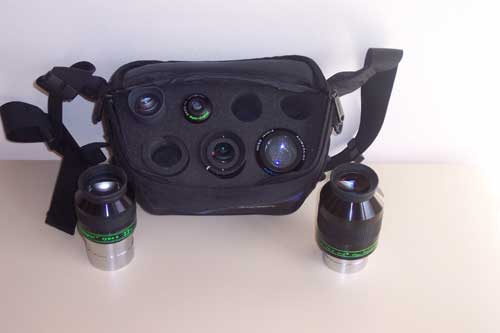 The Waist Case has pre-cut holes for 7 eyepieces. Three of the eyepiece holders can hold either 1.25" or 2" eyepieces. In actual use the Waist Case holder worked well. It's nice to have your eyepiece at your fingertips, no matter where you are while observing. I find that while seated and observing, the best position for the case is loosely slung with the case right where my belly button is. While standing, I prefer it snug against my left hip.
There are two drawbacks to this case. First, large 2" eyepiece won't fit. Per the picture above my 22mm Nagler and 35mm Panoptic didn't have a chance of squeezing into the case. My other eyepiece fit just fine. The second drawback is if you forget about the case and lean over to pick something up and the top isn't zipped shut, the eyepieces fall out.
Other then these two drawbacks, I found this case useful for observing sessions where I only want to take out a few, small eyepieces. The Waist Case has it's uses as an auxiliary eyepiece case and I'm glad I own one.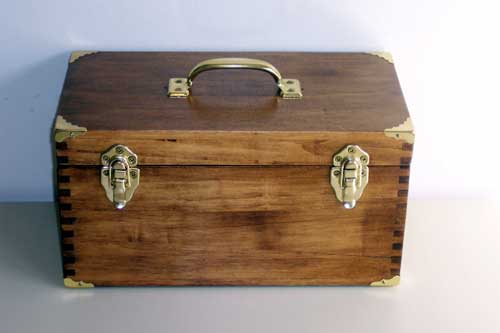 Astro Custom Cases
Price varies by what you want Astro Custom Cases
Daniel Mounsey of Astro Custom Cases will build you an eyepiece case to your specs (hence the word "custom" in their name). Size of box, number of eyepiece holes, type of wood used, type of finish used, etc - it's all up to you as the customer. If you are unsure of what you actually want, don't fear, Daniel is used to this. He'll guide you with a series of questions and then arrive at a quote and a timeframe to get it built in. Daniel emailed me each step of way. I would receive emails with a short paragraph along the lines of "1st coat of finish is done, will get 2nd coat done tomorrow". Very reassuring from a customer perspective.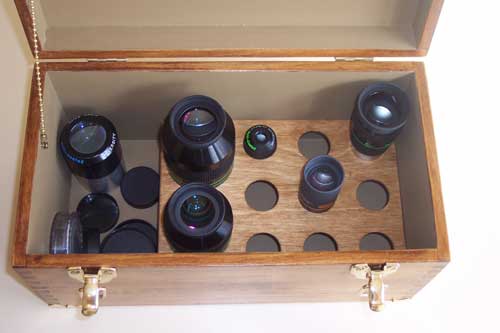 For my eyepiece case I wanted (2) 2" eyepiece case holders, (9) 1.25" holders and a decent sized accessory compartment for all the little stuff that will go nameless. Pictures really don't do this case justice - it's beautiful!
This case is not only the heaviest in the roundup (big surprise - solid oak) but is also the most expensive (custom labor by trained beavers does not come cheap). Eyepieces drop into their holders with a satisfying soft "thump" and don't move as long as the eyepiece case is not tipped or turned over. The top has a carrying handle and it must be moved this way.
Drawbacks? I've already mentioned the weight and price. Additionally, Astro Custom Cases are meant as carrying cases, not shipping or transport cases for your eyepieces. By this I mean you wouldn't want to mail or ship your eyepieces while in one of their cases. Use it to carry your eyepieces out for observing or when you drive somewhere for a session.
Of all my eyepiece cases this one gets the most use. I've grown fond of the fine workmanship and solid feel to the case. I like the fact that when I set it next to my telescope, nothing can knock it over. Heck, you can even stand on this case and it won't hurt it a lick.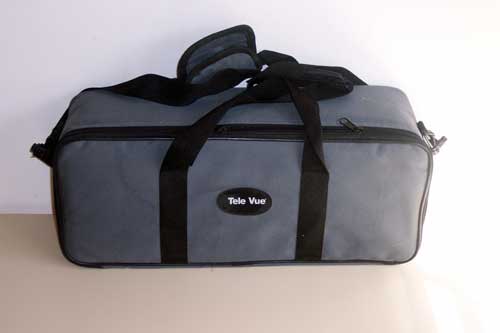 Tele Vue Eyepiece Carry Bag
$125.00 Tele Vue
From the company that brought us the Nagler, Panoptic and Radian eyepieces - they now have an eyepiece case to store those little gems in. If the case looks familiar, it should to many of you. It's the soft case Tele Vue has been shipping their Pronto and Ranger in for years.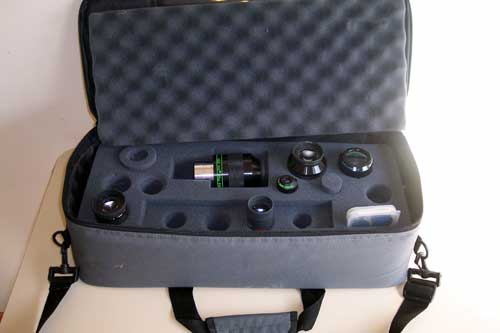 The Tele Vue case is a soft-sided case with a large hard foam insert. The pre-cut holes are configurable and each hole has multiple uses. Tele vue has created a schematic of the various ways the pre-cut holes can be used. That schematic can be found at this link This bag is designed for the Tele Vue line of eyepieces and will fit everything from their 31mm Nagler, down to the their 8mm plossel. More to the point, the eyepieces will fit perfectly, as the pre-cut holes are custom cut for Tele Vue eyepiece diameters and barrel sizes (eyepieces with both 1.25" and 2" barrels).
The Tele Vue case is very light and the eyepieces won't budge, even if the case is turned upside down. The hard foam does a good job of protecting the eyepieces, even though the case is soft sided.
I didn't like the fact that the top sheet of foam is not connected to the lid of the case. In the photo above, notice the checkered foam piece that is sitting vertically behind the eyepieces. This piece of foam lays on top of the eyepieces when the case is zippered shut. The problem is when you unzip the case to use the eyepieces, this piece of foam falls out. Then what do you do with it? Tele Vue should secure this top piece of foam to the zippered lid of the case.
The other issue I have with is the price. $125 is a bit steep for a soft-sided eyepiece case. I've heard from folks who get interested in this case but choose a Pelican case at half the price. The Tele Vue case does an excellent job of protecting and transporting your eyepieces but the price should be around $65. Just my opinion.....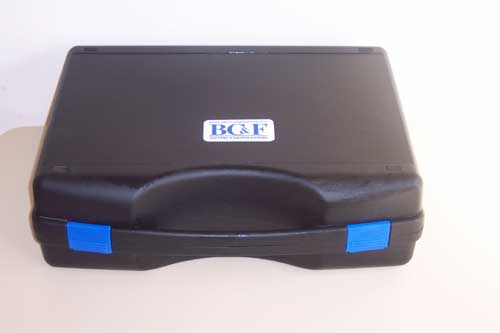 BC&F Hard Eyepiece Case
$46 Digitec Optical
The BC&F eyepiece case is a real bargain. Made of hard plastic it's two bright blue plastic latches "SNAP" when they lock into place. I was never unsure of when the latches had the case sealed shut (unlike the Orion hard case).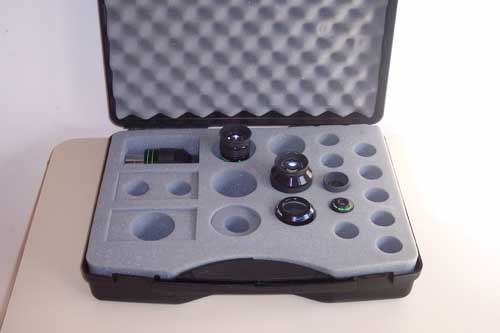 Open the lid and you see spaces for (10) 1.25", (6) 2" eyepieces and (3) accessory compartments that can also hold eyepieces. The foam is what I would term "medium density". It's not quite soft and it's not quite firm. It will flex to accommodate eyepieces but won't crack or crumble under pressure like hard foam will. Overall BC&F picked the perfect foam to cushion your eyepieces.
The top lid is cushioned with the same foam. Once the lid is snapped shut, the eyepieces cannot move in any direction. Per the picture, all the test eyepieces fit without any problems.
Overall, an excellent eyepiece case that will grow with your collection.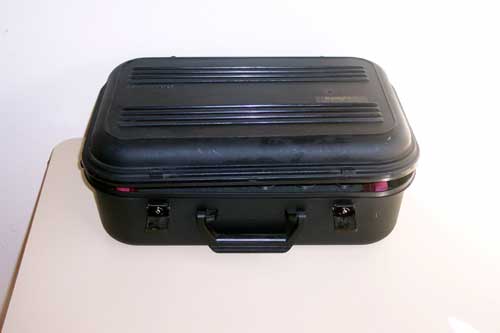 Eyelight Lighted Eyepiece Case (large)
$200 The Right Stuff
The folks from The Right Stuff have come up with an eyepiece case that will make you the envy of all other astronomers. The case itself is a Dockseal XLT case. What makes it so special is the eyepiece holder termed the "Eyelight".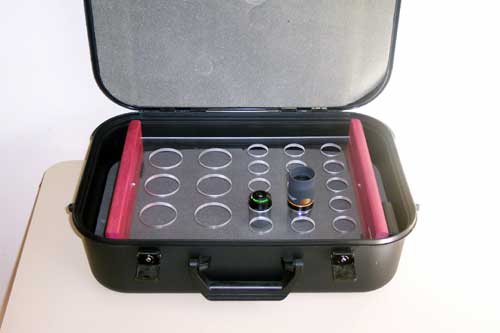 Inside the case is a clear acrylic eyepiece holder with (6) 2" and (15) 1.25" eyepiece holders. The acrylic eyepiece tray is held in place by two pieces of stained wood running alone each side. On the bottom and top of the case is soft foam.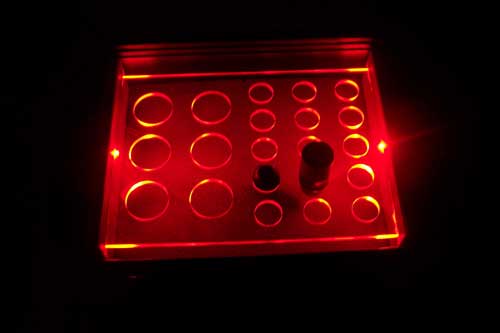 Flip a switch on the the right side and LED lights placed along the horizontal path of the acrylic tray light up. Now you have the ability to see your eyepieces in the dark without ruining the light adaptation of your eyes. No more fumbling for the flashlight just to switch out an eyepiece. The effect of the lights is very cool - always impresses people when I turn it on while observing.
The LED lights are powered by 2 AA batteries. The batteries literally last forever as the LED lights draw so little current.
The Eyelight is a very impressive and practical piece of technology. I have yet to show this case to someone who didn't want to buy one. They sorta sell themselves.
However, there is one giant drawback - tall or large eyepieces won't fit in the case. My 35 Panoptic, 22 MM Nagler and 6mm Radian are too tall for the eyepiece lid to shut. Nothing taller then a Vixen Lanthanum will fit in the case. This a real shame and could be easily solved if the folks at The Right Stuff would use a different case for their Eyelight.
For the astronomer who has smaller eyepieces and would like the ultimate in eyepiece case lighted luxury, the Eyelight Eyepiece Case is a wonderful accessory to buy.
Article: From the Editor's Desk: Eyepiece Case Roundup