CNers have asked about a donation box for Cloudy Nights over the years, so here you go. Donation is not required by any means, so please enjoy your stay.


2
Cosmic Challenge: Abell 70
Discuss this article in our forums
Cosmic Challenge:
Abell 70

September 2023

This month's suggested aperture range:

10-inch (25 cm) to 14-inch (36cm) telescopes
| | | | | | | |
| --- | --- | --- | --- | --- | --- | --- |
| Target | Type | RA | DEC | Constellation | Magnitude | Size |
| Abell 70 | Planetary Nebula | 20h 31.6h | -07° 05.3' | Aquila | 14.7 | 42" |
Of the more than 80 planetaries listed by George Abell in his 1966 paper "Properties of Some Old Planetary Nebulae," Abell 70 (also known as PK38.1-25.4) is one of the most unique. Actually, the planetary itself is a stereotypical example of a ring nebula, like M57, with a round shell of gas expanding away from the dim progenitor star. But look carefully and there is clearly more here than just that. Photographs show that the ring has a brightening along its northern edge. The allusion to an engagement ring is unmistakable, but that's no diamond. Instead, that odd brighter segment proves to be a distant lens-shaped galaxy that just happens to lie along the same line of sight. Can you spot both through your telescope?
Above: Evening star map showing the location of this month's Cosmic Challenge.
Credit: Map adapted from Star Watch by Phil Harrington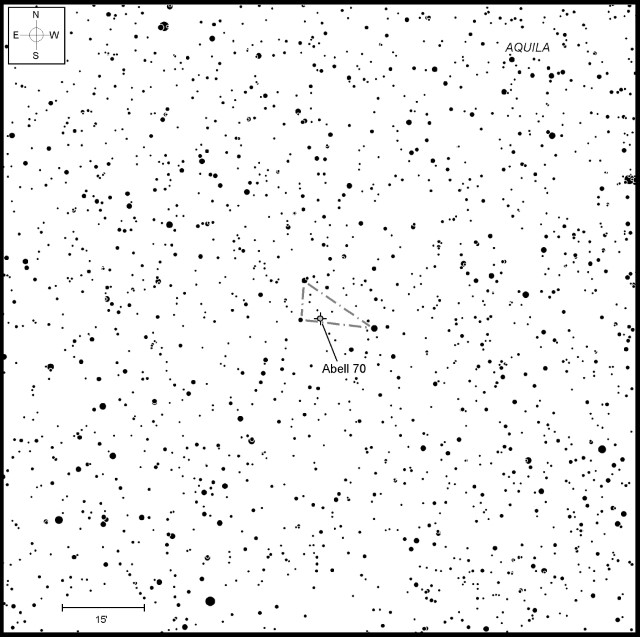 Above: Finder chart for this month's Cosmic Challenge.
Credit: Chart adapted from Cosmic Challenge by Phil Harrington
Click on the chart to open a printable PDF version in a new window
If you will be star-hopping, zeroing in on this unlikely odd couple will take some effort, since they lie in the dark, southeastern corner of Aquila. Here's one approach. Begin at the wide double star Alpha (α) Capricorni in neighboring Capricornus and scan about 3° to the northeast. Use chart 6.11 to spot Abell 70 lying to the southeast of the halfway point between two 10th-magnitude stars and just 3' west of an 11th-magnitude sun.
Even though it shines at only magnitude 14.7, Abell 70 is large enough that high magnification is not absolute necessary to identify its disk from among the neighboring stars. To resolve its distinctive annular shape, however, will take a slow, careful examination using averted vision and probably no less than 350x. An O-III filter will also help to accentuate its subtle annularity.
Above: Abell 70 as portrayed through the author's 10-inch (25cm) telescope. The superimposed galaxy went unseen, but its location is shown as a dotted oval.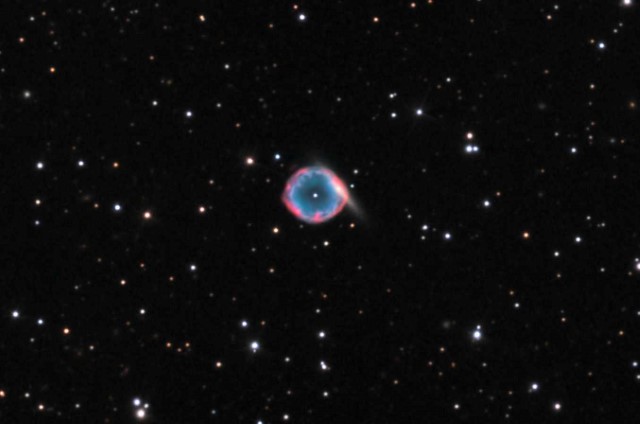 Above: This image by Adam Block was taken using an SBIG STX16803 CCD Camera and Astrodon Gen II filter on the 32-inch (81-cm) Schulman Telescope at Mount Lemmon SkyCenter/University of Arizona.
CC BY-SA 3.0 US, via Wikimedia Commons
Remove the filter to try and catch a glimpse of its galactic companion, cataloged as PMN (Parkes-MIT-NRAO) J2033-0656, behind the ring's northern edge. But don't be surprised if it evades detection. It did through my 10-inch (25cm), which is why it is shown only as a dotted oval in rendering above. Spotting the interloper's dim presence, rated at 16th magnitude, taxes even my 18-inch (45.7cm) reflector under 6th-magnitude skies. Undoubtedly, darker conditions would have made my quest a little easier. But even though the galaxy may come clean, even the darkest, most transparent skies probably will not help to show the planetary's central star that started it all. It shines at only 19th magnitude. A 2011 study entitled A barium central star binary in the Type I diamond ring planetary nebula Abell 70 shows that the central star is actually a binary system, with a hot white dwarf and an unusual G-type subgiant "barium" star.
Abell 70's distance is not well established. Current estimates place it between 13,500-17,500 light years away, but it's getting closer. It is approaching our solar system at a rate of 176,400 miles per hour (283, 900 kilometers per hour). Of course, by the time it gets anywhere this neck of the galaxy, it will have long since dissipated. Right now, the nebula is expanding at a rate of 85,000 miles per hour (38 km per second).
Have a favorite challenge object of your own? I'd love to hear about it, as well as how you did with this month's challenge. Contact me through my website or post to this month's discussion forum.
Until next month, remember that half of the fun is the thrill of the chase. Game on!
---



About the Author:

Phil Harrington writes the monthly Binocular Universe column in Astronomy magazine and is the author of 9 books on astronomy. Visit his web site at www.philharrington.net to learn more.

Phil Harrington's Cosmic Challenge is copyright 2023 by Philip S. Harrington. All rights reserved. No reproduction, in whole or in part, beyond single copies for use by an individual, is permitted without written permission of the copyright holder.
John O'Hara, warddl, Strider14 and 3 others like this
Article: Cosmic Challenge: Abell 70