CNers have asked about a donation box for Cloudy Nights over the years, so here you go. Donation is not required by any means, so please enjoy your stay.


2
Cosmic Challenge: Alcor and Mizar
Discuss this article in our forums
Cosmic Challenge: Alcor and Mizar

June 2021

This month's suggested aperture range:
Target

Type

RA

DEC

Const.

Mag

Size

Alcor and Mizar

Double
star

13h 23.9m

+54° 55.5'

Ursa
Major

2.2, 4.0

11.8'
Is there any constellation in the sky more universally known than Ursa Major, the Great Bear? Most of us learned of it as a child, perhaps from a relative or friend, or possibly as a Scout working our way toward a merit badge in astronomy. The seven brightest stars in the group, known in North America as the Big Dipper or in England as the Plough, always draw our attention, especially in the spring when they ride highest in our sky.
Many cultures incorporated the stars of Ursa Major into their myths and legends. Ancient Hindu stargazers, for instance, saw the stars in the Big Dipper asterism as Rishi, or "seven scholars." In Scandinavia , they were known as Thor's Wagon, and also the Wagon of Odin, Thor's father. In ancient Egypt , the Dipper's seven bright stars were seen as a bull's thigh, while in China , they were symbolic of the government. Some Arabs and Hebrews alike saw the Dipper stars as a bier, or coffin, while early Christians called it the Bier of Lazarus.
Who exactly was the first person to see the seven Dipper stars as well as the fainter surrounding points as forming a huge bear is long lost to history, but it is interesting to note that this interpretation bridged many cultures that presumably didn't know the others even existed. We find references to a great bear in such diverse sources as ancient Greek and Roman texts and among Native American tribes. Was this strictly happenstance? Or is the common meaning indicative of a shared origin, perhaps with roots in ancient Asia?
There are many legends surrounding our skybound bear. Ancient Greek legend had it that Ursa Major was the heavenly incarnation of Callisto, a beautiful young woman with whom Zeus himself fell in love. Fearing the jealous rage of his goddess wife Hera, Zeus transfigured Callisto into a bear and placed her in the sky for safety. He also placed their son, Arcas (after the Greek word arktos, or "bear") near her side. Today, we know them as Ursa Major and Ursa Minor, respectively.
Half a world away and before European influence could be felt, many Native American peoples had myths of celestial bears portrayed among the same stars. My favorite comes to us from the Iroquois and Algonquin tribes of eastern North America. They each tell a story of how, every spring, a vicious bear left its den to wreak havoc on their tribes by killing many people and eating their food stores. Finally, in a desperate attempt to rid them of this menace, the tribal leaders sent their three mightiest Indian warriors out after the bear. In this story, the stars in the Dipper's handle represent those warriors rather than the Bear's unusually long tail so often depicted in drawings. The Indians continue to chase the bear across the sky throughout the summer. Then, in the autumn, as the Bear grows weary, one of the Indians injures it with an arrow. Blood drips from the wound and colors the leaves of the forest in pastel shades of red, orange, and yellow. What finally happens to the Bear? Apparently, the wound is not fatal, as both it and the relentless hunters return to the sky every spring.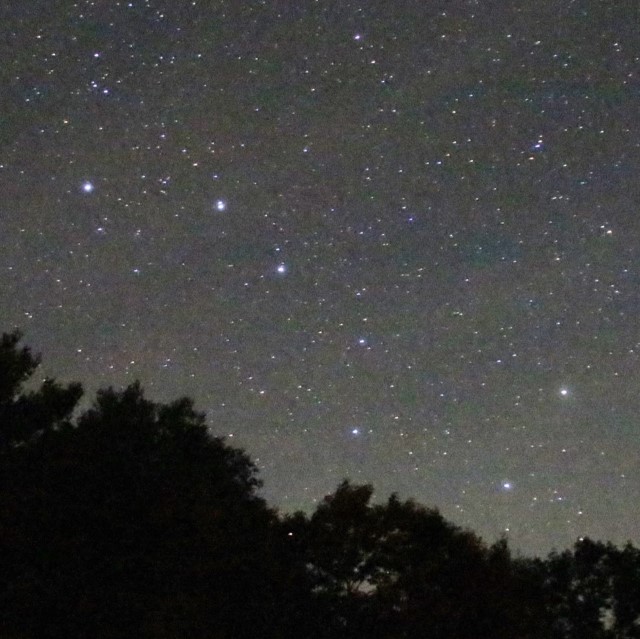 Above: The stars of the Big Dipper near the northwestern horizon from Stellafane.
If you look carefully, you can even see that the middle star in the Dipper's handle is joined by a nearby companion star. The Algonquins saw this faint cohort as the large pot that one of the hunters was carrying on his back to cook the bear in once they captured it. Other tribes knew the two close-set stars as a horse and rider, and often used them as a vision test for their own hunters, just as Greek warriors did.
Today, we know the horse and rider by their given Arabic names, Mizar and Alcor. Mizar, the brighter of the two, shines at magnitude 2.3, while Alcor is magnitude 4.0, or about five times fainter. To ancient Chinese stargazers, this was Foo Sing, the Supporting Star, while in Latin, it was called Eques Stellula, or Little Starry Equestrian.
Although it is not the tell-all check that ancient star-watchers thought, seeing the Little Starry Equestrian by eye remains a fun test to try from just about any spot in the northern hemisphere. The pair is separated by 11.8 arc-minutes, well within the resolution limit of most peoples' eyes. Both should be visible even through only marginally dark suburban skies. Look for Alcor to the east-northeast of Mizar.
That raises an interesting, and wildly disputed, question: what is the angular resolution of the human eye? Depending on the study, numbers can vary greatly. Part of the problem has to do with the conditions under which the tests are conducted. The human eye has two basic types of photo-receptors: cones, which respond to bright-light conditions, and rods, which respond to low-intensity light. It turns out that the resolving ability of rods is approximately 7 arc-minutes, only a fraction of the maximum resolution of the cones.
Of course, your personal results may vary depending on your own visual acuity. With sharp vision, a person may easily exceed this number, while a myopic observer may not come close. To judge your own eyes' angular acuity, try this simple test. Draw two black dots separated by 0.0625 inch ( 2 mm ) on a white index card and tape the card to a wall in a properly lit room. Close one eye and back away from the card slowly. Stop when the two black dots can no longer be resolved, but instead merge into one. Measure your distance to the card to the nearest foot. Plug that distance into the table below to find your eye's angular resolution value.
Angular Resolution Test
| | |
| --- | --- |
| Distance to card (feet) | Angular resolution (arc-minutes) |
| 1 | 27 |
| 2 | 13.5 |
| 3 | 9 |
| 4 | 7 |
| 5 | 5.5 |
| 6 | 5 |
| 7 | 4 |
| 8 | 3.5 |
| 9 | 3 |
| 10 | 2.5 |
Don't discount the resolving ability of the human eye. Today we rely on telescopes and attached instruments to determine the positions of sky objects to a small fraction of an arc-second, but early astronomers used only their eyes to make some startling discoveries. Perhaps the most amazing of all was Johann Kepler's (1571-1630) three laws of planetary motion, which he based largely on naked-eye observations of planetary positions by his mentor, Tycho Brahe (1546-1601). Brahe created a clever device that coupled a transit instrument with a giant protractor of sorts, and placed it in an observatory that he called Uraniborg.
Above: Tycho Brahe sits in his Uraniborg observatory. Unknown author, Public domain, via Wikimedia Commons
Brahe's sole mission was to record the times and angles when each of the naked eye planets appeared in a narrow reference window in his observatory. He did so meticulously for more than two decades. After Brahe's death, Kepler tried to use these observations to confirm the Copernican model theory that placed Earth and the other planets in circular orbits around the Sun. Try as he might, he could not get the numbers to agree with the observations. Finally, Kepler was forced to conclude that, while the planets did indeed orbit the Sun, they did so in elliptical paths. Millennia of misconception had been corrected all because of the precision of the human eye.
Good luck with this month's challenge! And be sure to post your results in this column's discussion forum.
Remember that half of the fun is the thrill of the chase. Game on!
okiestarman56, John O'Hara, Tyson M and 4 others like this
Article: Cosmic Challenge: Alcor and Mizar