CNers have asked about a donation box for Cloudy Nights over the years, so here you go. Donation is not required by any means, so please enjoy your stay.


2
Cosmic Challenge: Arp 82
Discuss this article in our forums
Cosmic Challenge:
Arp 82

March 2020

This month's suggested aperture range:

10- to 14-inch (25-36cm) telescopes
Target

Type

RA

DEC

Const.

Magnitude

Size

NGC 2535

Galaxy
pair

08h 11.2m

+25° 12.4'

Cancer

13.3

3.3'x1.8'

NGC 2536

08h 11.3m

+25° 10.8'

14.7

0.9'x0.7'
The constellation Cancer the Crab may not be much to look at, but it holds some fascinating objects within its emaciated body. Case in point: Arp 82, the 82nd entry in Halton Arp's Atlas of Peculiar Galaxies. Made up of NGC 2535 and NGC 2536, Arp 82 is a strange pair that seems to be experiencing a galactic version of arrested development. As galaxies formed in the early universe, theory says that massive amounts of nebulosity came together in quick succession, triggering vast expanses of rapid star formation. Then, as each galaxy aged, the rate of star formation slowed.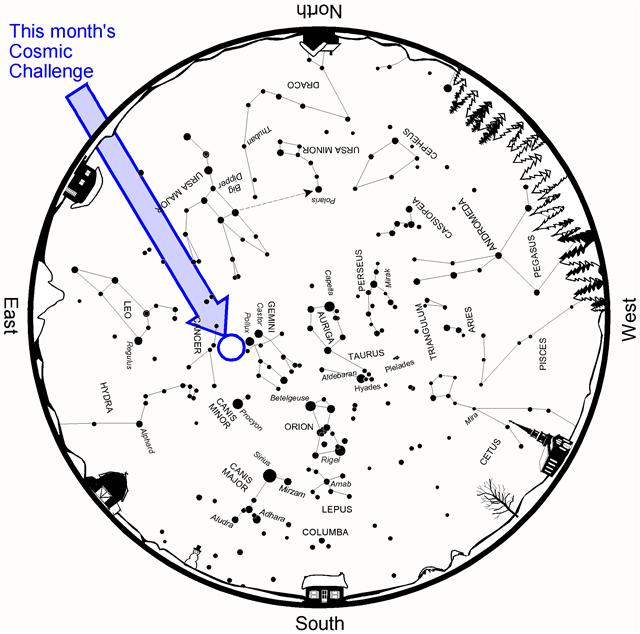 Above: Evening star map. Credit: Map adapted from Star Watch by Phil Harrington
Above: Finder chart for this month's Cosmic Challenge.
Click on the chart to open a printable PDF version.
Not so with NGC 2535 and NGC 2536, however. A 2007 study led by Mark Hancock of East Tennessee State University concluded that these galaxies did not create their stars early in their existence. Instead, based on observations from NASA's Galaxy Evolution Explorer, the Spitzer Space Telescope, and the Southeastern Association for Research in Astronomy Observatory at Kitt Peak, Arizona, Hancock and colleagues concluded that star formation was triggered much later in their lives when waves of new stars suddenly began to pop into existence. Today, we see NGC 2535, the larger galaxy, connected by a bridge of material to NGC 2536, its smaller companion. A second, long tail of interstellar material sweeps away from NGC 2535 directly opposite NGC 2536.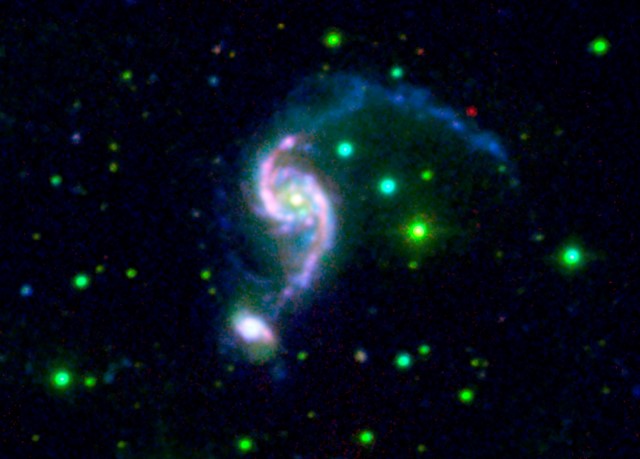 Two images of the colliding galaxies NGC 2535 (top/larger) and NGC 2536 (bottom/smaller), known collectively as Arp 82.
Upper image: Ground-based image taken by CN moderator Dan Crowson from Dark Sky New Mexico at Rancho Hidalgo (Animas, New Mexico). Details available here.
Lower image: Composite image was taken by the Spitzer Space Telescope (red), NASA's Galaxy Evolution Explorer (blue), and SARA telescope (green). Credit: NASA/JPL-Caltech/ETSU
As we study individual stars within each galaxy, we find few that are greater than about 2 billion years old. That's a small fraction of the universe's estimated age of 13.7 billion years. Apparently, before the galaxies swung past each other about 2 billion years ago, they were both mostly nebulosity. Only after the gravity of one galaxy swirled up the material in the other was star formation accelerated. A second close passage around 2 million years ago resulted in a second burst of activity. Why the galaxies in Arp 82 didn't begin to form stars earlier like other galaxies remains the stuff of future studies.
To see this unusual pair for yourself, begin at 4th-magnitude Kappa (κ) Geminorum and scan eastward about one finder field to 6th-magnitude Psi (ψ) Cancri. Arp 82 is 21' southeast of Kappa, next to a line of 12th- and 13th magnitude stars. That line of stars makes an excellent reference to estimate the apparent size of each galaxy as well as their separation. In photos of the area, the full span of NGC 2535, arms included, matches the length of that line of faint stars very closely, although in deep photos, the spiral arm opposite NGC 2536 actually curves completely around the northwestern end of the line. Whether or not that effect can be seen visually, however, remains doubtful.
Above: Arp 82 as seen through the author's 10-inch (25cm) reflector.
The view through my 10-inch reflector at 106x is an interesting study in surface brightness versus magnitude. Although NGC 2535 has the brighter magnitude value, its larger apparent size causes the resulting surface brightness to be lower than "fainter" NGC 2536. As a result, NGC 2536, although nearly stellar in appearance at that magnification, impresses me as a bit brighter. Larger NGC 2535 appears slightly oval and oriented northeast-southwest. Its weak concentration only hints as a centralized core, although photos show a sharp nucleus surrounded by an active ring of star formation. Despite the complex nature of its spiral arms, no hint of structure was seen with the 10-inch. Indeed, even my 18-inch offered little help beyond brightening up the galaxies some. Perhaps even larger instruments can reveal the complex nature of these galaxies that images show so spectacularly.
Good luck with this month's Cosmic Challenge! And be sure to post your results in this column's discussion forum.
Until next month, remember that half of the fun is the thrill of the chase. Game on!
---



About the Author:

Phil Harrington writes the monthly Binocular Universe column in Astronomy magazine and is the author of 9 books on astronomy. Visit www.philharrington.net to learn more.

A revised, second printing of Cosmic Challenge: The Ultimate Observing List for Amateurs is now available with updated data tables and charts for finding various solar system objects, such as Pluto and Vesta, as well as improved renditions of the many eyepiece sketches that accompany each of the 187 challenges encompassing more than 500 individual objects. The book is available from Amazon.com.

Phil Harrington's Cosmic Challenge is copyright 2020 by Philip S. Harrington. All rights reserved. No reproduction, in whole or in part, beyond single copies for use by an individual, is permitted without written permission of the copyright holder.
random, okiestarman56, John O'Hara and 2 others like this
Article: Cosmic Challenge: Arp 82