CNers have asked about a donation box for Cloudy Nights over the years, so here you go. Donation is not required by any means, so please enjoy your stay.


0
Cosmic Challenge: Dissecting M101
Discuss this article in our forums
Cosmic Challenge:

Dissecting M101

July 2018

This month's suggested aperture range:

Large scopes

10- to 14-inch (25cm-36cm)
| | | | | | | |
| --- | --- | --- | --- | --- | --- | --- |
| Target | Type | RA | DEC | Constellation | Magnitude | Size |
| M101's nebulae | Emission nebulae | 14 03.2 | +54 20.9 | Ursa Major | varies | varies |
Just spotting the gigantic Pinwheel Galaxy, M101, can sometimes be challenging enough. Its low surface brightness can drive suburban observers crazy, especially when we see photographs that show it so big and bright, or that it is listed as 8th magnitude. It all comes down to surface brightness, or more accurately, lack of surface brightness. Seeing the dim glow of the galaxy's small core, or the even dimmer glimmer of the surrounding spiral arms, can take a concerted effort. But with time and patience, M101 is visible, with difficulty, through 50-mm binoculars even given a suburban sky with a naked-eye limiting magnitude of perhaps 4.5.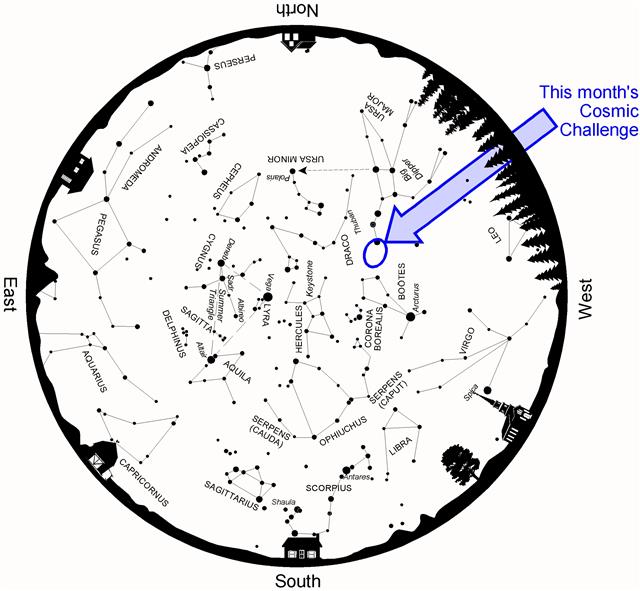 Above: Summer star map showing the location of this month's Cosmic Challenge.
Credit: Map adapted from Star Watch by Phil Harrington
Above: Finder chart for this month's Cosmic Challenge.
Credit: Chart adapted from Cosmic Challenge by Phil Harrington
Click on the chart to open a printable PDF version in a new window
For double-digit apertures, the test presented by M101 is not only seeing the galaxy, but also finding latent structural details hidden within. Pierre Méchain may have discovered the Pinwheel in 1781, but it took the trained eye of William Herschel gazing through his 18.5-inch telescope to begin to crack M101's galactic vault and find the first hidden gems, three of the galaxy's interior clouds.

That was a good beginning, but by no means was the end of the story. The next chapter opened in 1845 when William Parsons, the third Earl of Rosse, first examined the galaxy through his monstrous 72-inch reflector at Birr Castle in Parsonstown, Ireland. Lord Rosse was the first to spot nine knots scattered throughout the galaxy's amazing spiral arms.

Rosse's discoveries were added to John Herschel's General Catalog in 1864 and subsequently, to John Dreyer's 1888 New General Catalog. Today, the M101 family of hydrogen-II regions holds eleven entries in the NGC, more than any other single object. Each of these clouds is a huge expanse of ionized hydrogen surrounding embedded stars, like the Orion Nebula (M42) and the Lagoon Nebula (M8), among others.

Use a wide-field eyepiece producing no more than 75x to find M101 initially and to trace out the full breadth of its spiral-arm disk. Can you repeat Lord Rosse's historic observation by spotting the subtle serpentine arms curving away from the galactic core? One arm branches off the southern tip of the core, curling around the core and twisting toward the west and south. The second major arm curves away from the northern edge of the core, hooks to the west, and then comes around the other side, where it divides.

There has been long-standing confusion over the exact locations of many of the NGC targets within M101 dating back to a drawing that Lord Rosse made in 1861. John Herschel subsequently used that drawing to determine the positions of those objects for inclusion in his General Catalog, which ultimately resulted in errors that have been carried over to the present day. After more than a century, these galactic boo-boos were finally corrected by Harold G. Corwin, Jr. of the California Institute of Technology. The positions and labels listed in the table below as well as plotted on the chart above are based on Corwin's research.
Table: Nebulae within M101
| | | | | |
| --- | --- | --- | --- | --- |
| Target | RA | DEC | Magnitude | Size |
| NGC 5450 | 14 02.5 | +54 16.2 | 13 | 20"x6" |
| NGC 5447 | 14 02.5 | +54 16.8 | 14 | 8" |
| NGC 5449 | 14 02.5 | +54 19.8 | 14 | ~15" |
| NGC 5451 | 14 02.6 | +54 21.8 | 14 | ~10" |
| NGC 5453 | 14 02.9 | +54 18.5 | 14 | <10" |
| NGC 5455 | 14 03.0 | +54 14.5 | 13 | 15" |
| NGC 5458 | 14 03.2 | +54 17.9 | 14 | ~20" |
| NGC 5461 | 14 03.7 | +54 19.1 | 14 | 25"x15" |
| NGC 5462 | 14 03.9 | +54 21.9 | 14 | 60"x18" |
| NGC 5471 | 14 04.5 | +54 23.8 | 15 | 25" |
Our first stop is NGC 5471 at the far end of the eastern arm, 11.5' northeast of the core. Heinrich Louis d'Arrest was the first to spot it in 1863. Its isolation so far from the heart of M101 led many 20th-century observers to conclude that NGC 5471 was actually a separate galaxy, and in fact, its appearance through my 10-inch at 254x mimics a small elliptical galaxy perfectly, with an amorphous glow surrounding a brighter central core. Today, there is no longer any question as to its true nature. Photos taken with the Hubble Space Telescope reveal a glowing area some 200 times as vast as the Orion Nebula with several brighter regions embedded within. Detection of extremely strong X-ray emissions emanating from with have led researchers to conclude that NGC 5471 is home to no fewer than three supernova remnants.

Traveling inward along the same spiral arm, we next come to NGC 5462, one of Herschel's trio of discoveries. Unlike NGC 5471, which appears nearly circular, NGC 5462 looks quite distended, oriented northeast-southwest. It is slightly dimmer than NGC 5471, but should still be apparent in a 10-inch telescope. NGC 5462 shows little improvement with a narrowband or O-III nebula filter.

Closer in along the same spiral arm, we next come to NGC 5461, another of Herschel's finds. NGC 5461 is about 5' south-southeast of the galaxy's nucleus and looks like a faint, slightly fuzzy star through my 10-inch. My 18-inch at 411x begins to hint at some of the cloud's subtle structure, including what appears to be a stellar brightening at its northeastern edge. Again, a narrowband filter offers only a modicum of help.

Finally, NGC 5458 is situated along the same spiral arm, just prior to where it wraps into M101's nucleus. Look for a very small, very faint glow measuring less than 30" across set 5' directly south of the core.

M101's western arm also offers a variety of H II regions. Working out from the galactic nucleus, we first come to NGC 5451, found about 5' to its west. This is a tough catch. Unless your skies and optics are close to perfect, the low surface brightness of this nebulous tuft will probably escape unnoticed. A pair of faint field stars is only 1' to the cloud's west, so use them as a guide. But unless you can see those stars and the nebula, odds are good that you are only seeing the stars. NGC 5449, about 2' further south along the arm, is also a difficult target. Use high power for both.

A close-set pair of nebulous knots, NGC 5447 and NGC 5450, is found toward the southern tip of the western arm. Less than ideal seeing conditions will merge these into a single, elongated blur, but under steady skies, each can be resolved as a separate glow just south of a 14th-magnitude Milky Way star. NGC 5447 is a huge association of hot O- and B-type stars, while NGC 5450 is an H II region that may eventually evolve to resemble its neighbor.

Following a fork in the western arm that hooks back toward the galactic center brings us to NGC 5453. Look for its tiny presence about 2' west-northwest of NGC 5458.

NGC 5455 is found nearly half a degree south of M101's core, near the outskirts of the galaxy's vast spiral arm halo. Curiously, some computer software programs plot NGC 5455 as just another field star, failing to recognize its true extragalactic nature. It forms the southern point in an equilateral triangle with two 14th-magnitude field stars, one to its northeast and the other to its northwest.
Above: M101 as sketched through the author's 18-inch (46cm) reflector.
Have a favorite challenge object of your own? I'd love to hear about it, as well as how you did with this month's test. Contact me through my web site or post to this month's discussion forum.
Until next month, remember that half of the fun is the thrill of the chase. Game on!
---



About the Author:

Phil Harrington writes the monthly Binocular Universe column in Astronomy magazine and is the author of 9 books on astronomy. Visit his web site at www.philharrington.net to learn more.

Phil Harrington's Cosmic Challenge is copyright 2018 by Philip S. Harrington. All rights reserved. No reproduction, in whole or in part, beyond single copies for use by an individual, is permitted without written permission of the copyright holder.
Bill_H, okiestarman56 and Tyson M like this
Article: Cosmic Challenge: Dissecting M101