CNers have asked about a donation box for Cloudy Nights over the years, so here you go. Donation is not required by any means, so please enjoy your stay.


1
Cosmic Challenge: February 2020 NGC 2298
Discuss this article in our forums
Cosmic Challenge: February 2020

NGC 2298

This month's suggested aperture range:

6- to 9.25-inch
(15-23cm) telescopes
Target

Type

RA

DEC

Constellation

Mag

Size

NGC 2298

Globular
cluster

06h 49.0m

-36° 00.3'

Puppis

9.2

5'
Although most globular clusters line the summer sky as they huddle around the core of our galaxy, there are a few renegades that have stepped out on their own to occupy regions far beyond the rest. One such globular, nestled behind the rich Milky Way star fields of Puppis, is NGC 2298.
Discovered on May 30, 1826, by James Dunlop, NGC 2298 is a loner, some 40,000 light years from Earth. It orbits the Milky Way along a very broad, elliptical path that carries it as close as 6,500 light years from the galactic core and as far as 49,000 light years away across 304 million years.
Above: Evening star map. Credit: Map adapted from Star Watch by Phil Harrington
Above: Finder chart for this month's Cosmic Challenge.
Click on the chart to open a printable PDF version.
Research suggests that NGC 2298 is actually a castaway of the Canis Major Dwarf Galaxy. The Canis Major Dwarf, first reported in 2003 by a team of French, Italian, British and Australian astronomers, is classified as an irregular galaxy populated by as many as one billion stars. If its projected distance of 25,000 light years is correct, it is the closest neighboring galaxy to Earth. Astronomers, however, believe that the dwarf is in the process of being cannibalized by the overpowering effect of our Milky Way's gravity. As a result, it has cast off NGC 2298. Other exiles include globular clusters M79, NGC 1851, NGC 2808, as well as open cluster Tombaugh 2.
Another study, this one published in 2007 and based on data collected by the Hubble Space Telescope, shows that NGC 2298 itself is losing mass at a high rate. As the authors discuss, "observations over the past years have revealed a growing number of globular clusters severely depleted of low-mass stars." A remote globular like NGC 2298 should show a greater abundance of low-mass stars than globulars that are closer to the Milky Way's core. But it does not. The study concludes from this that NGC 2298 is losing mass more rapidly than expected. In fact, as the title of the study surmises, NGC 2298, like its original parent galaxy, is on its way to disruption.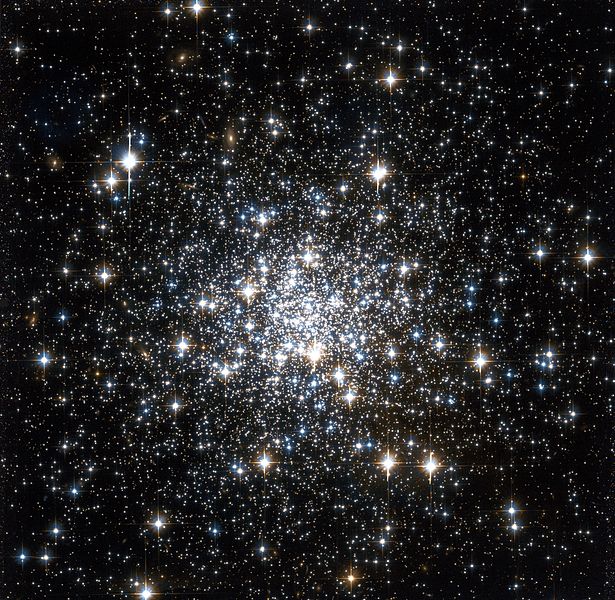 Above: Hubble image of globular cluster NGC 2298
Not to worry, however; NGC 2298 will be around for a while longer. You can take your time finding it. To starhop its way, begin your quest at Aludra [Eta (η) Canis Majoris], the tail star of the Large Dog. Slipping 3° southward, brings a right triangle of three bright stars into view, accompanied by many fainter points that collectively form the little-known star cluster Collinder 140. Its large size and sparseness masked the cluster's true nature until 1931, when Swedish astronomer Per Collinder included it as number 140 in his catalog. As I wrote in my February 2015 column here on CN, Collinder 140 is an easy target through just about any binocular. Its 30 stars range in brightness from 5th magnitude to fainter than 9th and span about 3/4°. Arizona deep-sky observer Steve Coe suggests the nickname "The Tuft" because of its location at the very tip of the dog's tail.
Drop another 5° southwest to 3rd-magnitude star, Pi (π) Puppis. Pi dominates another under-appreciated open cluster, Collinder 135. You will immediately notice Pi's striking orange color. Classified as a type K3 supergiant, its color is accentuated by the other blue-white cluster stars. Those stars also the double star v1 and v2 Puppis, just north of Pi, and a solitary 5th-magnitude star to the west. Together, they give the cluster a distinctive arrowhead shape. Once again, binoculars or your finderscope will likely offer a better view of both clusters than your telescope.
Finally, turn toward the northwest and shift 4°, or about half a finder field, from Pi to a small triangle of 6th- and 7th-magnitude stars. The triangle's westernmost star is labeled on the finder chart above. NGC 2298 is 1¾° away to its west-southwest and 15' south of an isolated 8th-magnitude field star.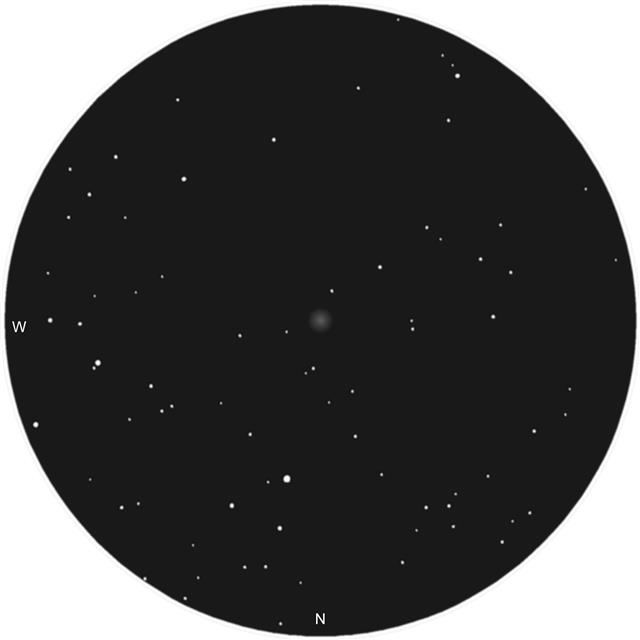 Above: NGC 2298 as seen through the author's 8-inch (20cm) reflector at 56x.
NGC 2298 will give most 6-inch telescopes a run for their money, but seeing it through 8- and 9.25-inch scopes should pose little problem as long as the atmosphere is clear of any horizon-hugging haze and clouds. My notes made through my 8-inch at 56x recall a dim ball of starlight punctuated by a vague central condensation. Using averted vision and raising magnification to 142x, I could just make out a few faint points around the edges. None of the cluster's stars shines brighter than magnitude 13.5.
Good luck with this month's Cosmic Challenge! And be sure to post your results in this column's discussion forum.
Until next month, remember that half of the fun is the thrill of the chase. Game on!
---



About the Author:

Phil Harrington writes the monthly Binocular Universe column in Astronomy magazine and is the author of 9 books on astronomy. Visit www.philharrington.net to learn more.

A revised, second printing of Cosmic Challenge: The Ultimate Observing List for Amateurs is now available with updated data tables and charts for finding various solar system objects, such as Pluto and Vesta, as well as improved renditions of the many eyepiece sketches that accompany each of the 187 challenges encompassing more than 500 individual objects. The book is available from Amazon.com.

Phil Harrington's Cosmic Challenge is copyright 2020 by Philip S. Harrington. All rights reserved. No reproduction, in whole or in part, beyond single copies for use by an individual, is permitted without written permission of the copyright holder.
okiestarman56, John O'Hara and eros312 like this
Article: Cosmic Challenge: February 2020 NGC 2298