CNers have asked about a donation box for Cloudy Nights over the years, so here you go. Donation is not required by any means, so please enjoy your stay.


1
Cosmic Challenge: Great Dark Horse Nebula
Discuss this article in our forums
Cosmic Challenge: Great Dark Horse Nebula

August 2022

This month's suggested aperture range:
| | | | | | | |
| --- | --- | --- | --- | --- | --- | --- |
| Target | Type | RA | DEC | Const. | Mag | Size |
| Dark Horse Nebula | Dark nebula | 17h 10m | -27° | Sagittarius | -- | ~480' |
Last month's challenge, to visually spot Abell Galaxy Cluster 2065, could have been subtitled "Go Big or Go Home." That challenge was tough in even that largest amateur telescopes. The good news is that this month's challenge turns the tables. All you need are your eyes. And decent skies.
One of the dead giveaways that the Milky Way is a spiral galaxy is the preponderance of dark nebulae that litter the plane of the galaxy. The summer Milky Way, stretching from Cygnus southward to Sagittarius, is especially polluted with clouds of opaque cosmic dust. One of the most obvious patches of dark nebulosity, the Great Rift, begins just south of Deneb in Cygnus and flows southward along the lane of our galaxy, through Aquila, to end about 120° later Scutum. Photographs display the ghostly outlines of many dark nebulae prominently against the bright backdrop of more distant stars. But as is often the case, when we look their way by eye, whether aided by telescope, binoculars, or eye alone, they are nowhere to be seen.
It is this subtlety that probably explains why so many classic observers from the golden age of visual astronomy made little mention of them. Messier and the Herschels paid scant attention to dark nebulae. After all, why look at something that can't be seen when there is so much out there that can be seen?
It wasn't until long after the marriage between photography and astronomy that the study of dark nebulae came into its own. Four years after Barnard's death, his collection of photographs was published as A Photographic Atlas of Selected Regions of the Milky Way after his research had been completed by Edwin Frost, then director of Yerkes Observatory, and Mary Calvert. In additional to the extraordinary photos, Barnard also included regional maps that assigned catalog numbers to each individual opaque cloud.
Many of Barnard's dark nebulae remain a supreme test for visual observers. To spot them, however, we have to change our way of thinking. In these cases, it's what you don't see that counts.
Besides the Great Rift, one of the largest and darkest dark nebulae in the summer sky lies midway between the Small Sagittarius Star Cloud (M24) and brilliant Antares in Scorpius. The nebula is so large that Barnard assigned it five separate entries in his catalog. By eye, we see them collectively as the Pipe Nebula. The Pipe Nebula extends over 7° in southern Ophiuchus. From a dark-sky site, its smoking-pipe shape stands out prominently against the star-studded backdrop. The "bowl" of the pipe, designated Barnard 78, looks roughly rectangular to the eye, while its stem, formed from Barnard 59, 65, 66, and 67, extends more than a degree to the west-southwest.
That's only part of this challenge. The Pipe Nebula is actually quite obvious when viewed under naked-eye limiting magnitude 6.0 or better skies, but by adding other, more subtle Barnard patches that float to the Pipe's northwest, the area transforms into the profile of a horse. In fact, the horse even seems to be strutting or prancing, as you might see in a circus act.
The first person to publicize the idea of the Dark Horse was author Richard Berry, former editor of Astronomy magazine. Recounting his "discovery," Berry recalls:
"After I graduated from college, I got into astrophotography, and became especially fascinated with Milky Way. I started taking wide-angle pictures, eventually with large-format cameras. About the same time, I found a copy of Barnard's atlas at a university library, and it really inspired me. You can't shoot wide, deep images of the Sagittarius-Scorpius-Ophiuchus region without picking up the dark nebulae. Going back to my photos, sitting right there in plain sight was a huge dark horse against the star clouds! Barnard called part of it the Pipe Nebula because he was shooting relatively narrow angle views. Some years later, when I ran readers' images of the same region in Astronomy, I started mentioning the 'Great Dark Horse Nebula' in a few of the captions. The name (or at least the Horse) seems to have caught on."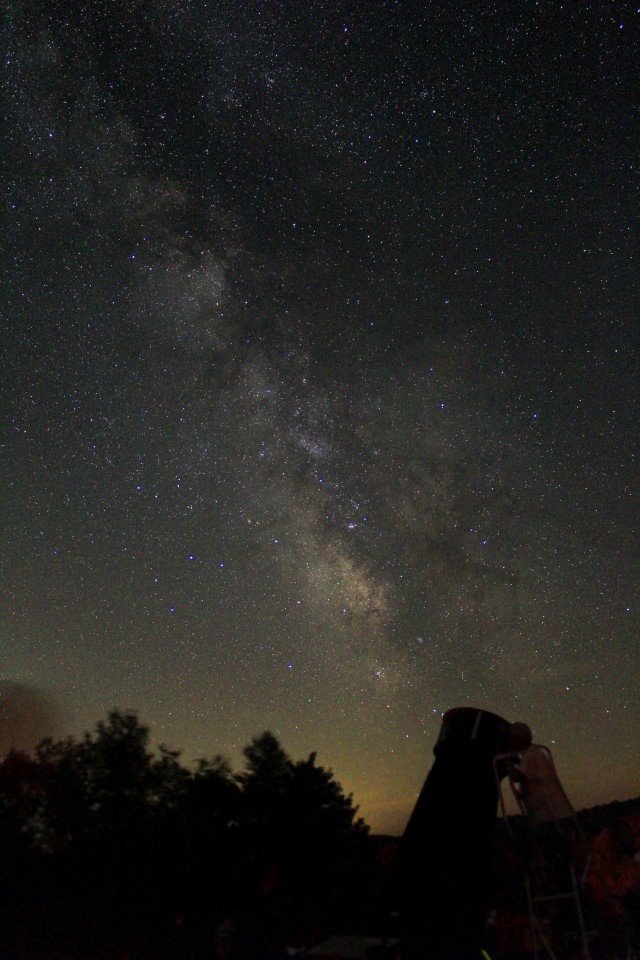 Above: The Great Dark Horse appears to be pulling the center of our Milky Way above the Westport (CT) Astronomical Society's 25-inch Obsession in this image taken by Michael Southam during the 2016 Stellafane convention. Visit his Astrobin album to be see more of his great images
The Pipe is unmistakable given a good sky, but the Horse takes a good eye and an even better imagination. Can you spot it? The photo above shows the horse standing on end, while the finder chart above identifies which clouds are which. Barnard 259 make up the horse's nose, Barnard 268 forms its mane, while a thin vein of darkness extending toward Barnard 276 completes the horse's head. Crescent-shaped Barnard 63 marks its bent front leg, while the remainder of the horse's torso is created by Barnard 67a, 72, 75, 261, 262, 266, 269, and 396. The horse's hindquarters are formed from the Pipe Nebula, with the bowl of the pipe as the horse's hip and the stem serving as its rear leg.
Good luck with this month's challenge! And be sure to post your results in this column's discussion forum.
Remember that half of the fun is the thrill of the chase. Game on!
okiestarman56, John O'Hara, Knasal and 1 other like this
Article: Cosmic Challenge: Great Dark Horse Nebula