CNers have asked about a donation box for Cloudy Nights over the years, so here you go. Donation is not required by any means, so please enjoy your stay.


2
Cosmic Challenge: Horsehead Nebula (Barnard 33)
Discuss this article in our forums
Cosmic Challenge: Horsehead Nebula (Barnard 33)

January 2022

This month's suggested aperture range:

Giant binoculars and

3- to 5-inch

(7.6- to 13-cm) telescopes
Target

Type

RA

DEC

Const

Mag

Size

Horsehead
Nebula (B33)

Dark
nebula

05h 41.0m

-02° 27.7'

Orion

--

4'
Let's kick off the new year with what many consider to be one of the most difficult visual challenges in the sky. If you listen carefully, you might even hear the strains of the "Mission: Impossible" theme song playing in the background. Of all the deep-sky objects in the winter sky, none carries the mystique of the dark nebula Barnard 33, better known as the Horsehead Nebula.
Lying 1,375 light-years from Earth, the Horsehead is part of the huge Orion Molecular Cloud Complex, which engulfs much of the constellation. It was discovered in 1888 by Williamina Fleming, not visually, but on a photographic plate taken at the Harvard College Observatory. Later, Edward Emerson Barnard added it as entry 33 in his burgeoning Barnard Catalogue of Dark Markings in the Sky, describing it as a "dark mass, diameter 4', on nebulous strip extending south from Delta Orionis."
The Horsehead is located 1° due south of Orion's easternmost belt star, Alnitak [Delta (δ) Orionis], making it very easy to pinpoint. But as easy as it is to locate, this "night-mare" is a nightmare to see.
Above: Evening star map showing the location of this month's Cosmic Challenge.
Credit: Map adapted from Star Watch by Phil Harrington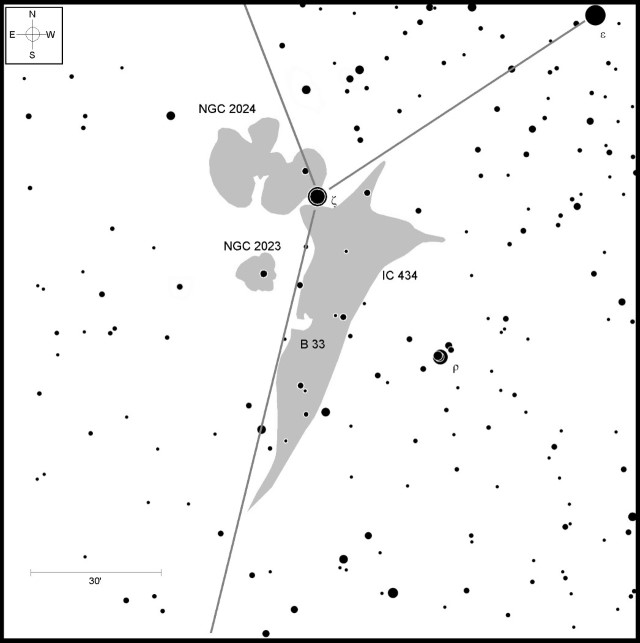 Above: Finder chart for this month's Cosmic Challenge.
Credit: Chart adapted from Cosmic Challenge by Phil Harrington
Click on the chart to open a printable PDF version in a new window
The problem is not the object, but rather our eyes. The human eye is a marvelous tool with an incredible range. We can adapt to almost any lighting condition, from very bright to very dark and still find our way around. But when it comes to dim, red deep-sky objects, it's almost worthless. That's the problem here. The Horsehead is visible only because it is situated in front of the red emission nebula, IC 434. And IC 434 is, for all intents and purposes, invisible unless viewed under very dark skies or by using nebula filters, or both.
In my book Touring the Universe through Binoculars (1990: John Wiley and Sons), I stated that "the Horsehead Nebula…is too small and faint to be visible in binoculars." I reasoned that it's tough enough to find it through large backyard telescopes, let alone binoculars. But 31 years ago, at the 1991 Winter Star Party in the Florida Keys, after spending some time observing alongside the late, great Tomm Lorenzin, the talented astronomy author and observer from North Carolina, I found out that I was wrong. Tomm (short for Theurgically Organic Mankind Module) showed me that the Horsehead is indeed visible in giant binoculars!
Here's how we did it. First, we were in an ideal observing site. The Keys' crystal-clear skies and Orion's height above the horizon certainly made a big difference. Next, he taped a pair of hydrogen-beta line filters to the eyepieces of his 10x70 Fujinon binoculars. Finally, we made sure that Alnitak was just outside the northern edge of the field, while nearby Sigma (σ) Orionis was toward the western edge. Then, with a detailed chart of the area at our side, we looked for a close-set pair of 8th-and 9th-magnitude stars near the center of the field. These coincide with the leading edge of IC 434 and are just west of the Horsehead. With Tomm's help, it took me only a few minutes to pick out both nebulae. Of course, the Horsehead was very small, looking like a thumb viewed from a few dozen feet away, but it was unmistakably there. I repeated the observation in my own 11x80 Unitron binoculars after retaping his filters onto my eyepieces. More recently, and under less ideal conditions, I spotted the Horsehead through my 4-inch (10.2-cm) refractor, as captured in the rendering below.
Above: The Horsehead Nebula (Barnard 33) and IC 434 through the author's 4-inch (10.2-cm) f/9.8 refractor.
Below: Steve Bellavia (CN member StevenBellavia) took this image of the Horsehead and IC 434 using a Borg 90FL refractor and a ZWO ASI 183MM Pro camera. Be sure to visit his Astrobin page for full information on this as well as his other spectacular images.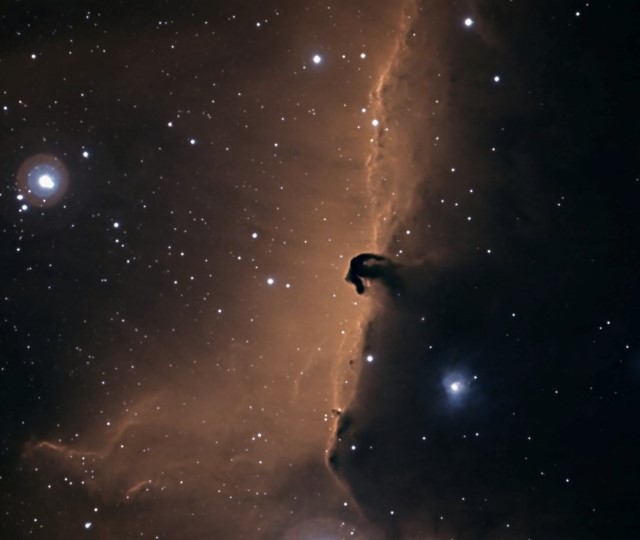 This is not to say that seeing the Horsehead is a simple task in larger instruments. Nothing could be farther from the truth. Indeed, I can rarely see it from my own backyard observatory using my 18-inch (45.7-cm) reflector with a hydrogen-beta filter in place. So, regardless of the telescope you're using, the Horsehead Nebula is a difficult challenge, one that will test your instrument's quality, the clarity and darkness of your night sky, as well as your skills as an observer.
Before I close, just a postscript about Tomm Lorenzin. Those who have been into observing for any length of time have undoubtedly heard of Tomm's self-published atlas/handbook 1000+: The Amateur Astronomer's Field Guide to Deep Sky. It's still available on the used book marketplace, such as from addall.com and others, as well as on occasion in the CN Classifieds under Software/Books/Magazines/Etc.
Tomm also created a sequel, bigger and better than the first that he generously released on his web site for free entitled, appropriately, 2000+: The Advanced Amateur Astronomer's Field Guide to Deep Sky Observing Database & Sky Atlas. Tomm passed away unexpectedly in 2014, but his family has maintained his online legacy for all to enjoy to this day. If you haven't already, head over there and take a look.
Have a favorite challenge object of your own? I'd love to hear about it, as well as how you did with this month's challenge. Contact me through my website or post to this month's discussion forum.
Until next month, remember that half of the fun is the thrill of the chase. Game on!
---



About the Author:

Phil Harrington writes the monthly Binocular Universe column in Astronomy magazine and is the author of 9 books on astronomy. Visit his web site at www.philharrington.net to learn more.

Phil Harrington's Cosmic Challenge is copyright 2022 by Philip S. Harrington. All rights reserved. No reproduction, in whole or in part, beyond single copies for use by an individual, is permitted without written permission of the copyright holder.
okiestarman56, John O'Hara, Sasa and 4 others like this
Article: Cosmic Challenge: Horsehead Nebula (Barnard 33)