CNers have asked about a donation box for Cloudy Nights over the years, so here you go. Donation is not required by any means, so please enjoy your stay.


4
Cosmic Challenge: IC 5217, the Little Saturn Nebula
Discuss this article in our forums
Cosmic Challenge:
IC 5217, the Little Saturn Nebula

September 2022

This month's suggested aperture range:

6- to 9.25-inch (15-24 cm) telescopes
| | | | | | | |
| --- | --- | --- | --- | --- | --- | --- |
| Target | Type | RA | DEC | Constellation | Magnitude | Size |
| IC 5217 | Planetary nebula | 22h 23.9m | +50° 58.0' | Lacerta | 11.3 | 7" |
As we transition from summer to autumn, let's try our luck with a taxing planetary nebula in an equally taxing constellation. IC 5217 lies among the faint stars of Lacerta the Lizard. Locating the nebula is a big part of the challenge because of its dim surroundings.
Its dimness and remote position likely led to the Herschels missing it as they surveyed the skies. It evaded detection until Williamina Fleming discovered it in 1904 while examining stellar emission line spectrum on a photographic plate taken at Harvard College Observatory.
Above: Late evening star map showing the location of this month's Cosmic Challenge.
Credit: Map adapted from Star Watch by Phil Harrington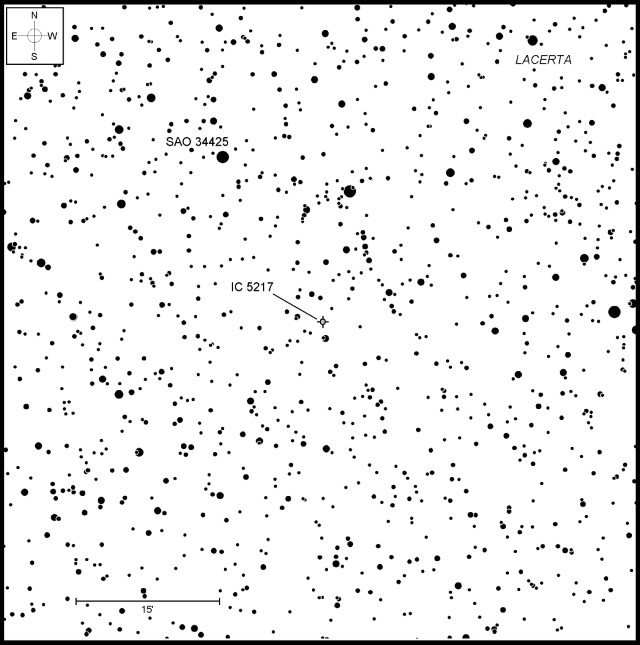 Above: Finder chart for this month's Cosmic Challenge.
Credit: Chart adapted from Cosmic Challenge by Phil Harrington
Click on the chart to open a printable PDF version in a new window
To spot IC 5217, use a technique offered many years ago by Walter Scott Houston in his Deep-Sky Wonders column. Begin by finding a four-star keystone asterism formed by Alpha (α), Beta (β), and 4 Lacertae, as well as 5.4-magnitude SAO 34143, about 18° east-northeast of Deneb [Alpha (α) Cygni]. The keystone measures about 3° across, small enough to fit into just about any finderscope. IC 5217 is located slightly northeast of the center of the keystone, in the same low-power field as the very red 6.5-magnitude star SAO 34425. The planetary is nestled just 3' west of a slender isosceles triangle of 11th- and 12th-magnitude stars.
Since IC 5217 shines only at magnitude 11.3 and measures just 7 arc-seconds across, an eyepiece switch will be needed to pick it out once its field is centered in view. Through my 6-inch Schmidt-Cassegrain telescope at 96x, the planetary was disguised as a star-like point. Increasing magnification to 240x, however, expanded the nebula's disk enough to identify it positively from the surrounding field. It appears grayish at this aperture and round. Try blinking the field with an O-III filter to enhance the nebula's disk.
Above: Sketch of IC 5217 as seen through the author's 6-inch (15-cm) Schmidt-Cassegrain at 240x.
The planetary takes on a faint bluish tint through 12-inch and larger telescopes. But there is little hope of seeing the central star since it shines at magnitude 15.5. In fact, the central star remains unseen through even the largest amateur telescopes because of the nebula's brightness. At magnifications around 400x or higher, those same instruments, however, hint at this planetary's bipolar structure. Some describe it as a Figure 8.
IC 5127 is nicknamed the Little Saturn Nebula owing to its resemblance to the Saturn Nebula (NGC 7009) in Aquarius, when viewed through the largest backyard instruments and crazy high magnification. With steady seeing and viewing it at over 700x, observers have mentioned that the elliptical inner disk is surrounded by fainter extensions that are reminiscent of Saturn's rings, hence the nickname. (Although NGC 6886 in Sagitta is also sometimes given the same nickname.)
In his post of 16 August 2018, Iain Petrie (CN'er iainp) from St Neots, Cambridgeshire, UK, remarked that IC 5217 "seemed very small to me, and it took 900 magnification to see its elongation and the difference between the brighter core and the fainter shell." Photographs reveal a bright equatorial ring and fainter bipolar lobes that extend north and south. Take a look at his very impressive sketch below!
Above: Magnificent sketch of IC 5217 as seen through Iain Petrie's (CN'er iainp) 20-inch (51-cm) reflector at 900x.
Finally, for those interested in the astrophysical aspects of this month's challenge, I would recommend reading IC 5217 as a Double-Shell, Point-Symmetric Planetary Nebula with a Very Narrow Waist by L. F. Miranda, S. Ayala, R. Vázquez, and P. F. Guillén [Astronomy and Astrophysics, 456, 591–597 (2006)].
Have a favorite challenge object of your own? I'd love to hear about it, as well as how you did with this month's test. Contact me through my website or post to this month's discussion forum.
Until next month, remember that half of the fun is the thrill of the chase. Game on!
---



About the Author:

Phil Harrington writes the monthly Binocular Universe column in Astronomy magazine and is the author of 9 books on astronomy. Visit his web site at www.philharrington.net to learn more.

Phil Harrington's Cosmic Challenge is copyright 2022 by Philip S. Harrington. All rights reserved. No reproduction, in whole or in part, beyond single copies for use by an individual, is permitted without written permission of the copyright holder.
okiestarman56, John O'Hara, Starman2021 and 1 other like this
Article: Cosmic Challenge: IC 5217, the Little Saturn Nebula