CNers have asked about a donation box for Cloudy Nights over the years, so here you go. Donation is not required by any means, so please enjoy your stay.


1
Cosmic Challenge: Jonckheere 900
Discuss this article in our forums
Cosmic Challenge:

Jonckheere 900

March 2017

This month's suggested aperture range:

Giant Binoculars

3- to 5-inch (75-127) telescopes
| | | | | | | |
| --- | --- | --- | --- | --- | --- | --- |
| Target | Type | RA | DEC | Constellation | Magnitude | Size |
| Jonckheere 900 | Planetary nebula | 06 26.0 | +17 47.4 | Gemini | 12.4p | 9.0" |
Few amateur astronomers are familiar with the name Robert Jonckheere. Jonckheere was a French double-star observer who conducted research at a number of observatories over his six-decade career, including the Strasbourg Observatory in France, the Royal Greenwich Observatory in England, as well as McDonald Observatory in Texas. His life's work culminated with the 1962 publication of his General Catalogue of 3,350 Double Stars, an expansion of his earlier Catalog and Measures of Double Stars discovered visually from 1905 to 1916 within 105° of the North Pole and under 5" Separation.
Above: Winter star map showing the location of this month's Cosmic Challenge.
Credit: Map adapted from Star Watch by Phil Harrington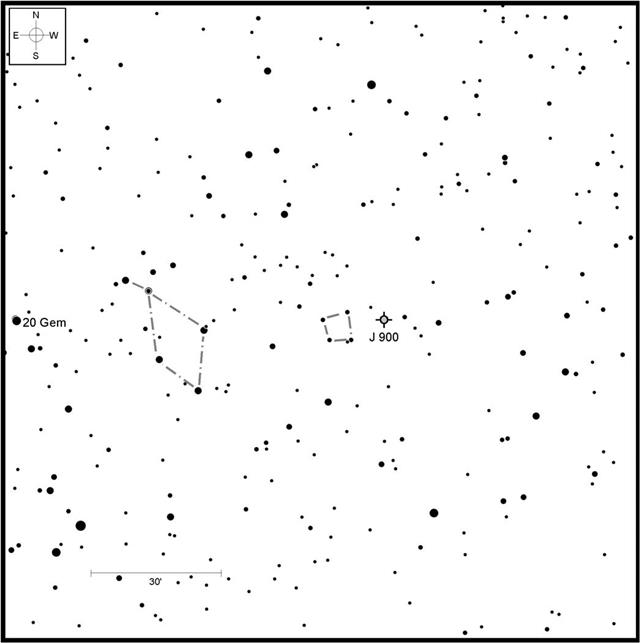 Above: Finder chart for this month's Cosmic Challenge.
Credit: Chart adapted from Cosmic Challenge by Phil Harrington
Click on the chart to open a printable PDF version in a new window
Of those 3,350 double stars, the one listed here is particularly unique. In 1912 using a 13-inch refractor at the University of Lille's observatory in France, Jonckheere discovered a vague, blurry pairing embedded in a planetary nebula. Jonckheere announced his discovery the following year in Astronomische Nachrichten (volume 194, page 47) and included it as entry number 900 in his catalog.
Strangely, subsequent observations by Edward Emerson Barnard through the 40-inch refractor at Yerkes Observatory in 1913 and 1915 turned up the planetary, but showed no sign of the embedded binary star. Barnard described the planetary as "a brightish, ill defined, bluish white disc, possibly a little brighter in the preceding part…there is no central condensation and no trace of the central double star" (Astronomical Journal, vol. 30, issue 719, p. 208-208; 1917). That's odd, since Jonckheere, a seasoned observer, clearly described seeing two stars within the nebula. How could he make such an error?
Jonckheere's planetary nebula, abbreviated as J 900 in most references, lies within the constellation Gemini and is bright enough to be visible through 4-inch telescopes aimed its way. Zeroing in on J 900 is a simple task thanks to its prominent location near the feet of the Gemini twins. Beginning at Alhena [Gamma (γ) Geminorum], hop northwestward to 23 Gem and then onward to 20 Gem, both shining at 7th magnitude. Continue due west to an asterism of 8th-magnitude stars in the shape of an upside-down kite, flying half a degree west of 20 Gem, and then onward another 45' westward to a rhombus of 9th-magnitude suns. J 900 is found 10' west of those four stars. An unrelated 12.5-magnitude star lies just 11" southwest of J 900, which at first blush looks like a wide double star. This illusion was not what Jonckheere reported in his discovery announcement, however.
The biggest challenge posed by J 900 is not from how dim it is, but rather, by how small it is. Through my 4-inch refractor at 40x, J 900 disguises itself very effectively as just another faint star, only revealing itself when flashed with a narrowband or oxygen-III filter. A magnification of 200x hints that J 900 has a tiny disc, although distinguishing an exact shape is impossible. The central star, at 16th magnitude, is also well below our detection threshold.
Above: J 900 as sketched through the author's 4-inch refractor.
So, what exactly did Jonckheere see? Barnard's report provides an important clue. In his description, Barnard noted that the nebula appears irregularly illuminated. When viewed through large telescopes, J 900 displays an oddly rectangular shape accented by two opposing bright lobes, one to the west and one to the east. In all likelihood, that is what Jonckheere saw. He simply misinterpreted the two brighter regions as a double star.
Have a favorite challenge object of your own? I'd love to hear about it, as well as how you did with this month's test. Contact me through my web site or post to this month's discussion forum.
Until next month, remember that half of the fun is the thrill of the chase. Game on!
---



About the Author:

Phil Harrington writes the monthly Binocular Universe column in Astronomy magazine and is the author of 9 books on astronomy. Visit his web site at www.philharrington.net to learn more.

Phil Harrington's Cosmic Challenge is copyright 2017 by Philip S. Harrington. All rights reserved. No reproduction, in whole or in part, beyond single copies for use by an individual, is permitted without written permission of the copyright holder.
SaberScorpX, okiestarman56, oalithgow and 1 other like this
Article: Cosmic Challenge: Jonckheere 900