CNers have asked about a donation box for Cloudy Nights over the years, so here you go. Donation is not required by any means, so please enjoy your stay.


3
Cosmic Challenge: Leo I
Discuss this article in our forums
Cosmic Challenge:

Leo I

April 2017

Phil Harrington

This month's suggested aperture range:

Monster scopes

15-inch (38cm) and up
Target

Type

RA

DEC

Constellation

Magnitude

Size

Leo I

Galaxy

10h 8.5m

+12°
18.5'

Leo

9.8

9.8'x7.4'
Seven decades ago, while scanning a Palomar Sky Survey plate of the area around brilliant Regulus in Leo the Lion, astronomers Robert Harrington (no relation) and A.G. Wilson noticed a faint blur of light just 1/2° north of the star. They may have thought at first that the glow was just an internal lens flare caused by stray starlight, but it soon became apparent that they had discovered something very real.
Above: Spring star map showing the location of this month's Cosmic Challenge.
Credit: Map adapted from Star Watch by Phil Harrington
Above: Finder chart for this month's Cosmic Challenge.
Credit: Chart adapted from Cosmic Challenge by Phil Harrington
Click on the chart to open a printable PDF version in a new window
Today, we know their find as Leo I, one of many dim dwarf spheroidal galaxies orbiting the Milky Way. Leo I has a total mass equivalent to only about 20 million solar masses. That's a drop in the galactic bucket compared to the Milky Way, which is comparable to about 600 million solar masses.
Dwarf spheroidal galaxies are something of an enigma. Like elliptical galaxies, they show very little evidence of nebulosity or star formation. As with many dwarf galaxies, the stars in Leo I contain a very small proportion of heavy elements; that is, elements heavier than hydrogen and helium. That tells us the stars are very old, since heavier elements are in abundance in young stars. Dwarf galaxies do, however, contain unusually high amounts of dark matter. Indeed, pound for pound, dwarf spheroidal galaxies have more dark matter than any other type of galaxy in the universe.
A study conducted by Jaroslaw Klimentowski of the Nicolaus Copernicus Astronomical Center in Warsaw, Poland, and colleagues entitled "Tidal Evolution Of Disky Dwarf Galaxies In The Milky Way Potential: The Formation Of Dwarf Spheroidals," Jaroslaw Klimentowski, Ewa L. Lokas, Stelios Kazantzidis, Lucio Mayer, and Gary A. Mamon [Mon.Not.Roy.Astron.Soc. 397 (2009)] suggests that dwarf spheroidal galaxies begin life embedded in halos of dark matter. Over time, the dwarf galaxies orbit around and pass near or through the larger galaxies to which they are gravitationally bound. During each close passage, the dwarfs are stripped of some of their original mass, including star-forming nebulosity. While these kamikaze maneuvers have stripped away the clouds of interstellar matter, the dark matter halo appears to remain largely unaffected.
There are two dwarf spheroidal galaxies within the constellation of Leo, appropriately dubbed Leo I and Leo II. Finding Leo I is no problem at all. Simply point toward Regulus and look 20' due north.
What's that, you don't see it? I'm not surprised. Although Leo I shines at an integrated magnitude of 10, its surface brightness is closer to 15th. That depressing number coupled with the blinding glare from Regulus is enough to hide Leo I from view. In fact, it did for all the classical observers, such as Messier, Méchain, and the Herschels.
Spotting Leo I successfully takes a little planning. First, switch to a high enough magnification so that Regulus can be moved out of the field. Avoid the temptation to use too high a power, however, since the galaxy's soft glow is easily dispersed into the background. Leo I spans about 10', so its span appears to extend about 1/4 of the way back toward Regulus.
Keep in mind that after you aim at Regulus, your "observing eye" will no longer be fully dark adapted. Therefore, aim toward Regulus with your other eye and shift it out of the field before switching back. Now, compare the view with my sketch below. Can you see the pair of 12th-magnitude stars just off the northeastern edge of the galaxy, as well as the triangle of 12th-magnitudes off its northwest? Position them toward the edge of the field, and then slowly sweep back and forth for the galaxy's vague oval glow. Remember, it will appear quite large in the field.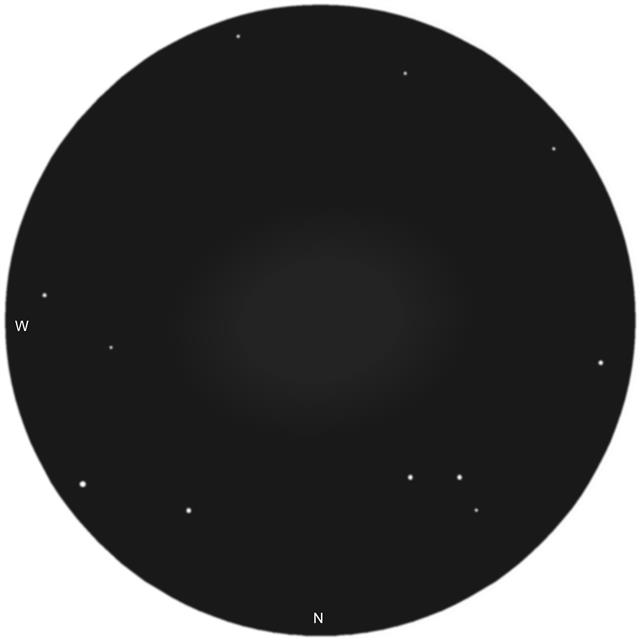 Above: Leo I as sketched through the author's 18-inch (46cm) reflector.
I have found that the best eyepiece through my 18-inch (46-cm) reflector for Leo I is a 10-mm Tele Vue Radian. The combination yields 206x with a real field of view of approximately 17'. Although Leo I fills a good part of the view, there is still enough open sky around the edge to identify the galaxy.
While you are ferreting out Leo I, keep an eye out for IC 591, a small spiral galaxy just 15' to the west. Look for a tiny, dim smudge just west of a very faint field star.
Using the right eyepiece and knowing the field will help you add this dwarf spheroidal to your list of conquered challenges with comparative ease. But don't get too cocky. Spotting its sibling, Leo II is an even greater challenge. But we will leave that for a future column.
Have a favorite challenge object of your own? I'd love to hear about it, as well as how you did with this month's test. Contact me through my web site or post to this month's discussion forum.
Until next month, remember that half of the fun is the thrill of the chase. Game on!
---



About the Author:

Phil Harrington writes the monthly Binocular Universe column in Astronomy magazine and is the author of 9 books on astronomy. Visit his web site at www.philharrington.net to learn more.

Phil Harrington's Cosmic Challenge is copyright 2017 by Philip S. Harrington. All rights reserved. No reproduction, in whole or in part, beyond single copies for use by an individual, is permitted without written permission of the copyright holder.
okiestarman56, Nile and Redbetter like this
Article: Cosmic Challenge: Leo I