CNers have asked about a donation box for Cloudy Nights over the years, so here you go. Donation is not required by any means, so please enjoy your stay.


1
Cosmic Challenge: Leo Trio 2
Discuss this article in our forums
Cosmic Challenge:
Leo Trio 2

April 2020

This month's suggested
aperture range:

6- to 9.25-inch
(15-24cm)
telescopes
Target

Type

R.A.

Dec.

Constellation

Magnitude

Size

Leo Trio 2

Galaxy
group

09h 43.2m

+31° 55.7'

Leo

see table below

~11'
You have undoubtedly heard of the Leo Trio, made up of M65, M66, and NGC 3628. But how about the Leo Trio 2? The Leo Trio 2 are tucked snuggly into the constellation's northernmost quadrant, some 7° north of the Leo "sickle."
Above: Evening star map. Credit: Map adapted from Star Watch by Phil Harrington
Above: Finder chart for this month's Cosmic Challenge.
Click on the chart to open a printable PDF version.
Begin at Rasalas [Mu (μ) Leonis], the orangish star at the pointy northern tip of Leo's sickle-shaped mane. Looking through your finderscope, scan about 5° to the northwest for the 6th-magnitude 15 Leonis. Look for a 7th-magnitude companion star just 13' to its northwest, which helps 15 stand out from the crowd. Can you also spot a fainter, slightly orangish point (SAO 61633) about 1¼° further to the north-northwest? If so, hop to it through your finder, and then switch to your telescope, widest-field eyepiece in place. Offset that star toward the southwestern edge of the eyepiece field until a rectangle of four 9th- and 10th-magnitude stars is centered in the field. NGC 2964, the leader of this small galactic pack, is the same distance northeast of the rectangle as the orangish reference star is to its southwest.
The table below lists the three members of the Leo Trip 2.
Members of Leo Trio 2
| | | | | | |
| --- | --- | --- | --- | --- | --- |
| Target | Type | RA | DEC | Magnitude | Size |
| NGC 2964 | Galaxy | 09 42.9 | +31 50.8 | 12.0b | 2.9'x1.5' |
| NGC 2968 | Galaxy | 09 43.2 | +31 55.7 | 12.8b | 2.2'x1.5' |
| NGC 2970 | Galaxy | 09 43.5 | +31 58.6 | 14.4b | 0.6'x0.4' |
Even though it is the brightest of the three, NGC 2964 is still a dim target in 6- to 9.25-inch scopes. Photographs reveal it to be a spiral galaxy inclined to our view some 50°. At 112x through my 8-inch (20cm) reflector, NGC 2964 shows off a pale, oval glow elongated approximately east-west and surrounding a very faint, round core. I usually need averted vision to see the full span of the oval halo, but found little benefit from increasing the magnification. It lies some 60 million light years away and measures about 60,000 light years across. Studies show that a transparent bridge of hydrogen extends from NGC 2964 to our next target found not quite 6 arc-minutes to its northeast.
Above: Leo Trio 2 as seen through the author's 8-inch (20cm) reflector.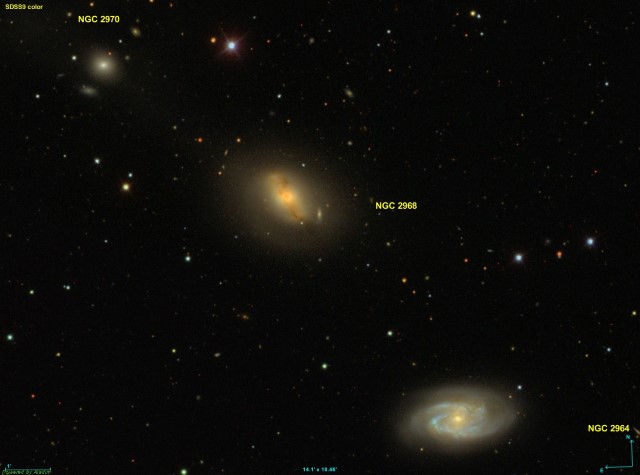 Above: Image of the Leo Trio 2 pack. (North is up)
NGC 2968 is a tougher catch, although it is visible through my 8-inch from under suburban skies by using averted vision. My records recall a small, very dim, featureless oval glow oriented approximately northeast-southwest. The lack of any distinguishable centralized nucleus adds to its obscurity. Although photographs record it as nearly as large as NGC 2964, it strikes my eye as perhaps only half the size. Those same photos reveal that NGC 2968, an irregular galaxy, has a pair of odd, dark, S-shaped lanes protruding from the galactic center and extending along the galaxy's major axis. Although I can see no sign of them even in my 18-inch reflector, I wonder if these lanes might be visible through larger amateur scopes. And that hydrogen bridge connecting NGC 2964 and 2968? According to a 2016 paper published in The Astronomical Journal entitled Global Properties of Neutral Hydrogen in Compact Groups, it actually extends farther still, toward our final quest.
The third and faintest member of this galactic trilogy is NGC 2970, just 5' northeast of NGC 2968. It shines a magnitude dimmer still, and so poses a real test for medium apertures. My 8-inch can't pull it out from my light-polluted backyard but was able to offer up a very dim glimmer from darker, rural skies. Even under the best conditions, it looks just like a very faint star. Don't feel too badly if you can't nab this last galaxy, however. William Herschel missed it as well when he discovered NGC 2964 and 2968 using an 18.7-inch reflector in 1785. It took the more youthful eyes of his son, John, viewing through the same aperture in 1828 to spot it.
Finally, I should point out that calling this the "Leo Trio 2" is selling the group a little short. There are plenty of backup members, as well. In reality, NGC 2964 is believed to be gravitationally associated with no fewer than three more galaxies in the general area: NGC 3003, NGC 3011, NGC 3021. And that's not all. Other nearby galaxies include NGC 3118, NGC 3067, NGC 3032, and NGC 3026. This trio, it turns out, is a galactic dectet.
Good luck with this month's Cosmic Challenge! And be sure to post your results in this column's discussion forum.
Until next month, remember that half of the fun is the thrill of the chase. Game on!
---



About the Author:

Phil Harrington writes the monthly Binocular Universe column in Astronomy magazine and is the author of 9 books on astronomy. Visit www.philharrington.net to learn more.

A revised, second printing of Cosmic Challenge: The Ultimate Observing List for Amateurs is now available with updated data tables and charts for finding various solar system objects, such as Pluto and Vesta, as well as improved renditions of the many eyepiece sketches that accompany each of the 187 challenges encompassing more than 500 individual objects. The book is available from Amazon.com.

Phil Harrington's Cosmic Challenge is copyright 2020 by Philip S. Harrington. All rights reserved. No reproduction, in whole or in part, beyond single copies for use by an individual, is permitted without written permission of the copyright holder.
random, okiestarman56, John O'Hara and 2 others like this
Article: Cosmic Challenge: Leo Trio 2