CNers have asked about a donation box for Cloudy Nights over the years, so here you go. Donation is not required by any means, so please enjoy your stay.


1
Cosmic Challenge: Lunar craters Armstrong, Aldrin, and Collins
Discuss this article in our forums
Cosmic Challenge:

Lunar craters Armstrong, Aldrin, and Collins

July 2019

This month's suggested aperture range:

6-inch (15 cm) to 9.25-inch (23.5 cm) telescopes
Target

Type

Best lunar phases
(days after New Moon)

Craters Armstrong, Aldrin, and Collins

Lunar crater trio

5-6, 19-20

Last month, I challenged you to find all six of the Apollo landing sites. This month, to commemorate the 50th anniversary of Neil Armstrong's and Edwin Aldrin's historic landing and moon walk, we return to Mare Tranquilitatis, the scene of Apollo 11, to find three small craters that bear the names of that historic mission's crew members.

Above: Craters Arago, Manners, Ritter, Sabine and Dionysius with Lamont structure and Apollo 11 landing site. Source: NASA / LRO_LROC_TEAM
Above: Finder chart for this month's Cosmic Challenge.
Click on the chart to open a printable PDF version in a new window.
The reason you are reading this article right now is because I am a product of the 1960's space race, when the United States and the former Soviet Union battled each other for supremacy in space. The goal, set by President John F. Kennedy in 1961, was "to land a man on the Moon and return him safely to the Earth" by the end of that decade. It seemed impossible, given that we had just barely scraped outer space at the time with Alan Shepard's suborbital flight. But eight years later, Kennedy's dream was realized, if posthumously, when Neil Armstrong took that "one small step for (a) man, one giant leap for mankind." It was one of those moments in history that, if you were alive at the time, you can recall exactly where you were. Me? I was transfixed to the television screen (we even had color TV, although the Apollo 11 camera was only black-and-white) in the living room of my childhood home in Rowayton, Connecticut. I was hooked for life.

The names of the three Apollo 11 astronauts are now permanently commemorated on the surface of the Moon by a trio of small craters that lie near the mission's landing site along the southwestern shore of Mare Tranquilitatis. Since the largest, named for mission commander and first man on the Moon, Neil Armstrong, only measures 3 miles (4.8 km) across, however, high magnification and steady seeing will be needed for any hope of seeing them.

The three Apollo astronaut craters see first light five nights after New Moon. The best opportunity for finding them, however, comes a night later, when the Sun has risen high enough to also light a pair of twin craters to their west. Those two craters, Ritter [19 miles (30.6 km) diameter] and Sabine [18 miles (29 km) diameter] ride the Tranquility coastline, tucked just inside the mare's southwestern corner. Since New Moon is on July 2, prime viewing will be on the evenings of July 7 and 8. If you're a morning person, then set your alarm for July 21 -- ironically, exactly half a century after the landing! I can't think of a better way of commemorating the event, can you? (But if it's cloudy, then July 22 will also do.)

Once Ritter and Sabine are in view, switch to about 200x and scan to the east of the latter. Look for the lone crater Maskelyne, some 9 crater diameters to the east of Sabine. Armstrong crater lies almost exactly between the two. Scanning further back toward Sabine, a second, slightly smaller crater can be found. That's Collins, 2 miles (3.2 km) in diameter. Finally, the least distinct of the three, Aldrin, is also 2 miles (3.2 km) across and found about halfway between Collins and Sabine. All three Apollo craters are nearly equally spaced, with Armstrong and Collins slightly closer to each other than Collins to Aldrin.

As you look their way, play back that famous line in your mind and realize the history this area has seen. "Houston, Tranquility Base here. The Eagle has landed." Tranquility Base lies some 14 miles (22.5 km) to the southwest of Collins.

Back in March 2018, CN'er Tom Glenn shared some great photos that he captured of the region in the Solar System Imaging & Processing forum using his Celestron C9.25 Edge HD and ASI224mc camera. In addition to taking some magnificent images, Tom really did his homework, offering links to various NASA images, as well. I'd encourage you to visit the thread if you are unaware of it. I especially like his cropped close-up, showing the three craters of interest, as well as an unusual triple crater dubbed the Cat's Paw. On my chart above, the Cat's Paw is that little dimple just to the upper left (northwest) of the Tranquility Base marker. Tom points out that the Cat's Paw is the only lunar feature that the astronauts saw while on the surface that we can also see through our backyard scopes -- but it's tough! Can you spot it, too?
Above: A pair of images of the Apollo 11 landing region taken by Tom Glenn. The top image shows the three craters named for the astronauts, while the bottom image is a cropped close-up of Cat's Paw and its relative location to Tranquility Base. Source: Tom Glenn. Used with permission.
Above: This close-up view of the Cat's Paw and West crater was taken from lunar orbit by Japan's SELENE spacecraft (better known in Japan by its nickname Kaguya). Apollo 11 landed just west (left) of West crater in an area that appears relatively bright. Source: NASA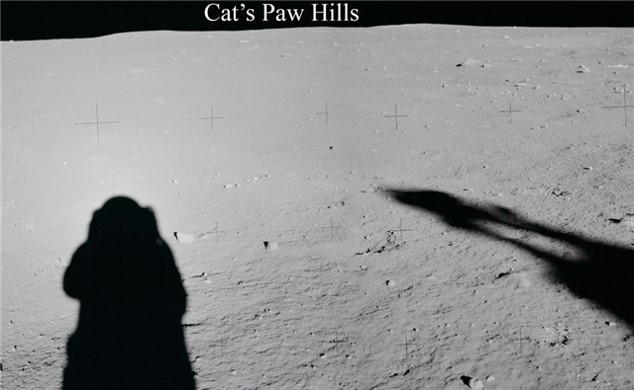 Above: Cat's Paw Hills (crater rim) as viewed from the lunar surface. Source: NASA

Before I close, permit me a small plug for the book upon which this Cloudynights feature is based. A revised, second printing of Cosmic Challenge: The Ultimate Observing List for Amateurs has been released by my publisher, Cambridge University Press. Inside are updated data tables and charts for finding various solar system objects, such as Pluto and Vesta, as well as improved renditions of my many eyepiece sketches that accompany each of the 187 challenges encompassing more than 500 individual objects. The book is available from Amazon.com (isn't everything??) as well as "better bookstores everywhere."

Until next month, remember that half of the fun is the thrill of the chase. Game on!
---



About the Author:

Phil Harrington writes the monthly Binocular Universe column in Astronomy magazine and is the author of 9 books on astronomy, including Cosmic Challenge: The Ultimate Observing List for Amateurs. Visit www.philharrington.net to learn more.

Phil Harrington's Cosmic Challenge is copyright 2019 by Philip S. Harrington. All rights reserved. No reproduction, in whole or in part, beyond single copies for use by an individual, is permitted without written permission of the copyright holder.
Dave Mitsky, JimP, John O'Hara and 2 others like this
Article: Cosmic Challenge: Lunar craters Armstrong, Aldrin, and Collins