CNers have asked about a donation box for Cloudy Nights over the years, so here you go. Donation is not required by any means, so please enjoy your stay.


3
Cosmic Challenge: Lunar Craters Messier and Messier A
Discuss this article in our forums
Cosmic Challenge:
Lunar Craters Messier and Messier A

June 2017
| | |
| --- | --- |
| Target | Best lunar phases (days after New Moon) |
| Moon: Messier/Messier A | Days 4-8 and 15-16 |
This month's suggested aperture range:

Giant binoculars and small scopes

3- to 5-inch (75-127mm) telescopes
Summer is in the offing here in the Northern Hemisphere and the longest day of the year is at hand. While many of us enjoy the warmer weather, the dark of night comes late in the evening and leaves all too early the following morning. So while deep-sky observing is limited, we can still enjoy viewing our Moon even if the sky is still bright. Yes, observing challenges await us on our nearest neighbor in space.
This month, I thought I'd highlight one of my favorite lunar ports-of-call, the unusual pair of craters, Messier and Messier A. The best viewing nights this month are June 10 to 12, and again from June 27 to July 1.
The double craters Messier and Messier A have a story to tell. Named for the famed French comet hunter, these craters are separated from one another by less than 4 miles (6 km). Both are nearly the same diameter and noticeably oval. Messier spans 5 miles by 7 miles (8 km by 11 km), while Messier A is a little larger, 7 miles by 8 miles (11 km by 13 km) across.
Above: Finder chart for this month's Cosmic Challenge.
Credit: Chart adapted from Cosmic Challenge by Phil Harrington
Click on the chart to open a printable PDF version in a new window
In addition to their similar appearance, both craters also share a common origin. A billion or so years ago, a meteoroid slammed into Mare Fecunditatis (the Sea of Fertility). The meteoroid itself was not necessarily special. What was unique, however, was the narrow angle in which it struck the surface. Tests conducted by Don Gault of NASA's Ames Research Center and John Wedekind of Caltech in 1978 suggest that the impact angle was probably less than 5°. The initial impact created the crater Messier, the western member of the duet. But then, just as a flat stone skips when it strikes a pond at a narrow angle, the meteoroid fractured. A large fragment skipped and was propelled another 4 miles (6 km) downrange, until it struck the surface to create Messier A. An ejecta field from that second impact threw twin rays of bright material further downrange. This unique pair of rays, looking almost like twin comet tails, immediately calls attention to the two craters. The twin parallel rays extend westward some 90 miles (145 km), nearly the full breadth of the mare.
Isn't it wonderfully ironic that a crater with Messier's name attached looks like a comet!
Take a close look at Messier A. Notice how its western rim appears distended and partially upraised, almost as if there is a second rim? Some believe this may be the result of the meteoroid creating Messier A fracturing and ricocheting again either before or upon impact. Nowadays, however, most prefer the theory that a newer impact occurred almost directly on top of an earlier impact, resulting a newer crater almost erasing an older crater.
Although not nearly as obvious as those sweeping westward from Messier A, crater Messier also has a system of ejecta rays. Curiously, the ejecta blanket surrounding Messier fans out to the north and south of the crater itself, perpendicular to the impact. Those same tests conducted in 1978 show that not only is this possible, but is actually very likely during a compound impact. If the lighting is right, the overall appearance of Messier, Messier A, and the craters' respective ejecta fields looks like a parrot in flight, with the fainter rays from Messier posing as the bird's outstretched wings and the twin searchlight-like beacons from Messier A its long tail feathers.
Here are a pair of photos of the pair of craters taken by Paolo Lazzarotti, an exceptional photographer from Italy. His name is likely familiar to those who frequent the Lunar Picture of the Day (LPOD) web site. And if you enjoy these two perspectives of Messier and Messier A, be sure to visit LPOD's archives of Paolo's contributions.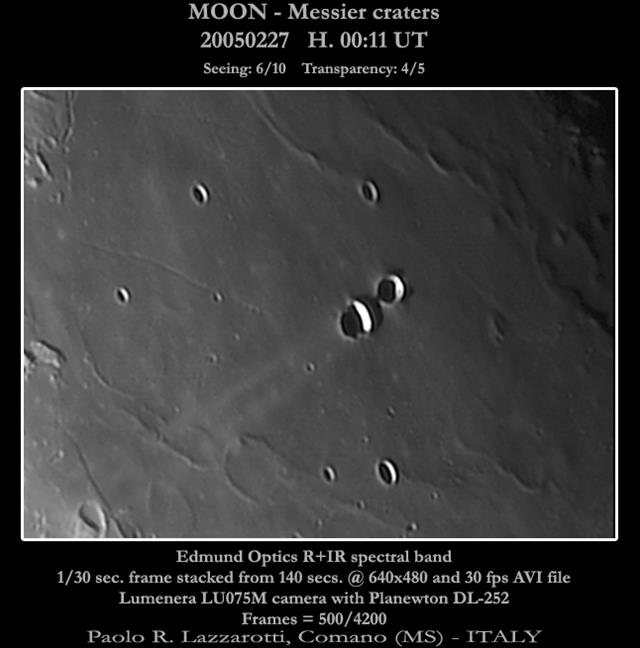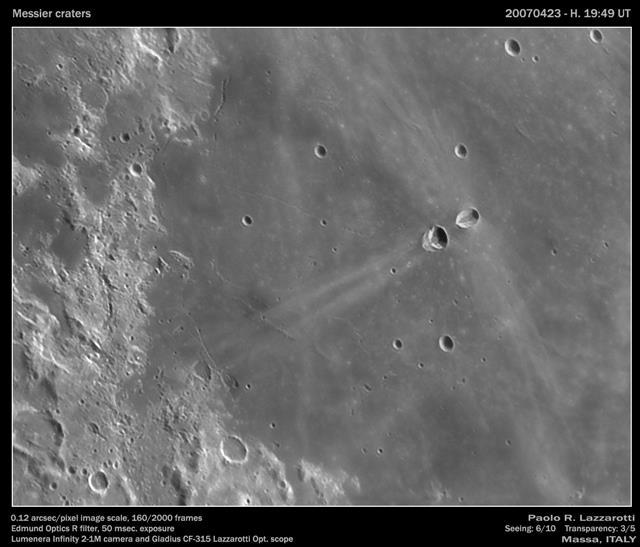 Above: Two perspectives of the unusual impact craters Messier (right) and Messier A (left). The top image was taken on 27 February 2005, when the Moon was 19 days past New. Notice how the low angle of the setting accentuates the craters' rims, but extinguishes the unique ejecta fields. The bottom image was taken on 23 April 2007, 6 days after New. With the Sun higher in the craters' sky, the perpendicular ejecta fields become much more evident.
Credit: Paolo Lazzarotti
The image below was taken from a much closer vantage point, in lunar orbit aboard Apollo 15 in 1971. The steep angle of sunlight at the time the photo was taken offers no shadow relief, but highlights the crater's bright floors, including Messier's strange "coffee bean" appearance.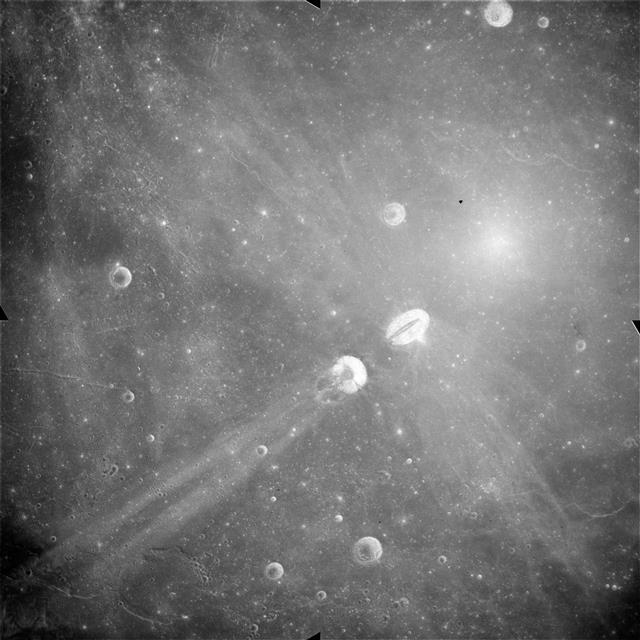 Above: Close-up image of the unusual impact craters Messier (right) and Messier A (left) taken by Apollo 15 in 1971.
Credit: NASA/JSC/Arizona State University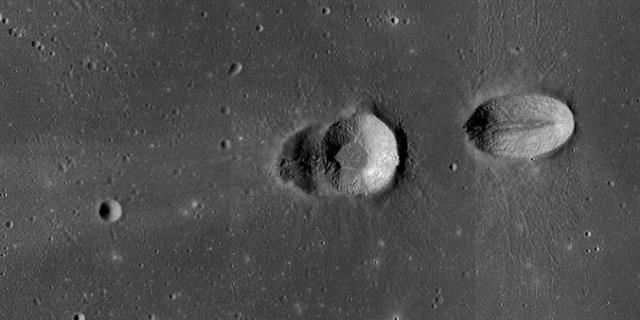 Above: As mentioned earlier, Messier A appears to be a double crater itself. This image, taken by the Lunar Reconnaissance Orbiter, shows that effect beautifully. The smaller, older crater appears partial exposed to the lower left of the newer, superimposed crater.
Credit: NASA/JSC/Arizona State University
Finally, on an historical footnote to you old timers, some of you may recall that Messier A was originally named Pickering, after the Harvard astronomer William H. Pickering. The name was changed to Messier A in 1964 after the International Astronomical Union ruled at the time that Pickering's bizarre ideas about plant life on the Moon, notably in the crater Eratosthenes, made him an inappropriate choice for a crater named in his honor. You will still find a crater named Pickering near the crater Hipparchus, but that is technically for Edward Pickering, William's older brother. You can read the first of his six-part thesis in this Google Books compilation of Popular Astronomy magazine from 1919. Three years later, Elizabeth Smith wrote more about the subject in an article entitled Is there life on the moon? (Publication of the Pomona College Astronomical Society, vol. 7, pp.49-51).
Have a favorite challenge object of your own? I'd love to hear about it, as well as how you did with this month's test. Contact me through my web site or post to this month's discussion forum.
Until next month, remember that half of the fun is the thrill of the chase. Game on!
---



About the Author:

Phil Harrington writes the monthly Binocular Universe column in Astronomy magazine and is the author of 9 books on astronomy. Visit his web site at www.philharrington.net to learn more.

Phil Harrington's Cosmic Challenge is copyright 2017 by Philip S. Harrington. All rights reserved. No reproduction, in whole or in part, beyond single copies for use by an individual, is permitted without written permission of the copyright holder.