CNers have asked about a donation box for Cloudy Nights over the years, so here you go. Donation is not required by any means, so please enjoy your stay.


3
Cosmic Challenge: NGC 1 and NGC 2
Discuss this article in our forums
Cosmic Challenge:
December 2019

NGC 1 and NGC 2

This month's suggested aperture range:

10-inch (25cm) to 14-inch (36cm) telescopes
| | | | | | | |
| --- | --- | --- | --- | --- | --- | --- |
| Target | Type | RA | DEC | Const. | Magnitude | Size |
| NGC 1 | Galaxy | 00h 07.3m | +27° 42.5' | Pegasus | 12.8 | 1.8'x1.1' |
| NGC 2 | Galaxy | 00h 07.3m | +27° 40.7' | Pegasus | 14.1 | 1.2'x0.7' |
As 2019 draws to an end, let's talk about a first. I am always interested in seeing the first of anything, whether it's the first day of a new year, the opening day of baseball season, the first robin of spring, the first snowflake of winter, or the first object in a particular deep-sky catalog. In the case of the latter, NGC 1, along with NGC 2, create our final challenge of the year.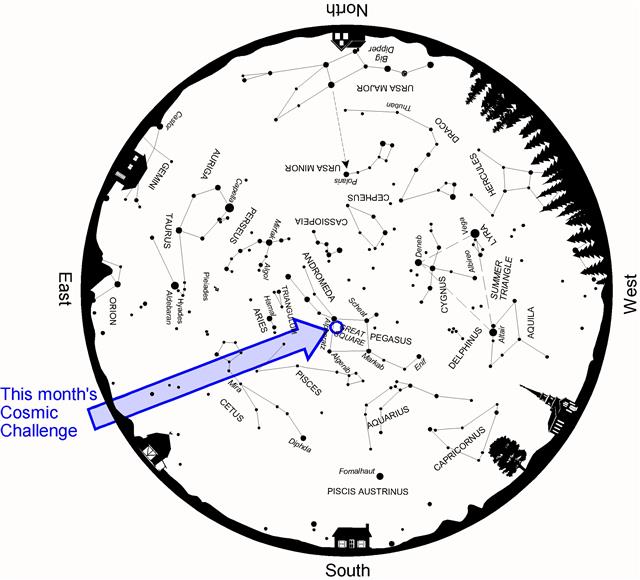 Above: Early evening star map. Credit: Map adapted from Star Watch by Phil Harrington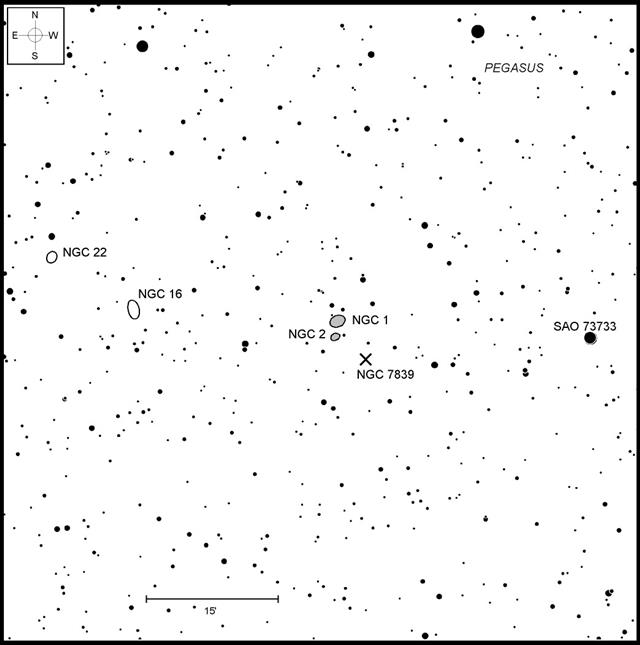 Above: Finder chart for this month's Cosmic Challenge.
Click on the chart to open a printable PDF version.
When he assembled and published the New General Catalogue of Nebulae and Clusters of Stars, or NGC, in 1888, John L.E. Dreyer (1852-1926) decided to organize the more than 7,800 entries in order of increasing right ascension beginning at 00 hours. In epoch 1860 coordinates, upon which the original NGC was based, this tiny pair of galaxies came in first, with NGC 1's position listed as 00h 00m 04s. But in the ensuing years, Earth's precession -- that slow, circular, 26,000-year wobbling of our rotational axis -- has shifting the celestial coordinate system underneath the stars. Today, in epoch 2000 coordinates, no fewer than 30 NGC objects have "lower" Right Ascension values than NGC 1.
We are not going to let that little fact spoil our fun, are we? Never! NGC 1 and NGC 2 still present formidable challenges for our telescopes. Together, these spiral galaxies are located 1.4° south of Alpheratz, the star at the northeastern corner of the Great Square (although technically, Alpheratz belongs to neighboring Andromeda; hence its dual identity of Alpha [α] Andromedae). Follow a crooked line of four 6.5-magnitude stars that extends from Alpheratz to the southwest for about 1½°. The fourth star in that line, the yellow giant SAO 73733, is ½° due west of our galactic pair.
Above: NGC 1 and NGC 2 as seen through the author's 10-inch (25cm) reflector. The position of NGC 7839 is also circled, although as noted in the text, that is actually a misidentified pair of faint stars.
NGC 1 is the brighter of the galaxies, and may actually be visible in telescopes as small as 6 inches in aperture under dark skies. My 10-inch at 58x uncovers a dim, oval disk just 2' south of an 11th-magnitude star. By increasing magnification to 106x and using averted vision, I can just spot a stellar core in the center. The core becomes easier to see by increasing magnification three- or four-fold, but only under steady seeing.
I also find that 106x is just right for spotting the small, dim disk of NGC 2 through the 10-inch. Like NGC 1, NGC 2 is slightly elongated and oriented approximately northwest-southeast. NGC 2 is three times fainter than its neighbor, so only shows a faint, uniform glow. Get set to use averted vision just to spot it, regardless of magnification.
Despite their close proximity to each other, NGC 1 and NGC 2 do not constitute a true physical pair. Astronomers can tell that NGC 2 is farther away than NGC 1 by studying the redshifts in their spectra, as well as by comparing the level of structural detail visible in photographs. Today's best estimates place NGC 1 at approximately 215 million light years away, while NGC 2's calculated distance is about 345 million light years.
Incidentally, some charts also plot another target, NGC 7839, in the immediate area. Although this object can appear "nebulous" through telescopes, it turns out that NGC 7839 is nothing more than a pair of very faint Milky Way stars some 4' southwest of NGC 2.
Good luck! And be sure to post your results in this column's discussion forum.
Until next month, remember that half of the fun is the thrill of the chase. Game on!
---



About the Author:

Phil Harrington writes the monthly Binocular Universe column in Astronomy magazine and is the author of 9 books on astronomy. Visit www.philharrington.net to learn more.

A revised, second printing of Cosmic Challenge: The Ultimate Observing List for Amateurs is now available with updated data tables and charts for finding various solar system objects, such as Pluto and Vesta, as well as improved renditions of the many eyepiece sketches that accompany each of the 187 challenges encompassing more than 500 individual objects. The book is available from Amazon.com.

Phil Harrington's Cosmic Challenge is copyright 2019 by Philip S. Harrington. All rights reserved. No reproduction, in whole or in part, beyond single copies for use by an individual, is permitted without written permission of the copyright holder.
Dave Mitsky, random, okiestarman56 and 5 others like this
Article: Cosmic Challenge: NGC 1 and NGC 2