CNers have asked about a donation box for Cloudy Nights over the years, so here you go. Donation is not required by any means, so please enjoy your stay.


3
Cosmic Challenge: NGC 7537 and NGC 7541
Discuss this article in our forums
Cosmic Challenge:
NGC 7537 and NGC 7541

October 2022

This month's suggested aperture range:

6- to 9.25-inch (15-24 cm) telescopes
| | | | | | | |
| --- | --- | --- | --- | --- | --- | --- |
| Target | Type | RA | DEC | Const. | Mag | Size |
| NGC 7537 | Galaxy | 23h 14.6m | +04° 29.9' | Pisces | 13.2 | 2.2'x0.5' |
| NGC 7541 | Galaxy | 23h 14.7m | +04° 32.0' | Pisces | 11.7 | 3.5'x1.2' |
NGC 7537 and NGC 7541 are two of the more visually interesting galaxies that hide among the faint stars of Pisces, the Fishes. Only 3 arcminutes separate these nearly edge-on spirals, creating an attractive pair of faint fuzzies that float in a field of dim stars.
Above: Late evening star map showing the location of this month's Cosmic Challenge.
Credit: Map adapted from Star Watch by Phil Harrington
Above: Finder chart for this month's Cosmic Challenge.
Credit: Chart adapted from Cosmic Challenge by Phil Harrington
Click on the chart to open a printable PDF version in a new window
Both galaxies are nestled in the far southwestern corner of Pisces, not far from 4th-magnitude Gamma (γ) Piscium, the brightest star in the Circlet of Pisces asterism. The Circlet, a five-star pentagon marking the constellation's western fish, can be found south of the Great Square of Pegasus. Depending on your local light pollution level, you might need some optical help to make out the Circlet; spanning 6° side-to-side, it should just cram into the field of most finderscopes.
Aim your telescope toward yellowish Gamma and then look about 2° to its northwest for a wide pair of 7th-magnitude stars. The western star of the pair shines with a golden glint, while the eastern star (SAO 128051) has a bluish tinge. Our challenge is found about three-quarters of the way between Gamma and the pair's eastern sun. Look for the galaxies just east of an 11th-magnitude field star.
NGC 7541 is the big kid on the block, appearing brighter and larger than its neighbor. My 8-inch reflector at 118x reveals a long, very thin spike of light oriented almost exactly east-west. A 12.5-magnitude Milky Way star shines just beyond the galaxy's eastern tip. Don't be fooled into thinking you've discovered a supernova if you spot it.
Back in 1998, however, a supernova was spotted in NGC 7541 by astronomers using the Katzman Automatic Imaging Telescope, or KAIT. The KAIT, part of the Lick Observatory complex on Mount Hamilton near San Jose, California, is a fully automated 30-inch Cassegrain reflector designed specifically to search for extragalactic supernovae and other transient phenomena. Since dedicated in 1996, KAIT has been the backbone of the Lick Observatory Supernova Search, discovering nearly 1,000 supernovae -- indeed, when you read this, that remarkable number may have been exceeded. NGC 7541 supernova's, designated SN1998dh, only reached 15th magnitude, keeping it well below the threshold of visibility for all but the largest amateur instruments.
Subsequent studies showed that SN1988dh was a Type Ia supernova. In very broad terms, supernovae can be divided into two categories, Type I and Type II, with the former further refined into Types Ia, Ib, and Ic. Type Ia supernovae occur in binary star systems where one of the system's members is a white dwarf star. White dwarfs are the end result of a star that has used up all of its fuel and has collapsed under the crushing influence of gravity. If a white dwarf lies close enough to a partner star in a binary system, mass may be transferred between the two. As material is shifted from the companion star to the white dwarf, the increase in pressure and density raises the temperature of its core. If enough mass is transferred, then the white dwarf may exceed its maximum mass limit, the Chandrasekhar limit, of about 1.4 times the current mass of our Sun. When that happens, the crushing effect is overwhelming, causing the white dwarf to detonate violently.
Above: Sketch of NGC 7537 and NGC 7541 as seen through the author's 8-inch (20-cm) Newtonian reflector at 118x.
Below: A wonderful image of NGC 7537 and NGC 7541 taken with a Meade 14-inch (35.6-cm) LX200R and posted by late CN member Rick J from Mantrap Lake, MN. The small galaxy at the top of his image is the 17th-magnitude galaxy MAC 2314+0438.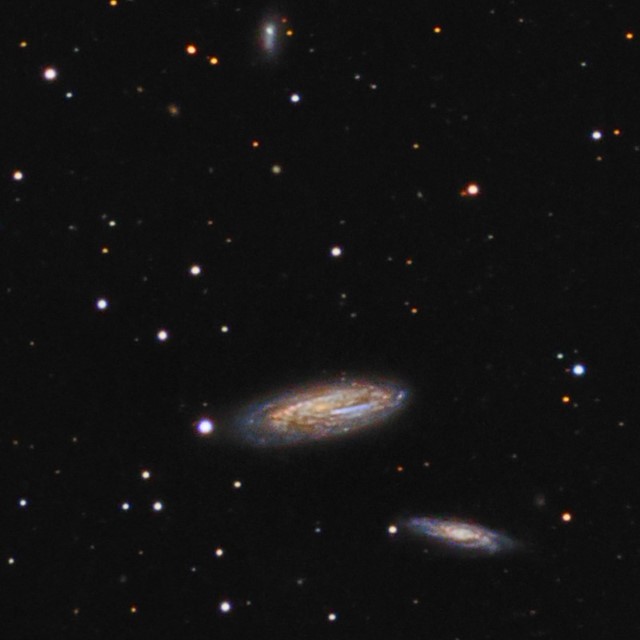 NGC 7537 lies in the same field as NGC 7541, but its smaller size and fainter nature presents us with a greater challenge. Indeed, when I first spotted NGC 7541 through my 8-inch reflector many years ago under only mediocre skies, NGC 7537 was nowhere to be found. Some time later under better viewing conditions, the same telescope detected the missing galaxy as an exceedingly faint, oval glow. NGC 7537 is also oriented east-west, tilted slightly askew to its more prominent neighbor.
Have a favorite challenge object of your own? I'd love to hear about it, as well as how you did with this month's test. Contact me through my website or post to this month's discussion forum.
Until next month, remember that half of the fun is the thrill of the chase. Game on!
---



About the Author:

Phil Harrington writes the monthly Binocular Universe column in Astronomy magazine and is the author of 9 books on astronomy. Visit his web site at www.philharrington.net to learn more.

Phil Harrington's Cosmic Challenge is copyright 2022 by Philip S. Harrington. All rights reserved. No reproduction, in whole or in part, beyond single copies for use by an individual, is permitted without written permission of the copyright holder.
Dave Mitsky, John O'Hara, warddl and 2 others like this
Article: Cosmic Challenge: NGC 7537 and NGC 7541