CNers have asked about a donation box for Cloudy Nights over the years, so here you go. Donation is not required by any means, so please enjoy your stay.


2
Cosmic Challenge: Planetary Nebula GJJC-1
Discuss this article in our forums
Cosmic Challenge: Planetary Nebula GJJC-1

August 2021

This month's suggested aperture range:

15-inch (38cm) and larger
| | | | | | | |
| --- | --- | --- | --- | --- | --- | --- |
| Target | Type | RA | DEC | Const | Mag | Size |
| GJJC-1 | Planetary Nebula | 18h 36.4m | -23° 55.3' | Sagittarius | 14 | 9" |
What is your favorite globular cluster? Apart from those two southern hemisphere beauties, Omega (ω) Centauri and 47 Tucanae, my answer has to be M22 in Sagittarius. Admittedly, the star chains and "propeller" formation within M13 in Hercules (profiled in the July 2017 Cosmic Challenge) are visually intriguing. But there is just something about the remarkable richness of M22 and its surrounding star field that calls to me.
Above: Summer star map showing the location of this month's Cosmic Challenge.
Credit: Map adapted from Star Watch by Phil Harrington
Above: Finder chart for this month's Cosmic Challenge.
Credit: Chart adapted from Cosmic Challenge by Phil Harrington
Click on the chart to open a printable PDF version in a new window
A buried treasure remained hidden among all of M22's stars until 1985, when IRAS, the InfraRed Astronomy Satellite, uncovered a mysterious infrared source. It was subsequently included as IRAS 18333-2357 in the IRAS Point Source Catalog, but it would be another four years before research by F. C. Gillett, G. H. Jacoby, R. R. Joyce, and J. G. Cohen would reveal the unexpected origin of the radiation. It was a planetary nebula. What's the big deal? Planetary nebulae are commonplace. That's true, they are -- except in globular clusters. Even today, only four are known to exist.
Our unusual friend within M22 now goes by any of three designations: IRAS 18333-2357; GJJC-1, after the initials of the four researchers; and PK 9-7.1 in the second (2000) edition of the Perek-Kohoutek Catalogue of Galactic Planetary Nebulae. Call it what you will, we are talking about the same object.
And that object is one tough challenge to find. Of the handful of amateurs who have reported spotting GJJC-1, their accounts seem to have four things in common. First, all but one were using 20-inch-plus apertures. Next, each observer had at hand a series of finder charts showing the area around the target in increasing detail. All were also using what I would call "crazy high magnifications," that is, in excess of 600x. In some cases, magnification exceeded 900x. That means the final common ingredient had to be steady seeing. Even minor air turbulence at these apertures and magnifications will quickly turn stars into mush.
Requirement one, aperture, is up to you, but I can give you a hand with the charts. The finder chart above shows the central core of M22 with several key asterisms that can be used to zero in on the planetary's location. Begin by locating the right triangle of 11th-magnitude stars shown along the western edge of the cluster. Follow the base of the triangle 1.1' eastward to a close-set pair of stars at the end of a diagonal line. Extend a line southeastward from those stars to an equilateral triangle. If you can find that triangle, then you are getting very near the planetary. Just beyond the eastern tip of the triangle is another, smaller threesome of 13th-magnitude stars. GJJC-1 is 8" north of that triangle's easternmost star. Be careful not to confuse a dim field star just beyond the planetary for the planetary itself. Unless you can see both clearly, then the chances are good that you are only seeing the star and not GJJC-1, which is fainter.
To confirm the find, try using a narrowband filter. Due to the faintness of the planetary, reports I have seen suggest threading the filter onto your eyepiece rather than flipping it in and out. The filter should shrink the bloated stars, while revealing that the planetary is very slightly oval.
CN member and moderator Dave Mitsky wrote of his encounter with GJJC-1 at Pennsylvania's Cherry Springs State Park back in 2012.
My friend Tony Donnangelo and I observed many celestial objects both new and old during that time [at the park] but the most memorable highlight for me was successfully observing a certain planetary nebula.
The sky was beginning to cloud up completely early Saturday morning so I packed up my dew-soaked gear and was ready to crawl into my sleeping bag when conditions began to improve dramatically. I walked over to Tony's 24" f/3.3 Starmaster Sky Tracker Dob as he was making an attempt at one of the classic observing challenge objects, the planetary nebula located within the globular cluster M22. We had never actually seen it before but with great seeing, the dark skies of Cherry Springs, a very detailed finder chart, Tony's impressive star-hopping skills, an aperture of 24 inches, and a magnification approaching 800x, Tony, Dr. Elliott McKinley (a fellow Cherry Springs regular), and I all caught glimpses of the very elusive DSO.
The conditions were superb after midnight on Sunday morning and Tony, Elliott, and I had an even better view of GJJC1 through the 24" Starmaster. Stars were surprisingly sharp at 771x (3-6mm Tele Vue Nagler zoom set at 3mm) and the transparency was excellent. Even so, the tiny and dim planetary nebula was nothing more than a slightly fuzzy star when seen with averted vision. Pease 1 in M15 is a piece of cake compared to GJJC1.
One of the best images of GJJC-1 ever taken by an amateur is the one below by Rolf Wahl Olsen. Compare it the finder chart above before you set out to attempt this difficult challenge. Before going further, be sure to visit Rolf's website as well as his gallery on pbase.com to see more remarkable images taken from his observatory west of Auckland, New Zealand. One look and you'll want to emigrate to New Zealand, as he did from Denmark in 2003!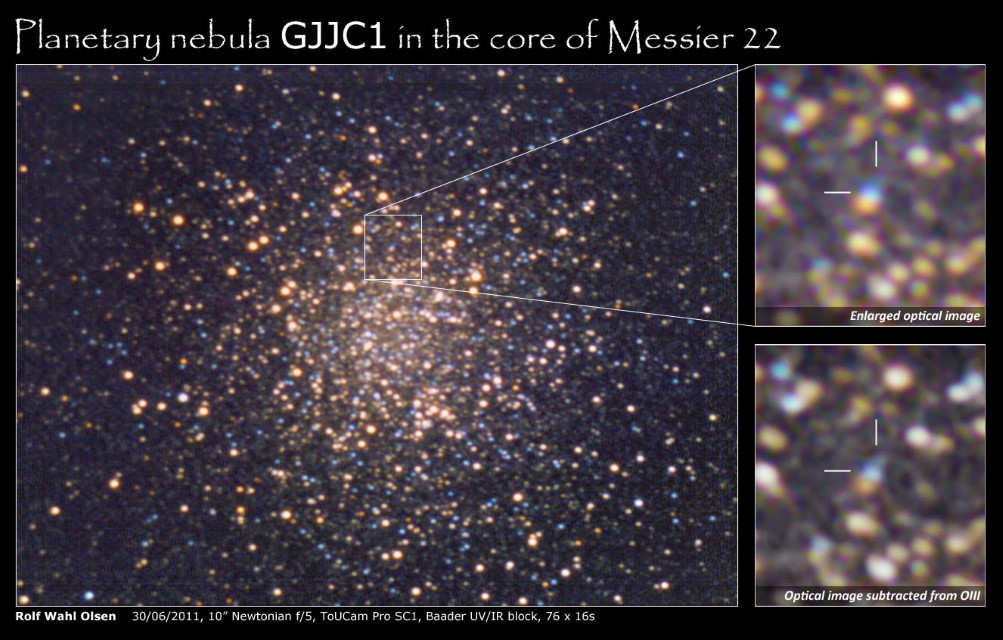 Above: GJJC-1. Photo by Rolf Wahl Olsen. Equipment: 10-inch (25cm) f/5 Newtonian reflector, ToUCam Pro SC1, and a Baader UV/IR block filter. Copyright Rolf Wahl Olsen, used with permission.
Studies reveal that GJJC-1 is a true member of M22, not just a line-of-sight superimposition. It's an odd little beast for more reasons than its location. Spectroscopic analyses also disclose that, unlike most planetaries, GJJC-1 is depleted of hydrogen and helium. Rather, the only prominent lines in its spectrum are those of doubly ionized oxygen (oxygen-III) and neon (neon-III). Its shape is also asymmetrical, shaped like a half moon likely due to gravitational compression from interaction with its packed surroundings. This would also explain the lack of lighter elements, as they would have been stripped away by the process.
For amateurs who try to spot this difficult object, planetary nebula observer par-excellence Doug Snyder offered an excellent discussion, as well as first-hand reports and finder charts for the task on his website, blackskies.org. That site is now gone, replaced by an online betting website of all things. Thankfully, seds.org has saved his site for posterior. Click here to go there now.
Have a favorite challenge object of your own? I'd love to hear about it, as well as how you did with this month's test. Contact me through my website or post to this month's discussion forum.
Until next month, remember that half of the fun is the thrill of the chase. Game on!
---



About the Author:

Phil Harrington writes the monthly Binocular Universe column in Astronomy magazine and is the author of 9 books on astronomy. Visit his web site at www.philharrington.net to learn more.

Phil Harrington's Cosmic Challenge is copyright 2021 by Philip S. Harrington. All rights reserved. No reproduction, in whole or in part, beyond single copies for use by an individual, is permitted without written permission of the copyright holder.
Jon Isaacs, Jim Davenport, okiestarman56 and 6 others like this
Article: Cosmic Challenge: Planetary Nebula GJJC-1