CNers have asked about a donation box for Cloudy Nights over the years, so here you go. Donation is not required by any means, so please enjoy your stay.


2
Cosmic Challenge: Planetary nebula IC 4732
Discuss this article in our forums
Cosmic Challenge: August 2019

Planetary nebula IC 4732

This month's suggested aperture range:

10-inch (25 cm) to 14-inch (36 cm) telescopes
| | | | | | | |
| --- | --- | --- | --- | --- | --- | --- |
| Target | Type | RA | DEC | Constellation | Magnitude | Size |
| IC 4732 | Planetary nebula | 18h 33.9m | -22° 38.7' | Sagittarius | 12.1 | 3" |

Whenever I am asked to name my favorite globular clusters, M22 in Sagittarius is always high on my list. I find it more impressive than M13 in Hercules. A 4-inch (10.2cm) aperture is all it takes to begin to crack its stellar vault into myriad faint points around a densely packed core. In a 10- to 14-inch, it's a wondrous sight.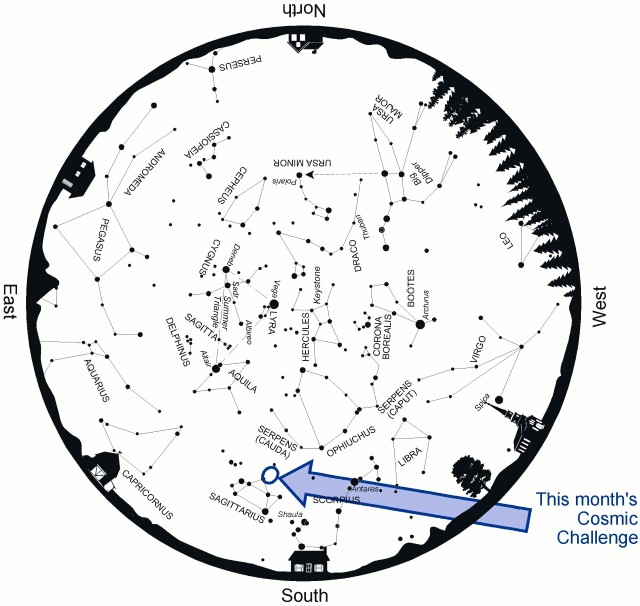 Above: Summer star map. Credit: Map adapted from Star Watch by Phil Harrington
Above: Finder chart for this month's Cosmic Challenge.
Click on the chart to open a printable PDF version.


M22 is right in the thick of it, not far from the galactic center of the Milky Way. As such, it has lots of company. One particular planetary nebula proves a worthy adversary through 10- to 14-inch scopes: IC 4732. IC 4732 lies just 1.4° north-northwest of M22. Cataloged at magnitude 12.1, its tiny disk is difficult to pick out from the mob of field stars -- difficult, but not impossible.

To find IC 4732, center on M22 with a wide-field eyepiece in place. From the center of the globular, slide half a degree due north to 9th-magnitude SAO 187033, and then another half degree further northward to SAO 187032, also 9th magnitude. Finally, shift another half degree northwest to 8th-magnitude SAO 187000. By offsetting that last star toward the northwest of the eyepiece field, IC 4732 will lie close to the center, just 2' to the east of 10th-magnitude SAO 186976.

Under a steady suburban sky several years ago, my old 13.1-inch (33cm) reflector at 214x picked it out from the crowd using the "in-and-out" nebula-filter method. Center your telescope on the field suspected of containing IC 4732, hold your filter in between the eyepiece and your eye, and take a careful look. By alternately moving the filter in and out of the optical train, you will see the planetary "blink." Stars, which are broadband emission objects, will dim more noticeably than the planetary, which focuses its energy emissions only in a narrow portion of the visible spectrum. Do this back and forth rapidly, checking each stellar point as you go, and the planetary will have no choice but to reveal itself. I have had the greatest success using an OIII filter.

Regardless of the instrument and magnification used, IC 4732 will not show up as much more than a point of faint light. Its "stellar" rating of Class 1 on the Vorontsov-Velyaminov scale of planetary nebulae morphologies, created in 1934, indicates that even the professionals cannot resolve its disk beyond a small sphere. For those who are unfamiliar, the Vorontsov-Velyaminov planetary-nebula rating system was devised by the Russian astrophysicist Boris Vorontsov-Velyaminov (1904-1994). His 6-point system describing a planetary's morphology is summarized in the table below.
1

Stellar image

2

Smooth disk (a, brighter toward center; b, uniform brightness; c, traces of a ring structure)

3

Irregular disk (a, very irregular brightness distribution; b, traces of ring structure)

4

Ring structure

5

Irregular form, similar to a diffuse nebula

6

Anomalous form

Planetary nebulae with more complex structures are characterized by combinations of classes. For instance, M27, the Dumbbell Nebula in Vulpecula is rated "4+3a" for its complex disk morphology.
And while few amateurs have spotted IC 4732, even fewer can claim to have glimpsed its central star. It glows at a dismal magnitude 16.6.
Above. IC 4732 as sketched through the author's 18-inch (46cm) reflector

Another planetary nebula just 14' to the east-southeast of IC 4732 proves to be even more challenging. PK 10-6.2 shines at photographic magnitude 15.1 and measures only 8" across. Rated as Class 2, PK 10-6.2 also looks like a star even when viewed at magnifications exceeding 400x. Once again, try the in-and-out filter method to identify it.
As long as we are nearby, be sure to check out the 9th-magnitude globular cluster NGC 6642. You may have already noticed it as you were traveling from M22 to IC 4732. Through my 10-inch reflector, NGC 6642 looks like a small ball of celestial cotton with some faint 13th- and 14th-magnitude points around the edges.

There is also a planetary nebula hidden among the stars of M22, but I doubt that PK 9-7.1 is viewable through 10- to 14-inch scopes. We'll leave that one for another time.

Until next month, remember that half of the fun is the thrill of the chase. Game on!
---



About the Author:

Phil Harrington writes the monthly Binocular Universe column in Astronomy magazine and is the author of 9 books on astronomy. A revised, second printing of Cosmic Challenge: The Ultimate Observing List for Amateurs is now available with updated data tables and charts for finding various solar system objects, such as Pluto and Vesta, as well as improved renditions of the many eyepiece sketches that accompany each of the 187 challenges encompassing more than 500 individual objects. The book is available from Amazon.com. Visit www.philharrington.net to learn more.

Phil Harrington's Cosmic Challenge is copyright 2019 by Philip S. Harrington. All rights reserved. No reproduction, in whole or in part, beyond single copies for use by an individual, is permitted without written permission of the copyright holder.
random, John O'Hara and Sasa like this
Article: Cosmic Challenge: Planetary nebula IC 4732