CNers have asked about a donation box for Cloudy Nights over the years, so here you go. Donation is not required by any means, so please enjoy your stay.


2
Cosmic Challenge: Simeis 147
Discuss this article in our forums
Cosmic Challenge: Simeis 147

January 2021

This month's suggested aperture range:

Monster scopes: 15-inch (38cm) and larger
Target

Type

RA

DEC

Const.

Mag

Size

Simeis 147

Supernova
remnant

05h 39.0m

+28° 00.0'

Taurus

--

200'
The year 1054 must have been an active one for stargazers. That was the year that the famous Crab Nebula supernova blasted forth, shining brightly enough for Chinese and Native American skywatchers to note a "new star" blazing near what we now call the tip of one of Taurus the Bull's two horns. The 1054 supernova was so bright that it was visible in broad daylight during the summer of that year and remained visible to the naked eye for nearly a year. Today, we know the fading gaseous remnant of that all-consuming event as the Crab Nebula, M1.
Some 99,000 years earlier, another massive star in the Bull, just 7° north of the Crab underwent a similar detonation. Our earliest cave-dwelling ancestors could have been witnessed the explosive devastation first-hand if it was bright enough to reach naked-eye visibility, but there are no records to confirm that. The only evidence we have of that once mighty star is a filamentary debris field that continues to expand around ground zero.
None of the classical observers from the 18th and 19th centuries ever spotted those remains. Instead, the discovery of this ruptured bubble of star-splatter was made only recently, in 1952 by G.A Shajn and V.E. Hase at the Crimean Astrophysical Observatory at Simeis, Russia. The tendrils of expanding nebulosity are so faint and so broad that it took the light-gathering ability of a 25" Schmidt camera to record their whisper. Today, we know it as Simeis 147, or S147. Some references, however, prefer to identify it as Sh2-240, for its entry in Stewart Sharpless's 1959 catalog of HII regions. You may know it by its nickname, the Spaghetti Nebula.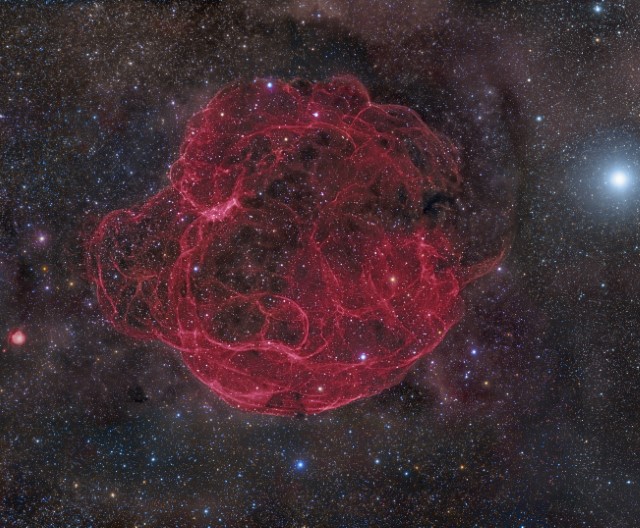 Above:
Credit: Rogelio Bernal Andreo, via Wikimedia Commons
Call it what you will, this is one tough target. The biggest problem with seeing Simeis 147 visually is its huge size, more than 3° across. Can your 1scope cram 3° into a single field of view? Probably not. That's why we need a strategy for hunting down this tough object.
Most observers who have seen it report success after dividing the nebula into four or more regions, and then looking for those specific sections. Even with that approach, glimpsing a small portion of Simeis 147 takes a concentrated effort. Dark skies are also needed to see the full breadth of the clouds, but I have been able to spot the brightest section through my 18-inch (46cm) telescope under naked-eye limiting magnitude 5.0 skies using a low-power, wide-field eyepiece coupled with an O-III filter.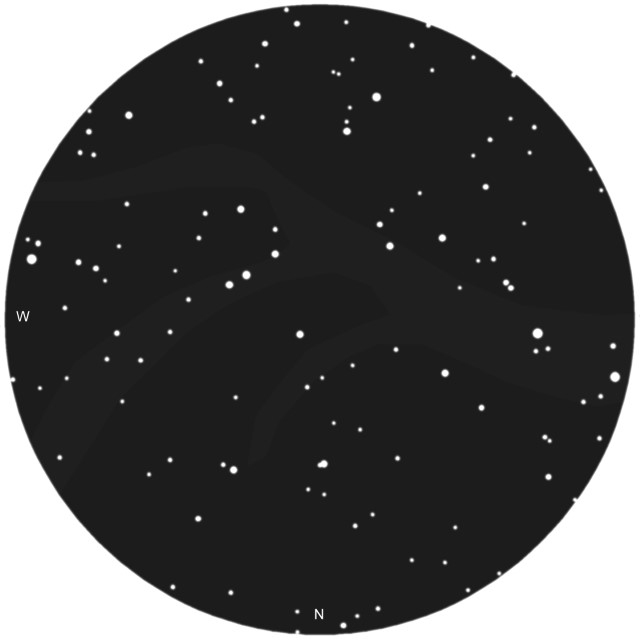 Above: The "brightest" segment of Simeis 147, as rendered through the author's 18-inch (46cm) reflector.
You may need averted vision to see the sketch!
To zero in on Simeis 147, scan 3° due east of Elnath [Beta (β) Tauri], the northern horn. That puts you right in the thick of things, but there is nothing to see at that exact location. The brightest section, and the one that I spotted under 5th-magnitude skies, lies about a degree due south. Place 6th-magnitude SAO 77322 along the western edge of your eyepiece field and scan slowly to the east. With averted vision, look for a thin lane of nebulosity threading across the center of the field. The effect looks like a fainter, less structured version of the Veil Nebula in Cygnus. You might also a hint of the two branches that veer off to the north.
Another "bright" section of nebulosity is centered at right ascension 05h 43m, declination +28° 16', or about half a degree southeast of 8th-magnitude SAO 77397. You are in the right area if you see a square of four 8th- to 10th-magnitude stars surrounded by several fainter suns. The stars appear embedded in nebulosity, with a tuft extending about 10' further to the northwest of the square. Although it is invisible from my backyard, this section is fairly obvious through the same scope under darker skies, again with the O-III filter firmly in place. Without the filter, all bets are off.
A third segment, more intricate, but also more challenging than the other two, lies at right ascension 05h 44.5m, declination +28° 58'. Though only visible from truly dark sites, this portion hints at the true complexity of the entire cloud that we marvel at in photographs.
Finally, a fourth subdivision of the Simeis 147 complex lies across the border in southern Gemini, centered at right ascension 05h 39m, declination +29° 08', near 6th-magnitude SAO 77354. All we can hope for here is the faintest hint of an east-west lane of nebulosity, curving slightly to the southeast as it passes the star.
Few amateurs have seen, or perhaps have even tried to see, Simeis 147. But with a little patience, top-notch optics, and a good eye for fine detail, you just might surprised at not just seeing a dim hint of this once mighty star, but a patchwork of gossamer clouds interwoven throughout a starry backdrop.
Good luck! And be sure to post your results in this column's discussion forum.
Until next month, remember that half of the fun is the thrill of the chase. Game on!
John O'Hara, John_Moore, davidc135 and 2 others like this
Article: Cosmic Challenge: Simeis 147