CNers have asked about a donation box for Cloudy Nights over the years, so here you go. Donation is not required by any means, so please enjoy your stay.


3
Cosmic Challenge: Stephan's Quintet
Discuss this article in our forums
Cosmic Challenge

Stephan's Quintet

October 2017

This month's suggested aperture range:

Large scopes

10- to 14-inch (25cm to 36cm)
| | | | | | | |
| --- | --- | --- | --- | --- | --- | --- |
| Target | Type | RA | DEC | Constellation | Magnitude | Size |
| Stephan's Quintet | Galaxy group | 22 36.0 | +33 57.0 | Pegasus | -- | ~3' |

The canvas on which our picture of the universe is painted relies on the unwavering acceptance of Hubble's Law. Hubble's Law states that a relationship exists between the distance to a galaxy and the speed at which it is receding from us. The farther away a galaxy is, the greater the speed of its recession and farther its spectral lines are shifted toward the red end of the spectrum.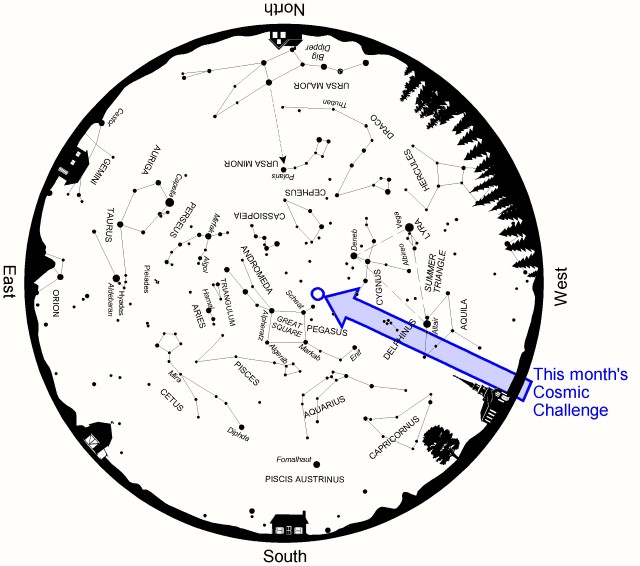 Above: Autumn star map from Star Watch by Phil Harrington.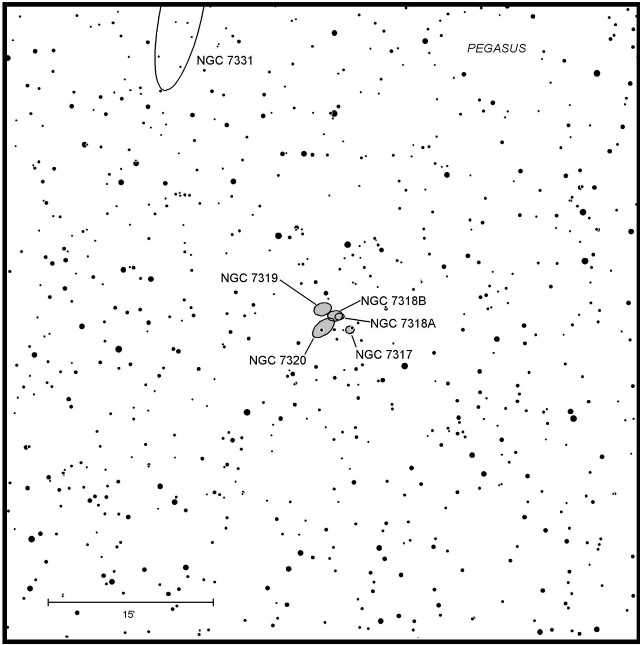 Above: Finder chart for this month's Cosmic Challenge.
Chart adapted from Cosmic Challenge by Phil Harrington.
Click on the chart to open a printable PDF version in a new window.
For Hubble's Law and the Red Shift Principal to be valid, it must work for not just a few galaxies, but for all. And indeed, it does -- well almost. In the observable universe, there are a few notorious exceptions to these rules. One of the best-known paradoxes is found high in the autumn sky, less than half a degree south of the bright galaxy NGC 7331 in Pegasus. Stephan's Quintet was discovered in 1877 by the director of Marseille Observatory, Édouard Stephan (1837-1923). This group has been the subject of many detailed studies and heated debates ever since.
As the name implies, five galaxies comprise Stephan's Quintet. The first, NGC 7317, has been classified as an E2 elliptical because of its slightly oval disk. Next, NGC 7318 was thought to be a single object when Stephan first spotted it, but it is now known to be two separate, overlapping systems. NGC 7318a is labeled as an E2 elliptical like NGC 7317, whereas NGC 7318b is a SBb barred spiral. NGC 7320 has also been found to be a SBb barred spiral, while NGC 7319 is a wide armed Sd spiral. All are crammed within a tight 20' area. The table below lists them all.
| | | | | |
| --- | --- | --- | --- | --- |
| Target | RA | DEC | Magnitude | Size |
| NGC 7317 | 22 35.9 | +33 56.7 | 13.6 | 0.8'x0.7' |
| NGC 7318a | 22 35.9 | +33 57.9 | 14.3b | 0.8'x0.6' |
| NGC 7318b | 22 36.0 | +33 58.0 | 13.9b | 1.4'x0.9' |
| NGC 7319 | 22 36.1 | +33 58.6 | 13.1 | 1.5'x1.1' |
| NGC 7320 | 22 36.1 | +33 56.9 | 13.2 | 2.3'x1.1' |
The controversy surrounding these five galaxies stems from measured differences in their spectral red shifts, indicating that they lie at radically different distances away. Four of the galaxies (NGC 7317, 7318a, 7318b, and 7319) appear to be moving away from us at an average of 6,000 km/sec, placing them about 270 million light years away. The fifth, NGC 7320, has a measured red shift of only 800 km/s, indicating it to be about 35 million light years distant. What's going on here?
Further examination of detailed photographs of the group show partial resolution of NGC 7320, with a level of detail similar to relatively nearby galaxies. The other four galaxies in the Quintet show only blurred features that seem to say they lie at much greater distances. From this evidence, along with the difference in red shifts, many astronomers feel that NGC 7320 is simply a chance foreground object superimposed in front of a more distant galaxy quartet. In fact, it turns out that its red shift matches that of NGC 7331, which means that the two may be gravitationally associated. Additional studies by Mariano Moles from the El Instituto de Fisica Fundamental in Madrid also suggest that NGC 7318B is just passing by and not bound to the group either.
Just as it challenges cosmological theories, Stephan's Quintet also challenges the observing skills of amateur astronomers. Can you spot them?
The double galaxy NGC 7318a/b strikes me as the brightest in the group. Through my 10-inch reflector, NGC 7318a/b appears as a small 13th-magnitude glow measuring about 1'x½' of arc across. Its twin nuclei are only visible with averted vision, and then just barely at magnifications greater than 250x. Controversial NGC 7320 seems slightly fainter than NGC 7318a/b, but over twice as large. Visually, its disk spans about 2'x1', with a faint central nucleus seen fleetingly.
Above: A sketch of Stephan's Qunitet through the author's 18-inch (46cm) reflector at 171x.
Of the final two galaxies, NGC 7317 measures less than 0.5 arc minute across and looks like a slightly fuzzy "star" even at high power. The existence of its tiny 14th-magnitude disk is further masked by the "glare" of a 12th-magnitude star found only a few seconds of arc away.
Lastly, we come to NGC 7319. Though largest of the lot, this galaxy impresses me as the hardest to see. Even though it shines at 13th magnitude, its surface brightness is very low, which makes detection difficult. A star like central hub might be seen, but only after an extended examination with averted vision. I find it is best not to strain when trying to see faint, diffuse objects like this. Any stress will generate "noise" between the observer's eye and brain, causing enough distraction to miss a subtle target entirely.
Have a favorite challenge object of your own? I'd love to hear about it, as well as how you did with this month's test. Contact me through my web site or post to this e-column's discussion forum.
Remember, half of the fun is the thrill of the chase. Game on!
---



About the Author:

Phil Harrington writes the monthly Binocular Universe column in Astronomy magazine and is the author of 9 books on astronomy. Visit his web site at www.philharrington.net to learn more.

Phil Harrington's Cosmic Challenge is copyright 2017 by Philip S. Harrington. All rights reserved. No reproduction, in whole or in part, beyond single copies for use by an individual, is permitted without written permission of the copyright holder.
okiestarman56, John O'Hara, TOMDEY and 2 others like this
Article: Cosmic Challenge: Stephan's Quintet