CNers have asked about a donation box for Cloudy Nights over the years, so here you go. Donation is not required by any means, so please enjoy your stay.


1
Cosmic Challenge: The Antennae
Discuss this article in our forums
Cosmic Challenge:

The Antennae

May 2017

This month's suggested aperture range:

Medium scopes

6- to 9.25-inch (15-23cm)
| | | | | | | |
| --- | --- | --- | --- | --- | --- | --- |
| Target | Type | RA | DEC | Constellation | Magnitude | Size |
| The Antennae | Galaxy pair | 12 01.9 | -18 52.8 | Corvus | ~10.3 | 5'x2' |
Although the four brightest stars in Corvus, the Crow, shine no more intensely than magnitude 2.6, the constellation's distinctive trapezoidal pattern in an otherwise star-poor region of the spring sky lets it stand out surprisingly well even in moderate light pollution.
We will put that to good use here as we probe for one of the best known pairs of interacting galaxies in the sky: NGC 4038 and NGC 4039, the "Antennae."
Above: Spring star map showing the location of this month's Cosmic Challenge.
Credit: Map adapted from Star Watch by Phil Harrington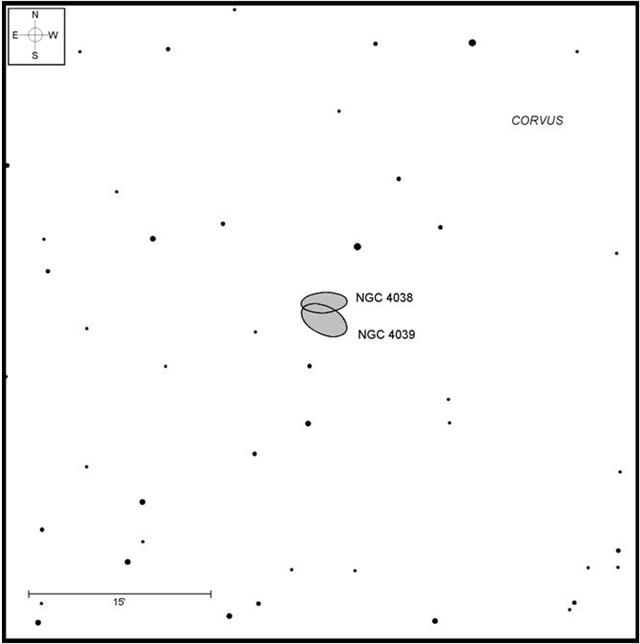 Above: Finder chart for this month's Cosmic Challenge.
Credit: Chart adapted from Cosmic Challenge by Phil Harrington
Click on the chart to open a printable PDF version in a new window
Here, we find two galaxies in a celestial death match of tug o' war. Each is being yanked apart by the gravity of the other. As time goes on, the momentum built up lets each galaxy escape the other's grip, only to be inexorably drawn back together in the distant future to continue their head-to-head struggle. Although there is slim chance of individual stars colliding because of their wide spacing, each galaxy will eventually be distorted beyond recognition.
In the photo below, from the archives of the Hubble Space Telescope, we see clouds of bright pink and red ionized hydrogen surrounding blue star-forming regions intertwined with dark patches of dust. The rate of star formation is so high that the Antennae Galaxies are said to be "starburst galaxies." This won't last forever, however. Their struggle will continue, wrapping themselves around one an other, until eventually they have morphed into a single large elliptical galaxy.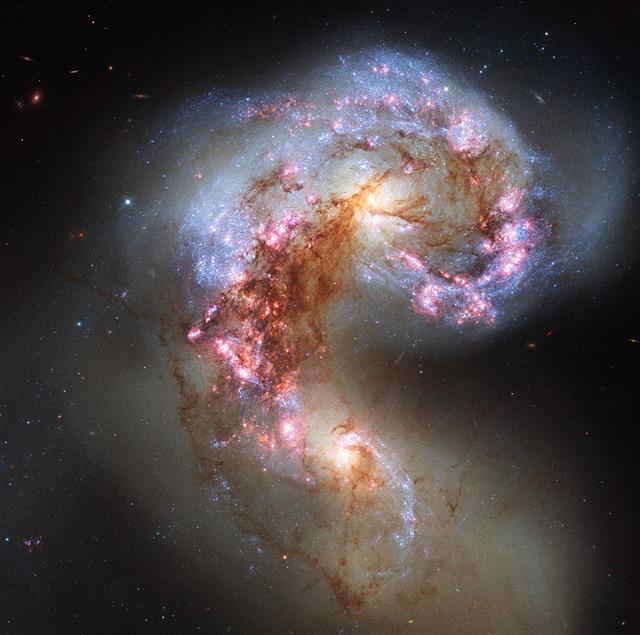 Above: This image taken by the Hubble Space Telescope uses visible and near-infrared observations from HST's Wide Field Camera 3 (WFC3), along with the Advanced Camera for Surveys (ACS).
Credit: ESA/Hubble & NASA
Keep in mind that as we gaze toward the Antennae, we are in a sense looking at the future of our Milky Way. In some 4 billion years, just as our Sun is about to run out of fusible hydrogen in its core, the Milky Way will collide with M31, the Andromeda Galaxy. Like the Antennae, the two will spar back and forth, eventually merging into a single system that many have already christened Milkomeda.
Trying to describe the unusual appearance of this intertwined pair has pushed the imaginations of observers to the limits. The most common nickname applied to the tight twosome is the Antennae, owing to the two long, contrail-like filaments extending from both in wider field photographs. These "antennae" are the result of tidal forces as the two galaxies graze one another. Others prefer the monikers Ring-Tail or Rat-Tail galaxies. Visually, the pair remind many of a comma, a shrimp, or even a tadpole when view through medium- and large-aperture backyard telescopes.
The table below lists individual specifics.
| | | | | | |
| --- | --- | --- | --- | --- | --- |
| Target | Type | RA | DEC | Magnitude | Size |
| NGC 4038 | Galaxy | 12 01.9 | -18 52.0 | 10.3 | 3.7'x1.7' |
| NGC 4039 | Galaxy | 12 01.9 | -18 53.5 | 11.2 | 4.0'x2.2' |
To zero in on the Antennae, we can use two of the stars in the Crow's body. Trace a line from the northeastern star, Algorab [Delta (δ) Corvi], to the northwestern star, Gienah [Gamma (γ) Corvi], and continue an equal distance to the southwest. As a reference, halfway along you'll pass a right triangle of 7th-magnitude stars. Continue in the same direction and you should find NGC 4038 and NGC 4039 set between two 9th-magnitude stars. This puts them just under a degree northeast of 5th-magnitude 31 Corvi.
At first glance, all you may see is a single 10th-magnitude glow. That's NGC 4038. What's so special about a description that could fit thousands of galaxies? Nothing until you take a closer look. At 100x or more, it should become clear that there is something different going on here. Look carefully and the amorphous glow will transform into a hook-shaped image with a faint extension coming off toward the south. This elongation is NGC 4039, and glows dimly at about 11th magnitude. A dark wedge intruding from the west separates the galaxies, as portrayed in my sketch here.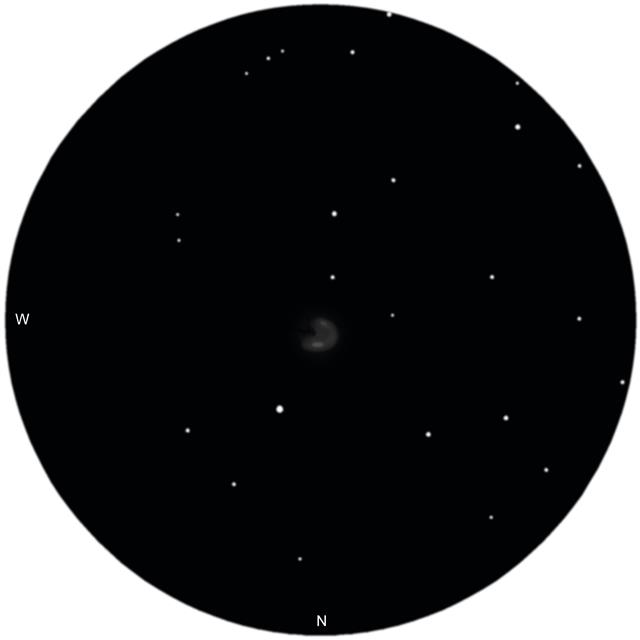 Above: The Antennae as sketched through the author's 8-inch (20cm) reflector.
Given rural skies that are free of horizon-hugging haze, neither galaxy appears uniform, but instead looks clumpy. That's not an illusion. You are seeing some of the consequences of the merging process, huge starburst areas where new suns are coming into being as we watch from afar. Knots along the rim of NGC 4038, the northern galaxy in the pair, are the most obvious, although some very subtle mottling is also evident in NGC 4039.
Have a favorite challenge object of your own? I'd love to hear about it, as well as how you did with this month's test. Contact me through my web site or post to this month's discussion forum.
Until next month, remember that half of the fun is the thrill of the chase. Game on!
---



About the Author:

Phil Harrington writes the monthly Binocular Universe column in Astronomy magazine and is the author of 9 books on astronomy. Visit his web site at www.philharrington.net to learn more.

Phil Harrington's Cosmic Challenge is copyright 2017 by Philip S. Harrington. All rights reserved. No reproduction, in whole or in part, beyond single copies for use by an individual, is permitted without written permission of the copyright holder.
CollinofAlabama, okiestarman56, John O'Hara and 2 others like this
Article: Cosmic Challenge: The Antennae