CNers have asked about a donation box for Cloudy Nights over the years, so here you go. Donation is not required by any means, so please enjoy your stay.


1
Cosmic Challenge: The Elephants Trunk
Discuss this article in our forums
Cosmic Challenge: The Elephants Trunk

October 2021

This month's suggested aperture range:

15-inch (38 cm) and larger telescopes
Target

Type

RA

DEC

Constellation

Mag.

Size

Elephant's
Trunk
Nebula

Bright/dark
nebula
complex

21h 39.0m

+57 30.0

Cepheus

--

13'x5'
Take a look at just about any star atlas and you will find a huge, irregular cloud of ionized hydrogen suspended to the south of Mu (μ) Cephei, Herschel's Garnet Star. That's IC 1396, one of the largest nebulae in the night sky. Even from a distance of about 2,450 light years, this complex cocktail of bright glowing gas mixed with dark dust clouds spans 3° of our sky. At that distance, 3° translates to a linear diameter of nearly 160 light years, more than three times greater than the Orion Nebula, M42.
Above: Late evening star map showing the location of this month's Cosmic Challenge.
Credit: Map adapted from Star Watch by Phil Harrington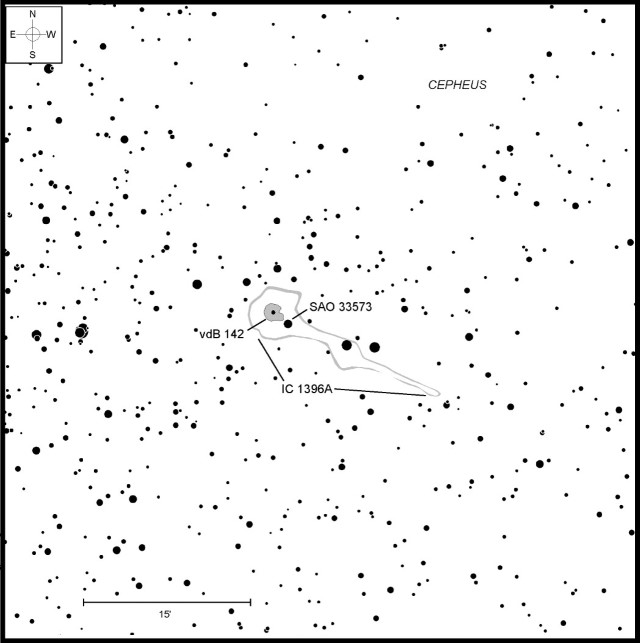 Above: Finder chart for this month's Cosmic Challenge.
Credit: Chart adapted from Cosmic Challenge by Phil Harrington
Click on the chart to open a printable PDF version in a new window
Seeing IC 1396, however, is a difficult chore owing to its large size and very low surface brightness. Giant binoculars show myriad stars scattered across the region, but actually seeing evidence of the cloud itself is another matter. Small scopes can resolve several double and multiple stars here, notably the triple system Struve (STF) 2816 and binary Struve (STF) 2819. But again, evidence of the cloud proves hard to pin down.
Instead of trying to see the entire HII region, this challenge focuses on a particularly intriguing feature found within. Of the many pockets of dark nebulosity swirling inside IC 1396, the most captivating has to be the twisted globule known as the Elephant's Trunk. The Elephant's Trunk Nebula, set to the east of the cloud's center, is an example of a "composite nebula"; that is, a mix of all three types of intergalactic clouds: emission, reflection, and dark. It spans 13'x5' of sky, which translates to an actual length of more than 20 light years.
The Elephant's Trunk is often misidentified as van den Bergh 142 (vdB 142), from the catalog of reflection nebulae compiled by Canadian astronomer Sidney van den Bergh. The van den Bergh list was originally released in his paper "A Study of Reflection Nebulae" published in 1966 (Astronomical Journal, 71, 990-998). Van den Bergh's aim back then was to create an inventory of "all BD and CD stars [referring to Bonner Durchmusterung and Cordoba Durchmusterung astrometric star catalogs, respectively] north of declination -33° which are surrounded by reflection nebulosity." Using those catalogs, van den Bergh examined the Palomar Sky Survey photographic plates for reflection nebulae surrounding embedded stars. He ultimately found and listed 170 such objects.
But the Elephant's Trunk was not one of them. Number 142 in the van den Bergh list actually refers to a small reflection nebula adjacent to the 9th-magnitude star SAO 33573 that overlaps the Elephant Trunk, not the Trunk itself. Instead, it is correctly cited as IC 1396A.
Regardless of the catalog designation, the Elephant's Trunk certainly lives up to its nickname, with its long, prehensile silhouette stretching for about 17' from east-northeast to west-southwest. The most obvious segment, the rounded eastern end, extends about 4' to the east of SAO 33573. Many comment on its resemblance to one of the famous Pillars of Creation in M16. Here, as there, the nebula appears as a silhouette surrounded by the gentle glow of starlight reflecting off a multitude of cosmic dust grains.
Like the Pillars of Creation, the Elephant's Trunk contains many protostar globules. These regions of dense, cold gas and dust can be thought of as celestial maternity wards. As new stars form from the dust and hydrogen within, radiant pressure will slowly open this stellar womb to reveal a newly formed open cluster. The first signs of birth are already evident in the form of a faint double star implanted 2' east of SAO 33573. Infrared images taken in 2003 also recorded several other young stars that formed within the past 100,000 years.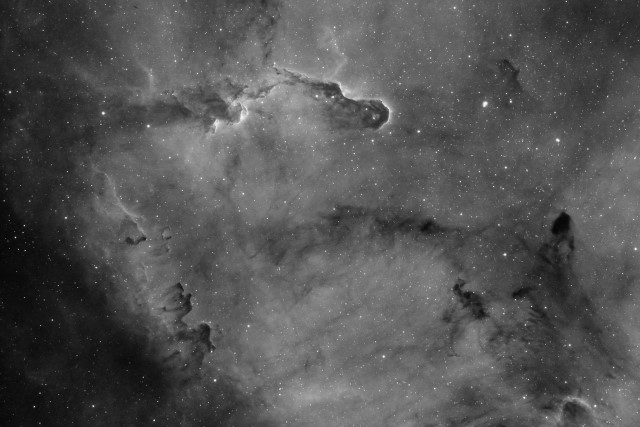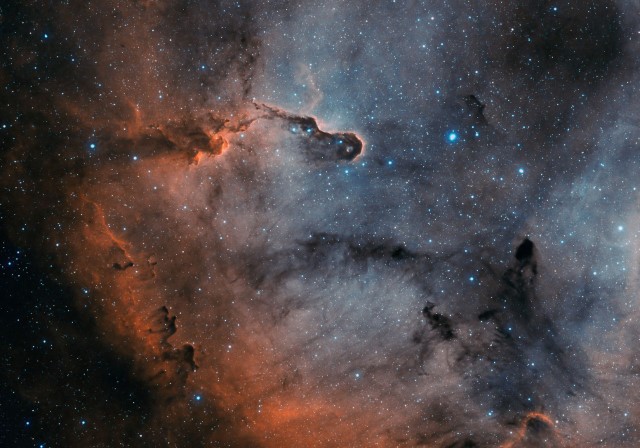 Above: Photos of the Elephant's Trunk Nebula (above center in each image) as well as the surrounding nebula IC 1396. Both were taken by Steve Bellavia (CN member StevenBellavia). Be sure to visit his Astrobin page for full information on each of these images as well as to see more of his spectacular images.
Despite the Trunk's length, expect to use about 100x to bring out its delicate outline. Even under the darkest skies, the nebula will still require a narrowband filter. Tapping the side of your telescope ever-so-slightly will also help reveal its faint outline. If you see its subtle profile, try to spot some of the subtle structural intricacies that record so beautifully in photographs.
Have a favorite challenge object of your own? I'd love to hear about it, as well as how you did with this month's challenge. Contact me through my website or post to this month's discussion forum.
Until next month, remember that half of the fun is the thrill of the chase. Game on!
---



About the Author:

Phil Harrington writes the monthly Binocular Universe column in Astronomy magazine and is the author of 9 books on astronomy. Visit his web site at www.philharrington.net to learn more.

Phil Harrington's Cosmic Challenge is copyright 2021 by Philip S. Harrington. All rights reserved. No reproduction, in whole or in part, beyond single copies for use by an individual, is permitted without written permission of the copyright holder.
okiestarman56, erick86 and Sujay like this
Article: Cosmic Challenge: The Elephants Trunk