CNers have asked about a donation box for Cloudy Nights over the years, so here you go. Donation is not required by any means, so please enjoy your stay.


1
Cosmic Challenge: Zeta (ζ) Cancri
Discuss this article in our forums
Cosmic Challenge: Zeta (ζ) Cancri

March 2021

This month's suggested
aperture range:

Medium scopes: 6-inch (15cm) to 9.25-inch (23cm)
Target

Type

RA

DEC

Const.

Magnitude

Size

Zeta
Cancri

Quadruple
star

08h 12.2m

+17° 38.9'

Cancer

5.6/6.0/6.1/10.0

see
article
Although it is one of the faintest constellations along the zodiac, Cancer the Crab hosts a variety of targets to test our mettle during the early spring. Spotting M44, the Beehive Cluster, by eye alone may prove very challenging for suburban observers, while the Crab's underappreciated second open cluster, M67, may also reach naked-eye visibility from more rural environs. While the constellation boasts a variety of challenging galaxies, in the test here, we will try our luck with one of the constellation's prettiest binary stars, Zeta (ζ) Cancri.
Many "best of" lists include Zeta Cancri as a spring showpiece target, so there is a good chance that you have already crossed paths. Zeta's two brightest suns, known as Zeta-1 and Zeta-2, were discovered in 1756 by German physicist/astronomer Johann Tobias Mayer. The Zetas are separated by 5 arc-seconds, which is wide enough to be resolvable through just about any amateur telescope with an aperture 2 inches (5 cm) or larger.
Fifteen years later, the exacting eyes of William Herschel noticed that Zeta-1 was not a solo act, but rather was a tight stellar duet. Known today as Zeta Cancri A and Zeta Cancri B, these two yellow-white main sequence stars have roughly equal luminosities and masses. They shine at magnitudes 5.6 and 6.0, respectively, and take 59.6 years to complete an orbit about their common gravitational center. During that time, their separation varies between 0.6" at periastron (closest separation) and 1.2" at apastron (widest separation).
The last apastron occurred just last year, so now is the time to catch them. Given steady seeing, a 6-inch instrument at 200x or more can resolve Zeta Cancri A and Zeta Cancri B as identical yellowish headlights nearly touching one another. As a hint, the stars are oriented almost exactly north-south at present, although this will change as the stars continue their orbits.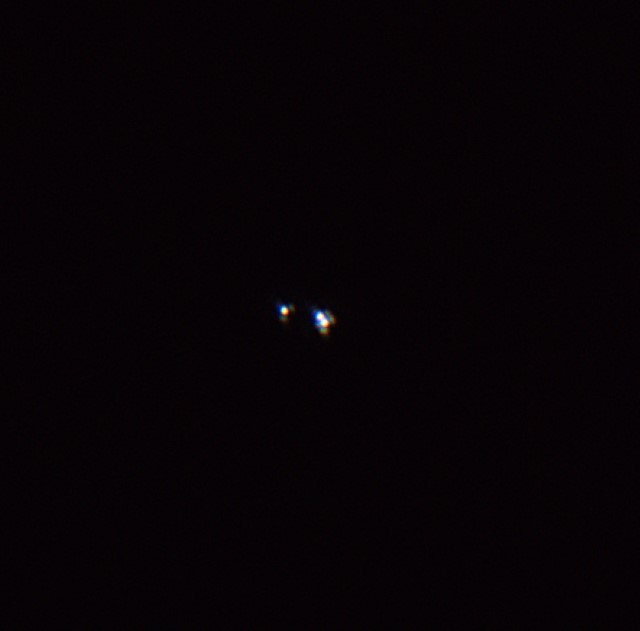 Above: CN member evan9162 recorded this image in late April 2014 through his 6-inch (15cm) Celestron C6 using a Tele Vue 2x Barlow and a Canon T4i DSLR. You can find other images of Zeta Cnc that he took in this thread from a few years back in the Double Star Observing forum.
By 1831, Herschel's son John noticed that Zeta-2 was wobbling ever so slightly in its orbit around Zeta-1. Although it was assumed this behavior was caused by a second star orbiting Zeta-2, this unseen companion remained unconfirmed until 2000. That year, photographic observations made with the Canada-France-Hawaii Telescope by J. B. Hutchings, R. F. Griffin, and F. Ménard finally resolved the elusive companion. (Direct Observation of the Fourth Star in the Zeta Cancri System; J. B. Hutchings, R. F. Griffin, and F. Ménard; Publications of the Astronomical Society of the Pacific 2000 112:772, 833-836).
Subsequently, Zeta-2's two components have been designated as Zeta Cancri C and Zeta Cancri D. The case is still not fully closed, however. Although spectroscopic studies of Zeta-D reveal it to be a red dwarf, its brightness suggests we are looking at not just one, but two dwarf stars that remain too close to resolve even with today's best equipment. A second investigation conducted during a lunar occultation of Zeta in 2000 confirmed that D is in fact a close-set binary. That investigation, appropriately titled "An Investigation of The Multiple Star Zeta Cnc by a Lunar Occultation," was published by A. Richichi in Astronomy and Astrophysics, v.364, p.225-231 (2000).
Can any amateur telescope possibly glimpse Zeta D? Zeta C, a yellow main sequence star, shines at magnitude 6.1, while the newly discovered Zeta-D is a weak 10th magnitude. They are separated by just 0.3 arc-seconds and have an orbital period of 17 years. That challenge may exceed even the largest backyard telescopes, although knowing the persistence of amateur astronomers, I suspect it may only be a matter of time.
Good luck with this month's challenge! And be sure to post your results in this column's discussion forum.
Remember that half of the fun is the thrill of the chase. Game on!
Dave Mitsky, Jon Isaacs, John Huntley and 10 others like this
Article: Cosmic Challenge: Zeta (ζ) Cancri