CNers have asked about a donation box for Cloudy Nights over the years, so here you go. Donation is not required by any means, so please enjoy your stay.


0
Who is this Light Cup?
Who is this Light Cup?
When I started in this hobby around 2001 AD, I was looking for a suitable first telescope. At the time, I
knew about Celestron and Meade of course, but who are these Astrophysics, Tele Vue, Vixen, Takahashi
and later TMB pitching this gadget called apochromatic refractor! After asking all over the internet and
emailing owners with endless questions with many people suggesting the "one-size fit all" 6-8 inch Dob, SCT,
MCT, etc., I decided to try something different. But not being ready to plunk in such a substantial $$$$ dough
immediately, I went briefly with the 4-inch Celestron C102-HD f/9.8 achromat (a heck of good refractor value
by the way), to "test the icy cold space water" so to speak. After a few months, the 4-incher looked like it
was just the admission ticket for me to explore the DSOs and of course the planets, the Moon and the comets.
Having fallen in love with the Vixen on GP mount, I almost ordered the 102FL, but changed my mind at the
last moment and went budget busting with the Tele Vue-102 APO refractor.
One night, after reading observing reports from various observers of the large Dob "light bucket", an inspiration
came to me to christen my TV-102, the "Light Cup" J; after all, surely its aperture is no match for them light
buckets. With the inspiration from Sue French's column, O'Meara's, Houston and Mallas' book on deep sky
observation, we set out together to explore this deep dark part of space and well as the brighter part closer
to "home". Over the next few years, it has been an endless fun, a great learning experience and most of all an
appreciation of what a small scope can do and help with frequent observations. Last but not least, the Light
Cup invoked my long forgotten English composition courses to deploy on light-hearted marriage of journalism
and observation reports J.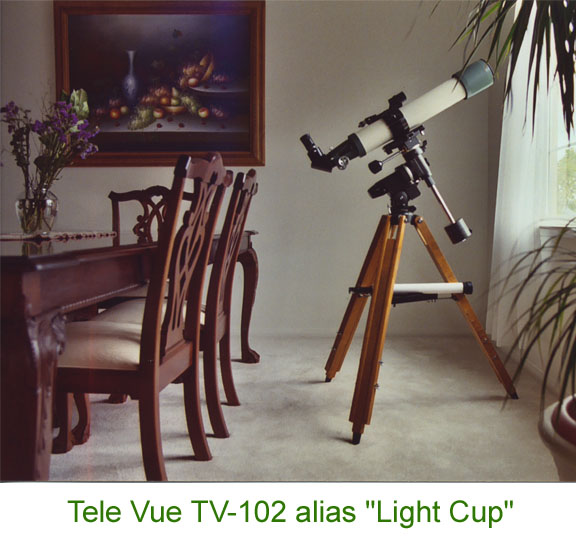 There are no articles in this category yet.