CNers have asked about a donation box for Cloudy Nights over the years, so here you go. Donation is not required by any means, so please enjoy your stay.


0
My telescopes—Part 2
Discuss this article in our forums
What's Up
By Steve Coe
My telescopes—Part 2
I went to Riverside in 2001 and fell in love. The latest Nexstar 11 GPS was being displayed and David Fredericksen and I both really liked what we saw. It is an 11 inch Schmidt-Cassegrain telescope that provided excellent contrast and a pretty sharp field of view. I really liked the electronics. In the past much of our time under dark skies was spent trying to find the object you were searching to see. The Nexstar system made that all a thing of the past. Once you aligned the mount to two stars very accurately it just found things all night long. Amazing!
I owned my Nexstar 11 GPS for 6 years, it was a very trustworthy scope and I saw a lot with it. I simply got the itch to try something new and different.
Me and the Nexstar 11 GPS near Happy Jack, Arizona.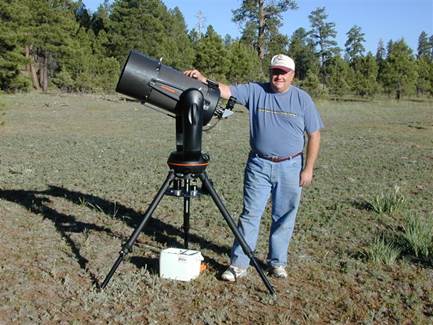 Meanwhile, in the observatory in Phoenix, I decided I had enough of trying to repair the Meade 7 inch Maksutov. The electronics were a constant source of aggravation and I wanted to replace it. So, I sold the 7 inch Mak and bought an 8 inch Nexstar to put into the observatory. This made a big difference it two ways.
First, now I had a system that really could find things accurately from the backyard. I started searching out double stars with this scope and had a great time for years looking at multiple stars. Once I got it all set up, it never missed.
Second, the handpaddle of the scope I took out to dark skies (the Nexstar 11 GPS) and the handpaddle of the scope in the observatory were identical. So, I did not have to remember which scope was which and it saved me a lot of grief and mental gymnastics.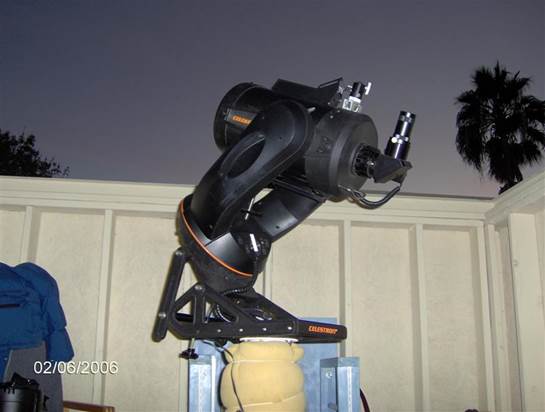 In the observatory the Nexstar 8 GPS takes over from the Meade Maksutov.
Once I sold off the Nexstar 11 I got hooked on refractors and I have had one ever since. My first refractor was another scope that was aimed at getting wide fields of view. It was a 4 inch f/6 Orion refractor. I used it on an Orion Sirius mount. This set up worked quite well. The mount was beefy enough to hold the little refractor in a steady manner.
This small refractor had the usual trouble with inexpensive refractors—color. If you aimed it a bright star like Vega and put in a high power eyepiece it was psychedelic; lots of blue and purple swirls of color that turned on and off with the seeing. So—don't do that! It is not what this telescope was made to accomplish.
If, however, you aim this telescope at any Messier open cluster, or the Double Cluster, or the Orion Nebula, or along the Summer Milky Way, you are in for a treat. There is good contrast between the stars and dark lanes. Bright nebulae are surrounded by a sea of stars that can't be seen with a high power, narrow field telescope. No one telescope can do it all.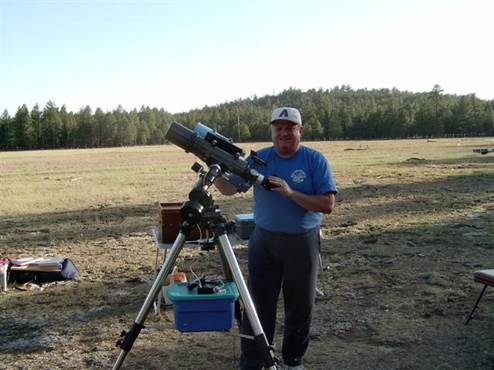 The Orion 4 inch refractor on the Sirius mount at the Five Mile Meadow site near Happy Jack. What a great night for looking up and down the Milky Way.
Now that I am firmly hooked by refractors, I decided to try a larger one…could you see that coming? I found a deal on the Cloudy Nights website and sent off the money order to get it delivered. Once the scope showed up, I got it all mounted on the Sirius mount. Then I had it made clear to me that this was just not enough mount for the 6 inch f/8 Celestron refractor. When I touched the focuser to get a sharper focal point the scope wiggled for ten seconds. Rather exasperating, wouldn't you say?
6 inch f/8 Celestron doublet refractor on an Orion Sirius mount.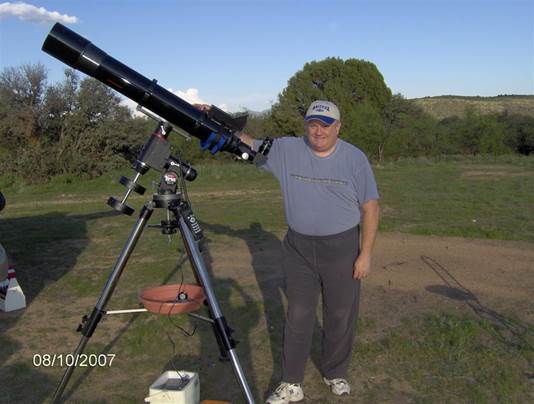 I started looking for a new mount and the folks at Starizona in Tucson come through again. I decided to try the new Celestron CGEM and am very happy with its performance. Now the big refractor is well mounted and the commands are very similar to the old Nexstar system, so there is little "re-training" to be done.
This set up is so good that I built an observing list around this particular scope and mount. I call it the "Small Telescope Project". I add together the Messier objects, the brightest NGC, the best multiple stars and some asterisms that are favorites of mine. All this is available on the Saguaro Astronomy Club website (www.saguaroastro.org).
Me with the 6 inch refractor on the CGEM mount at the Oregon Star Party in 2009. Lots of fun.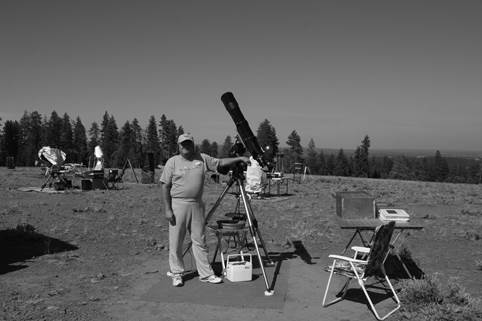 Once I finished observing the objects in the "Small Telescope Project" I got the itch to try astrophotography again. The CGEM mount lends itself to doing this and so I kept it and sold off the big refractor and some other accessories to acquire a wide field photographic rig. I settled on an ED 80mm guiding for a William Optics Megrez 110mm. I had been using a Canon 350D camera with the Hutech modification for some time to take images through simple DSLR camera lenses.
At the Table Mountain Star Party in the state of Washington I had nothing but trouble. At one point I had about 5 people surrounding me trying to help. I wasted 8 hours of clear skies and never got the imaging system up and working. I am sorry; I have little patience for this type of stuff, so I gave up. I sold off both refractors at the star party and I hope that the people who purchased them are having a great time and are getting good results.
Astronomy magazine will just have to deal with not having my images for the cover next month.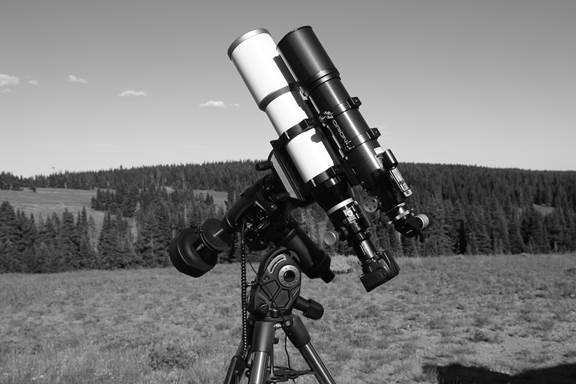 It seems to me that once one door closes, another opens. The folks at the Sun River Observatory were selling a Televue TV 102 refractor. It has an aperture of 102mm (4 inches) and a focal ratio around f/8. The views with it are excellent. Sharp star images, detail on Mars at 200x and it is easy to use. It is perfect for wide field views and also works at powers up to 250X.
Here is the TV 102 on the CGEM mount set up at the Antennas site, far from the lights of Phoenix.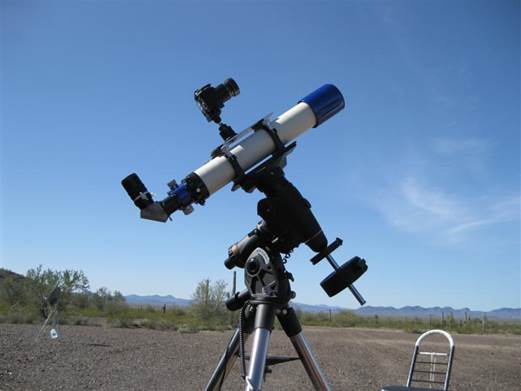 You know me by now, I always want some more aperture. Again, a member of the Cloudy Nights gang puts just what I want up for sale. I buy a 9.25 inch Celestron SCT and it is in excellent condition. These tube assemblies are famous for sharp views with great contrast and mine is no different.
I split a double that had a separation of 1.4 arc seconds and was able to show it to Dick Harshaw. He is the president of SAC and has much experience with viewing double stars. When he says a scope is a good performer, I believe him. I know that for a few of you, a split of 1.4 arc seconds is a "hohum" evening. In central Arizona that is a pretty rare night.
The 9.25 SCT on the CGEM mount, again at the Antennas site.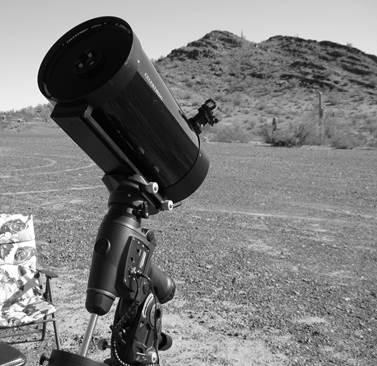 I used the TV 102 and the 9.25 inch SCT on the CGEM mount for several years. They did a fine job, both provided sharp views and good contrast. Obviously the SCT has a much longer focal length so it was better for double stars and solar system objects.
However, (I know you can see this coming) I decided to take on a larger telescope for more light gathering on deep sky objects. With that in mind I sold off what I had and made a deal with Tom Clark to build me a 16 inch alt-az scope. It did a fine job for about 3 years, I saw lots of detail in nebulae and galaxies. The views were well worth remembering. I enjoyed the digital setting circles (Sky Commander) and it consistently put objects into the central part of the field at 100X.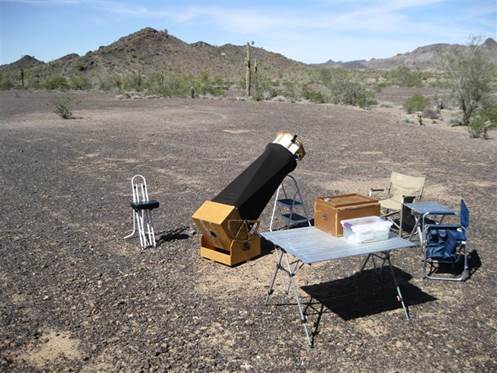 Then I saw that my eyes were starting to fail. I had gotten all that I was going to get out of trying to view faint objects. Detail that I had seen earlier in my life was just not available to my vision as I made my way toward my middle sixties. With that in mind I decided to take on imaging wide field parts of the sky. Dean Koenig at Starizona made me a good deal on a new CGEM mount and I purchased a used Vixen ED 80 from a SAC member. I also updated my old Canon Xt camera with a refurbished T2i. I use the system both to piggyback the camera with a variety of lenses and to shoot through the small refractor. This new imaging set up does an excellent job and I am very happy with the results.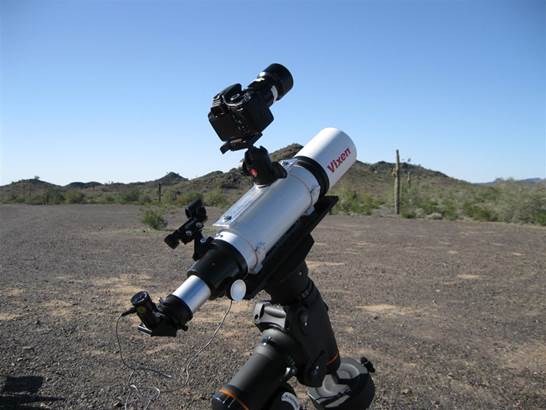 There are a variety of things that I have learned from owning all these telescopes. Here they are in no particular order.
There is no such thing as a good, cheap telescope. Many people buy an inexpensive department store telescope for Christmas or give it to a child for their birthday. Very often they are just a disappointment. A decent starter scope costs several hundred dollars whatever you do and there is no getting around that. Join your local astronomy club or get on the cloudy nights website. There is a Beginners Forum here on Cloudy Nights, join in with questions from novices, we will try and give you a good answer.
There is no such thing as an all purpose telescope. No scope will provide excellent views at high magnifications and then drop down to also provide wide field, high contrast views of the Milky Way. If you invent one, patent it right away. It is the reason that I have wound up with several telescopes over the years. One for wide field, one for high power. The good news, they both fit my CGEM mount.
For large apertures, the seeing is going to be the limiting factor on many nights. If this is a well made telescope then the highest usable magnification will be limited by the air overhead long before the figure of the mirror or the brand of eyepiece you are using.
Which leads me to one of A.J.'s famous statements "eyepieces are a religious discussion". Assuming you have a good telescope, then the rest of the viewing is done by the combination of the eyepiece, eye and brain. If you have some eyepieces that fit the way you like to observe, they are the "correct" eyepieces. There are several brands of expensive eyepieces that just don't fit my eye. Either you have to get so close to the glass that you feel cramped, or I cannot find the right position for my head and eye to get the most out of the eyepiece. Many observers use and like these same eyepieces I can't or won't use. Try out an eyepiece before you buy it, or make certain that the company has a good return policy before reading out that credit card number. This is another place where joining an astronomy club makes a difference.
I think the most important lesson is that the easy to use telescope is the one that will get used. I learned this with the big, heavy 18 incher. It just stopped being fun having to set up and tear down that big telescope. The views with it were certainly excellent but eventually it had to go.
Once I saw what a joy it was to step out to the observatory, roll back the roof, put in an eyepiece, flip a switch and start observing, I was hooked. I got a lot of observing done when I had the convenience of a backyard observatory available to me. Yes, I know that my observatory was in Phoenix, but it still allowed me to do the Moon, planets and double stars. I never ran out of things of view.
I know that I have owned over 20 telescopes, and a wide variety over the years. I have no doubt that A.J. and some of my other observing buddy's chuckle about the whole thing when they see me with a new telescope. A.J. has owned only three telescopes in 30 years. Maybe he just found the right scope quicker than I did, or maybe I just like having a scope that is new to me. It has certainly been a learning experience.
This is the 100th article I have written under the name "What's Up" for Cloudy Nights and I am now going to call a halt. It has been fun and I thank all the folks who have sent me messages saying that they enjoy my writing.
Clear skies to us all;
Steve Coe
Dave Mitsky, sftonkin, pstarr and 53 others like this
Article: My telescopes—Part 2