CNers have asked about a donation box for Cloudy Nights over the years, so here you go. Donation is not required by any means, so please enjoy your stay.


0
What's Up - Double Cluster in Perseus
Discuss this article in our forums
What's Up
Double Cluster in Perseus
By Steve Coe
There are several places in the sky that are unique and once you have spent some time at these locations you will never mistake them for anything else.  Certainly one of these places is the Double Cluster in Perseus.  Either of these clusters would be a Messier object all by itself, but to have them be just 30 arc minutes apart center to center is remarkable.
Because they are visible with the naked eye from a dark site it leads to an often asked question "why didn't they wind up on Messier's list?"  I have a guess and it is nothing but that.  As Charles Messier got near to 50 objects he started adding famous clusters and nebulae that he had not discovered.  So, M 41, 42 (Orion), 44 (Beehive) and 45 (Pleiades) were added in the quest for 50 objects.  Then, he realized that he was not going to make it to 50 Messier objects and became concerned that someone would publish before him, so he stopped where he was and got the list published at 45 objects.
The integrated magnitude of these two clusters is about 3.5, so you can see why they are a naked eye glow in the Milky Way.  Because they lie in the Perseus arm of the Milky, these two clusters are further away from the core of our galaxy than the Sun.  All the stars in these two clusters are between 7,000 and 8,000 light years away.  Both clusters are about 70 light years in diameter and are several hundred light years apart.  Therefore, they are not gravitationally bound.  It is just a coincidence that they are side-by-side in our sky.
The other cluster nearby to the Double Cluster is Stock 2.  The reason this single cluster is so large is that it is about 7 times closer than either of the members of the Double Cluster.  It also makes it easier to resolve in smaller apertures.
Using a friend's RA 88(mm) binoculars at 20X on a very good night shows NGC 884 with 41 stars resolved, it is large, bright, compressed and very well detached from the Milky Way background.  The western cluster (NGC 869) reveals 37 stars resolved and is large, bright and much compressed.  Several dark lanes surround the clusters and there is a light orange star in between the two clusters.  A "Wow" view. 
Moving up in aperture to a TV 102(mm) refractor at 50X on another excellent evening, NGC 869 is very bright, large, rich and compressed.  I counted 52 stars involved, including a horseshoe or parabola of 9th and 10th magnitude stars that has an 8th mag star at the focus.  NGC 884 is very bright, very large, rich and compressed.  64 stars were counted, including an 8th magnitude star in the center that appeared light orange in color.  884 is larger than 869, but the stars are more compressed in 869.  There are two carbon stars involved, FZ Per is pretty faint but located right between the two clusters and is light orange in color.  RS PER is located in NGC 884 and is light yellow with pretty mediocre color in the 4 inch refractor.
At a site about 100 miles from the lights of Phoenix and using a 13" f/5.6 Newtonian scope provides an excellent view of the Double Cluster.  I rated the seeing at 6 out of 10 and the transparency at 8 out of 10.  At 60X with a giant Erfle eyepiece, both clusters are large, bright, rich and somewhat compressed.  The fact that they are both within a 1 degree field of view is fascinating.  I counted 102 stars in one quadrant of the field of view for a total of at least 400 stars resolved in the field.  I also saw six orange stars within and between the two clusters, the brightest of these were mentioned above.  There are also several beautiful chains of stars curving into the Milky Way from within this cluster pair.  The most prominent of those chains leads toward the cluster Stock 2.
Stock 2 is excellent in my 8X42 binoculars.  The wide field is just what is needed for this very large cluster.  17 stars are resolved with direct vision.  Another 10 stars pop out with averted vision.  This big, beautiful, elongated cluster of stars is well detached from a rich Milky Way field to the north of the Double Cluster in Perseus. 
Using a 6" f/6 Maksutov-Newtonian with a 35mm Panoptic eyepiece shows Stock 2 as very bright, very large, not compressed and rich.  62 stars counted of magnitudes 8 to 12.  This cluster contains many beautiful chains with several light yellow members.  A great view of a favorite.  It takes up about half of the field of view.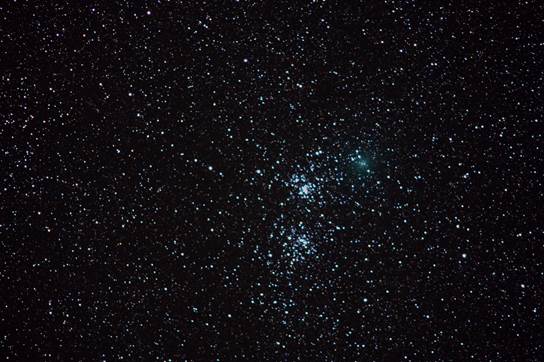 Double Cluster and Comet Hartley 2
Canon Xt not modified with 300mm f/4 lens
Set at 800 ISO   6 minutes exposure

Double Cluster, Stock 2, nebula IC 1805
85mm lens at f/3.5  5 min exp   set to ISO 800
Canon Xt with Hutech modification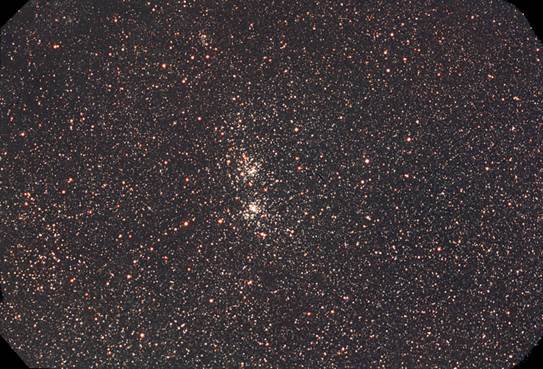 Double Cluster by Chris Schur
8 inch Schmidt Camera
Article: What's Up - Double Cluster in Perseus