CNers have asked about a donation box for Cloudy Nights over the years, so here you go. Donation is not required by any means, so please enjoy your stay.


0
What's Up - M 5 in Serpens
astrophotography
Discuss this article in our forums
What's Up - M 5 in Serpens
By Steve Coe
I love globular clusters and always have.  Even with my first telescope, an 8 inch f/6 Newtonian, these glittering balls of stars were fascinating.  More aperture makes these objects much more interesting.  With a telescope of 10 inches in size or more the beautiful chains of stars stand out from the background.  A bigger scope will also resolve the core the globular and show off many double and multiple stars.
Charles Messier discovered this cluster in 1763 while following a comet.  His telescope did not have the size to resolve any stars.  Also, telescopes from that era are notoriously poorly made.  It took many years before glass makers were able to create pure enough glass for manufacturing telescopes that provided sharp views of the sky.
M 5 is 25,000 light years distant and consists of over 100,000 stars.  All of these globular clusters are in orbit around the core of the Milky Way.  That is why most of them are near the constellation of Sagittarius, where the core is located.
Admiral Smyth viewed the cluster with a 150-mm refractor in 1838.  He wrote:  "This superb object is a noble mass, refreshing to the senses after searching for fainter objects."  It is always interesting to me when I find that I agree with an observer from years ago.  When A.J. Crayon and I were viewing small galaxies in Eridanus we would take a few moments to swing over the look at the Orion Nebula just to "get that taste out of our mouths".  I can only do little faint objects for so long.
John Herschel with a 18.7-in found M 5 to be very compressed in the center, and likened it to a cosmic snowball.
Walter Scott Houston was able to see M 5 with the naked eye 50 years ago when the skies of Kansas were pristine.  Scotty said that it was a treasure house with every increase in aperture bringing new sights.  In low power on a small scope it is very
beautiful and bright, but not resolved.  The globular is comparable to M 13, in a 10-in, about 27' diameter.
There is a very nice double star near to M 5, it is 5 Serpentis.  My sense of humor points out to me that 5 Ser and M 5 are so close.  The double is 11.2" separated, a 5-10th magnitude pair and lies 22' SSE of M5's core.  In a 6 inch refractor at the Table Mountain Star Party in Washington State it was an easy split with a 14mm eyepiece.  The stars were light yellow and medium blue and showed good color contrast.
On a night I rated 7 out of 10 for seeing and transparency, M 5 is just seen naked eye.  It looks like a double star with 5 Serpentis. 
With a 6" f/8 refractor while at the Table Mountain Star Party, M5 was very bright, very large and very rich.  The cluster was extremely compressed and showed a very bright middle at 90X.  Even in this modest aperture it is one of the best globulars in the sky!  Raising the power to 185X with a 6.7mm UWA eyepiece provides a "WOW" view.  Thirty stars were resolved in the NW quadrant, so a total of 120 stars across the entire cluster are seen with direct vision.  Averted vision doubles that number into an overwhelming view of tiny star points.  The core is very compressed and sparkles with stars right at the limit of the 6 inch refractor on a good evening.  This was a great view of a favorite.
My best view of this excellent globular was from the North Rim of the Grand Canyon.  On that memorable night I rated the seeing at 7 out of 10 and the transparency as a perfect 10.  Using a 13" f/5.6 Newtonian, M 5 is fabulous at 330X.  It shows a, blazing core with many curved chains of stars winding out from the core.  There is a delicate triple star of 13th magnitude; the stars form an isosceles triangle right at the center of the core. A few dark areas are seen, they are more prominent with averted vision.  I counted 77 stars in the Northwest quadrant.  In moments of good seeing, there is a stellar nucleus, even with the 6.7mm eyepiece.  An owl is hooting in a nearby pine tree, adding to the fun.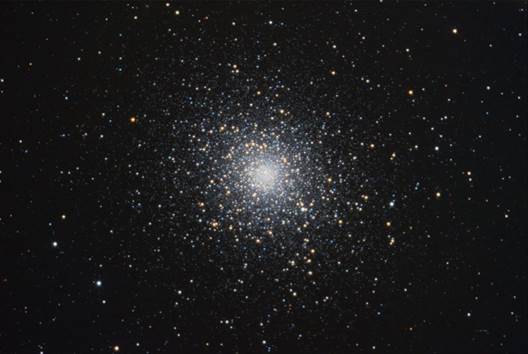 M 5  by Chris Schur  12" f/5 Newtonian
From Payson, AZ
Markus Tang and DEEPSPACEHUNTER like this
Article: What's Up - M 5 in Serpens