CNers have asked about a donation box for Cloudy Nights over the years, so here you go. Donation is not required by any means, so please enjoy your stay.


0
What's Up Perseus (2)
Discuss this article in our forums
What's Up
Perseus (2)
By Steve Coe
I know that I have said this before, but it bears repeating.  I like constellations like Perseus because this area of the sky contains a wide variety of object types.  From planetary and emission nebulae to open clusters and galaxies there is lots to see within the boundaries of the Hero.
M 76 is a planetary nebula and is the faintest of the Messier objects.  I believe it is the smallest also, but I will allow you to look that up in your spare time.  Using a 6" f/6 Maksutov-Newtonian on a night I rated 6 out of 10 for seeing and 7/10 for transparency it was a tiny elongated dot at 50X.  Raising the power with a 5mm eyepiece shows M 76 as pretty bright, pretty small and elongated 1.5X1 in a position angle of 30 degrees.  There are two sections to this nebula and in the six inch using averted vision will divide the two sections, there is a thin dark lane between them.  There is a bright spot in the northern area, it was never stellar, even at this high power.
Observing with a 13.1" f/5.6 Newtonian at a site about 50 miles from Phoenix it was difficult to see much detail on a night of mediocre seeing.  At 100X it is pretty bright, pretty large and shows a  rectangular box shape. 
On a night of much better seeing, where I could use 330X, the 13 inch scope shows why there are two NGC numbers associated with this object.  The view is very different with direct and averted vision.  Direct--2 distinct sections with bright areas NE and SW that are never stellar.  Averted--almost twice as large with faint outer section, especially to the ENE.  The "outer loops" are never held with direct vision.  Color is more gray than green at this higher power.  A faint outcrop to the south spoils perfect rectangular shape.  UHC and 330X bring out faint outer loops somewhat better than 220X.  Going to 440X shows faint star on south edge and bright spot on north edge that is stellar about 20% of the time.
M 76 shows some excellent detail at high powers.  I must have realized this even as a beginner because I have observed this object with every telescope I have ever owned. 
The largest telescope I have used to view M 76 is a 32" f/7.2 RC that belonged to the late Dave Healy in Sierra Vista, Arizona.  I rated the night at S=6, T=7 and used an 18mm eyepiece that gave 325X.  This provided a great view and made the rectangular shape easy to see.  There is an obvious star at one end and the nebula shows an obvious gray-green color.  The outer loops of nebulosity are easy with direct vision and have very good contrast with this much aperture.  This outer nebulosity doubles the size with averted vision.  This provides an excellent view of an excellent object.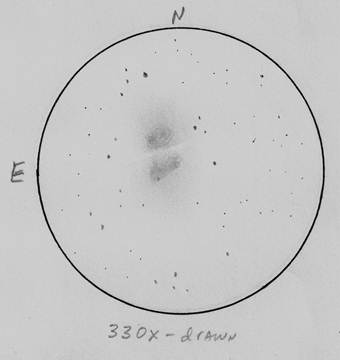 Drawing with 13" at 330X and no filter.
NGC 1023
For some time I owned a Celestron 9.25" SCT and I quickly found the observations I made with it were very similar to what I had seen in my Nexstar 11 GPS from years ago.  But, one of the objects I did observe with the 9.25 inch was NGC 1023, a galaxy.  With a 14mm eyepiece it was pretty bright, pretty small, elongated 2.5X1 and much brighter in the middle.  Averted vision makes it larger and more prominent.
Using a 13.1" f/5.6 on a terrific night (S=8 T=9) over 100 miles from Phoenix this galaxy shows lots of internal detail.  At 100X it is bright, large, very elongated 3X1 in PA 90 and much, much brighter middle.  Raising the power to 220X brings out several brightenings in the outer arms (stars or H II regions?).  Averted vision makes a huge difference in the length and thickness.  The higher power also shows a very faint companion to the east.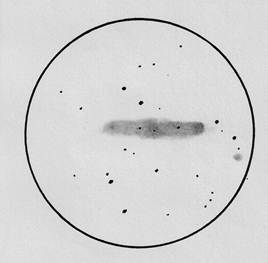 NGC 1023 with a 13" Newtonian at 220X.
NGC 1342 with a 6" f/8 refractor on a good night and a 22mm eyepiece shows this cluster as pretty bright, large, not compressed and pretty rich.  There were 29 stars counted with direct vision, there are several pretty faint pairs included. 
At this low power a curved chain of stars goes from one side of the cluster to the other.  I can see an obvious dark marking in the nearby Milky Way.
NGC 1491 is an emission nebula.  With the Nexstar 11 (11" SCT) and a 22mm eyepiece it is bright, pretty small, and has 3 stars involved.  The triangular shape looks something like a ship's "bow wave".  It could also be said that this nebula is somewhat comet shaped.  It is an almost equilateral triangle with a prominent star in the eastern corner.
NGC 1491 13.1" f/5.6 Sun Valley site S+T=6/10 100X--pretty bright, pretty small, little brighter middle, 10th mag star on E edge, averted vision doubles the size, 4 13th mag stars involved.  220X brings out 2 more stars for a total of 7, UHC filter does not help, actually reduces the size of the nebulosity.  Always gray in color.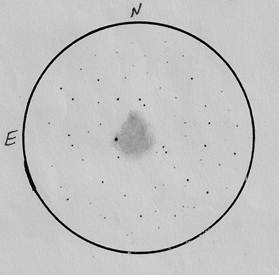 Drawing with SCT 11" at 200X.
Article: What's Up Perseus (2)