CNers have asked about a donation box for Cloudy Nights over the years, so here you go. Donation is not required by any means, so please enjoy your stay.


0
What's Up: Stephan's Quintet
Discuss this article in our forums
What's Up: Stephan's Quintet
By Steve Coe
I have always enjoyed viewing galaxy groups and Stephan's Quintet in Pegasus is one of the most famous.  This grouping was the first compact galaxy group ever discovered.  The director of the Marseilles Observatory, Edouard Stephan, found this grouping visually in 1877; he was using a reflector of 31.5 inches aperture.  J.L.E. Dreyer provided the NGC designations for the galaxies.  Halton Arp included it in his listing of galaxy groups with suspicious redshifts as Arp 319.  It is also called Hickson 92.  The entire group is less than 5 arcminutes across, so use high magnification.
Trying to use a 6" f/6 Maksutov-Newtonian to view Stephan's Quintet provides a lesson in aperture.  Even with the 6.7mm eyepiece it is just an extremely faint blob, no individual galaxies seen on a good night!
Moving up to a 13" f/5.6 Newtonian at 220X shows all five galaxies held steady.  This was on a night I rated 7 out of 10 for seeing and 8 out of 10 for transparency, a very good night at altitude.  I used a dark cloth over my head to raise the contrast.  My observing buddy, AJ Crayon, calls it the "monk's hood".  I use a dark cloth; AJ uses a Navy blue towel.
AJ and I call the big face-on spiral "big mushy" and the two close galaxies as the "double galaxy".  We do tend to make up names for deep sky objects.  The monk's hood, getting really dark adapted and using some averted vision makes a difference in what can be seen here.
At the top of the heap, for me at least, is Tom and Jeannie Clark's 36" f/5—the Yard Scope.  With a 14mm eyepiece there is mottling seen in the two spirals and the close pair (NGC 7318A and
is easily split.  My best view of this object ever.  No averted vision needed to acquire or split these galaxies.  The smallest is about 4 times the seeing disk.  The large face-on spiral (NGC 7320) has a knot in one arm.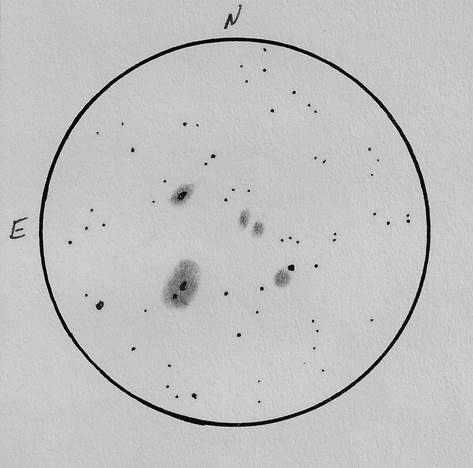 Stephan's Quintet  13" f/5.6  220X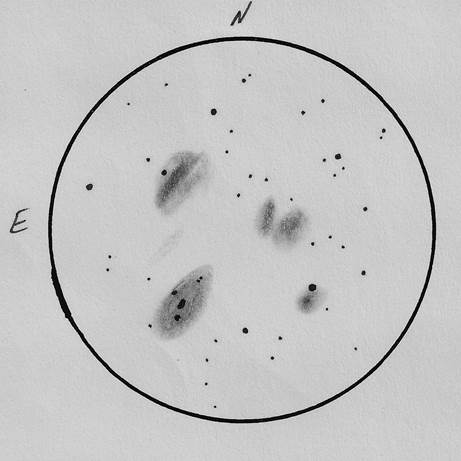 Stephan's Quintet  36" f/5  350X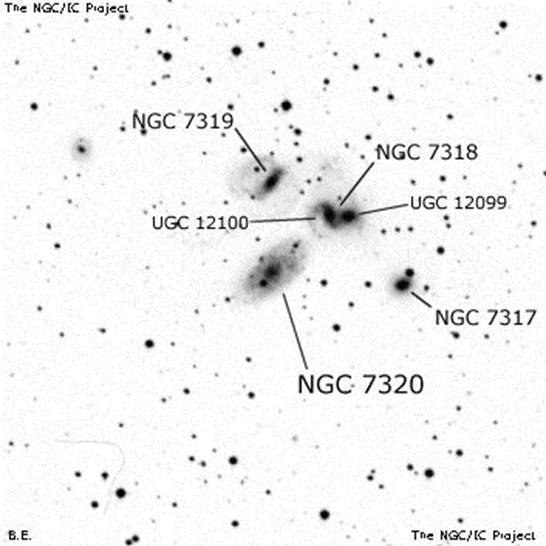 Stephan's Quintet  NGC Project
Article: What's Up: Stephan's Quintet