CNers have asked about a donation box for Cloudy Nights over the years, so here you go. Donation is not required by any means, so please enjoy your stay.


0
A Clear Sky Chart Gadget for the iPhone/iPod Touch
Jun 24 2009 06:56 AM | Brian Gibson in
misc
Discuss this article in our forums
A Clear Sky Chart Gadget for the iPhone/iPod Touch
by Brian J Gibson, Brampton Ontario
In September of 2007 I submitted a review of my Clear Sky Clock Gadget for Windows Vista (see article www.cloudynights.com/item.php?item_id=1714) which to date has had close to 6000 downloads. I still use it everyday but when I recently upgraded to an Apple iPhone 3G and started looking into iPhone development I figured what better way to get started than to replicate this functionality, so the iPhone SkyCharts web application was born. I discovered another native iPhone Clear Sky Charts application written by a fellow Canadian (www.microprojects.ca/iphone.html) but it didn't quite meet my needs. My basic requirements were as follows:
http://www.microprojects.ca/iphone.html
Ability to store all Clear Sky Chart locations in a local database

Ability to easily select my three favourite Charts for a quick preview

One tap access to open the associated CSC Chart page using Mobile Safari

One tap access to a Google Map of the exact Chart location (if published)

A method to periodically update the database as new Charts are added
I was able to meet all of these requirements on the iPhone and iPod Touch and took advantage of the built-in HTML5 SQLite3 database to store the 3600+ Chart records as well as the three user selected Chart settings. The Chart data is automatically downloaded from an XML file hosted on my web site www.anythingbinary.com the first time the application is launched. I will periodically update this XML file to include new Chart locations. Building the local database takes 3 to 4 minutes but this only occurs once. After that the page simply loads and refreshes the three small Chart images. It includes an icon for the Home Page to give you once click access. I submitted the finished application to Apple and they published it as a Staff Pick. The URL is http://www.apple.com/webapps/weather/skycharts.html .
In order to accommodate item (5) regarding updates, I added a yellow reset button on the Settings page which allows the existing CSC database tables to be cleared if necessary. The next time you launch the application it will download the latest XML Chart data file and rebuild the local database. For detailed information of interpreting the Clear Sky Charts refer to Attilla Danko's site http://cleardarksky.com/csk.
Here are a couple of screen shots showing the front and back page of the application. A red pushpin appears beside any Chart that has its Latitude and Longitude published in the database.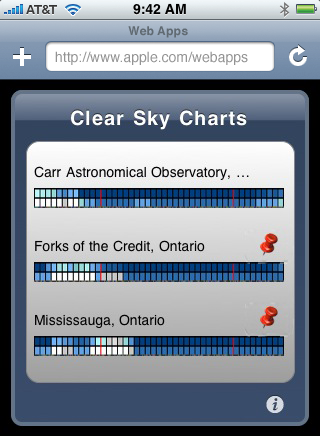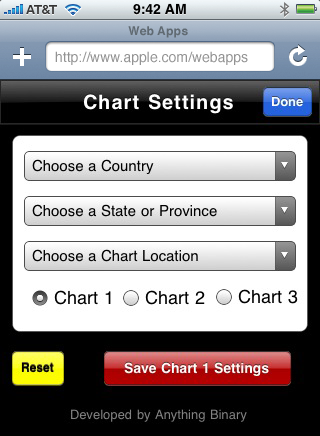 When you tap a red pushpin the Chart location is displayed in the local Google Maps application. By adding the SkyCharts icon to your Home Screen it will be available anytime you need it.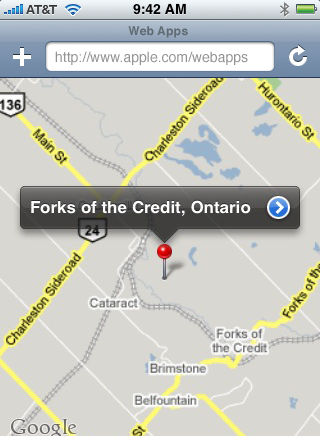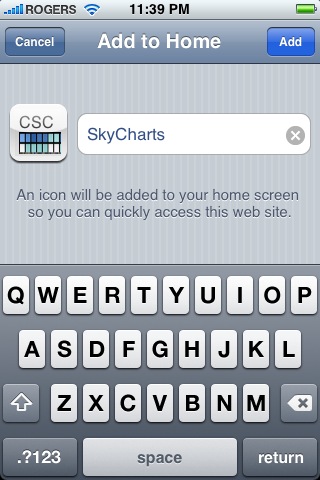 If you have an iPhone or iPod Touch running the 2.0 software (or greater) be sure to give it a try!
Article: A Clear Sky Chart Gadget for the iPhone/iPod Touch