CNers have asked about a donation box for Cloudy Nights over the years, so here you go. Donation is not required by any means, so please enjoy your stay.


0
Apollo Rendezvous 2008
Jun 19 2008 09:32 AM | CN_Admin in
misc
Discuss this article in our forums
Apollo Rendezvous 2008
Tom Trusock
6/2008

Astronomers exit the Boonshoft Museum door prizes in hand...


For the last 38 years, the Apollo Rendezvous Telescope Convention and Star Party in Dayton Ohio, has been a staple here in the Midwest.  It's a two day banquet of speakers, vendors, workshops, ATM and Astrophoto contests with a stargaze and barbecue to finish it off.

I was lucky to speak at AR a couple of years back, and had a wonderful time - so when John Chumack asked me if I'd be willing to rejoin them for this years celebration it took me all of 1/100000 of a second to say yes.  So last week, with my family riding shotgun, we all piled into the truck and took off.

Apollo Rendezvous is presented by the Miami Valley Astronomical Society, and hosted at the Boonshoft Museum of Discovery.   Linda and Rick Weiss were the coordinators this year, but were supported by a rather large cast of characters.  No one person is really responsible for an event of this size.    Boonshoft and the MVAS did a wonderful job organizing and running the event.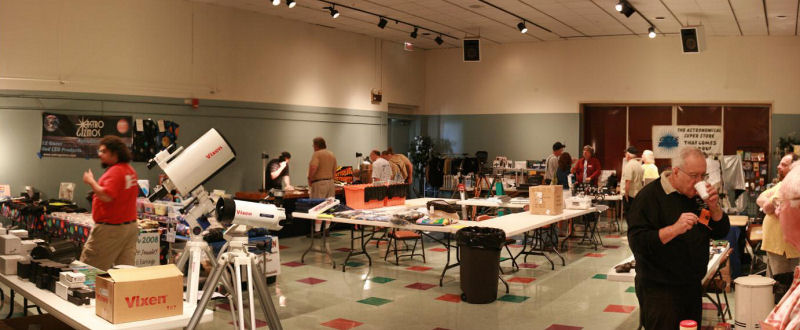 Vendors are necessary for the astronomer to make use of their "Economic Stimulus Packages"


Leaving the kids to swim in the pool Friday night, I headed over to the Boonshoft for the opening events and found that temptation had already arrived in the form of the vendors.  While it's not NEAF by any reach, there were several opportunities for one to be parted from their money.  CCTS was being something of a tease tho - they had an 8mm Ethos on display, but they wouldn't sell it!!  Something about all their orders already sold...  Disappointing, I know - but what are you going to do when a vendor insists on filling their orders before offering it to any yahoo that walks in off the street.  (IR - Me!) ;-) Fortunately mine was already en route from Astronomics.  I didn't manage to get away completely free however, and wound up purchasing some red lighting from Astro Gizmos - as these things go for me though - that was CHEAP! 


John Chumack from Galactic Images has some of the most

beautiful astrophotos I've seen.


After a quick peek at the vendors - ok, ok - it was not exactly quick - I headed down to catch the planetarium show "200 Planets and Counting" which  discusses the discovery of extra solar planets.  The show uses a conversation between a young girl and her grandfather as the vehicle.  Very entertaining and quite well done.

Friday night's presentation was Dr. Dale Partin's talk, "The Hubble Constant: a Historical Perspective."  This extremely interesting presentation documented the genesis of modern cosmology and our steps in understanding the evolution of the universe.  I found Dr. Partin an extremely interesting speaker and his presentation enlightening.

Friday was clouded out (actually there was a tornado spotted earlier in the day) - ergo no observing meant a good nights sleep.


Did I mention that Boonshoft is a kids museum?  Perfect!

Saturday while the kids played in the children's museum (worth the visit on it's own), I attended several presentations.  Terry Mann - president of the Astronomical League - spoke about the International Astronomical Year that's upcoming for 2009, and a number of projects the AL is involved with.   One of the key points was the rapid disappearance of the worlds dark skies - but there's a small light in the tunnel.  Terry showed a video from the National Park Service who now considers it part of their mandate to preserve the pristine skies found in our national parks.   To help introduce folks to the wonders of the night sky, one of the projects the AL is going to be involved with next year is the creation of Dark Sky Discovery Sites (DSDS) - locations where people can get out to see the night sky in all it's beauty.  This project is huge in and of itself, but it's only one being undertaken for the upcoming year.   The AL is looking for all the help they can get.   Terry and I hooked up afterwards and talked about ways that Cloudy Nights could help.   Keep your eyes open for more announcements concerning IAY 2009 and what you can do.  I'll be in touch with Terry and as I get information, I'll be sure to pass it on - either on the website or in the forums.

The other presentation on Saturday was given by yours truly.  We took an in depth look at cutting edge gear; what's here today, what's coming tomorrow.  We also talked a bit about how to maximize your observing dollars, and how to choose the best gear for your purposes.  Nobody booed or threw stuff, so I guess it came off pretty well. ;-)

Noted imager Scott Ireland gave a workshop for the weekend that focused on processing DSLR images and processing using Photoshop. Scott also gave a beautiful presentation on Saturday entitled "The Earth From Above".


The "Black Pearl" had some very interesting design aspects.


I was also honored to spend some time with forum member Patrick Johnson, and help him try to award some of the ATM prizes - man that tough.  I wish I had the creativity that some of these gents had.  One young man in particular impressed me.  Jerry Stenton came up with a gadget he called his "Cosmic Ray Detector" - a very interesting project.


Jerry Stenton's Cosmic Ray Detector




I also got a chance to meet Ron Ravneberg - he's a very entertaining individual to talk to.  Some of you may remember "A scope named Alice" - well, Alice wasn't there, but one of her relations was.


Ron Ravneberg's ATM refractor


Following the presentations we headed out to the Club Observatory at John Bryan State Park - about 20-30 minutes from the Museum - for a cookout, fellowship and observing.  The brats and burgers were fantastic, as were the libations - the MVAS knows how to put the party in Star Party.  Their site is quite nice - set back in the woods it's hidden from the general public.  The lot houses one main observatory, with an additional 4 outliers surrounding it.  The club has some very nice gear out there, and it looks like it's a great site to observe from.





The MVAS folks really know how to put the Party in Star Party!


If you're from the midwest and you've not yet made it to the Apollo Rendezvous - what are you waiting for?  Good people, entertaining speakers, valuable workshops, entertainment for the kids, and telescopes.  What more could you ask for? 

I'd like to thank the MVAS for inviting me, and I certainly hope to make it back.





Links:



For more information on Apollo Rendezvous, visit the Miami Valley Astronomical Society  website at - http://www.mvas.org/


Article: Apollo Rendezvous 2008