CNers have asked about a donation box for Cloudy Nights over the years, so here you go. Donation is not required by any means, so please enjoy your stay.


0
Astro-Tech AT102ED
Oct 08 2008 05:45 AM | David Goodrich in
misc
Discuss this article in our forums
Astro-Tech AT102ED / William-Optics Ez-Touch (new version) / TeleVue Ethos 13
By David Goodrich, Santa Fe, NM, on 7-27-08; Resubmitted 10-4-08
I have no affiliation with Astro-Tech, Astronomics, TeleVue, Orion, Celestron, StellarVue, nor William-Optics.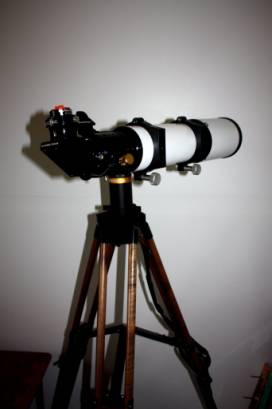 I don't want to sound negative, but I have been spending the last several weeks evaluating new Astro-Tech AT102ED (also offered in different flavors by Stellarvue, William-Optics, and Orion) purchased from Astronomics, almost trying to find fault with it, because a scope this nice, for this price just isn't impossible - or is it? Yes, it's a Chinese scope. Aside from a very few cosmetic issues, the quality of this scope is hard to believe. I received the AT102 with the feather touch micro-focuser (not the complete feather touch focuser that other vendors may offer), tube rings, dovetail, reticule laser finder, 2 to 1.25 adapter, front lens cap. The objective is 102mm, f/ratio is 6.95, focal length is 709 mm. Note that I only use my scope for visual use. I first did this review with very inexpensive eyepieces (at first), including 32 to 15 premium Celestron Plossls (silver with grip), and 9 and 6 mm Orion Expanses.

The finder is great. I have used this metal reflex / reticule finder before on other scopes and I just love it compared to the normal magnifying mini-scope version. I often look at things that can't be seen, I just estimate where they are, such as most of the Messier objects, such as M104. There's nothing to see in a standard finder when looking at very far away objects, so I just put the laser dot in the area of the sky where I think the object is. For a brighter object, just place the dot right over it. That said, at first I had some difficulty keeping the finder from moving around its base. Although, I did finally get it tightened down somewhat. I was afraid to hurt the scope by tightening it down too much, but you can get it tight.

I've owned dozens of telescopes of all sizes and types, so I consider myself qualified to evaluate this scope.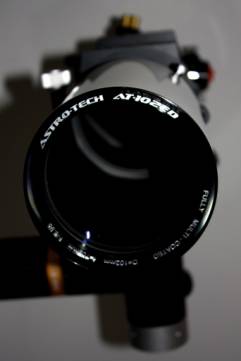 It weighs in at about tens pounds (much easier to carry than a 10" dob), and has a beautiful finish and anodized focuser. It just feels like quality, whatever that means. I know this scope has FK-61 glass, which is supposed substandard for an APO or quasi-APO, but I think you would be hard-pressed as an average, amateur astronomer to see much of a difference. At first I was concerned about this quality of glass, having had an FPL-53 scope (ED80) and a TV76. But there is little to worry about here. During my first and second (and following) light tests, I honestly saw no difference between this scope and an APO or reflector, in terms of false color, except for red flashing on Mars, which may or may not have been my cheaper 6 mm EP. I suggest red-flashing on very high magnifications could the one side effect of using this scope but I do not consider it a major issue.

The focuser is quite nice, though not a full Feather Touch unit, just the knob/drive assembly. There are two speeds, where the slow speed is quite fine.


William Optics EZ-Touch Alt-Az Mount

I chose an EZ-Touch mount, as I had had one before (the silver model). This one is mostly black with some gold and silver. It has degree markings on Alt and Az axes. (So if you were quite savvy, you could level the scope, align the degrees with North, then use a PDA or notebook computer to identify current Alt Az coordinates and point your scope there. Not sure how accurate this would be, but you can try it with this new head.) I never had the tripod itself before, but I got it this time, for the extra $130 -- its worth that. And I'll have to say this combination is really high quality and solid. It holds this scope with ease. This mount may be similar to the new Alt-Az model being offered now by Orion, except the WO model has a Vixen dovetail design on one side, one side Losmandy. Orion's has both sides as Vixen. Note that there is only one screw to hold you scope tight, not two as in some Vixen mounts. Also, the screw is not Teflon-tipped. But it holds your scope nice and tight. I do suggest you balance it a little before tightening the screw, to give the best performance. When making the decision between WO and Orion, I felt the WO model was more substantial and solid, although I have not compared the two mounts directly.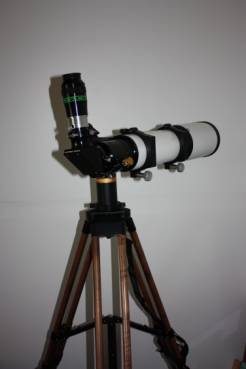 The EZ-Touch mount has two major axes where a non-captive knob can be turned to tighten internal Teflon discs. You can set the mount one day, and just forget about it from then on, unless you want to re-adjust. Just put your scope in, aim, and it will stay in that position. You can even change eyepieces to look at planets, and the planet is still there (if you hurry). The EZ-Touch is a pretty hefty chunk of metal, and keeps your scope on track (although, being completely manual it does not automatically objects). This year's EZ-Touch, besides the new black color, has plastic knobs, whereas last year's silver mounts model had metal knobs.

Why Choose This Scope?

The reason I chose this scope is that I had been using a 10" dobsonian, which each piece (base, scope) weighs about 35 lbs. So, I wanted something to satisfy this criteria:
a) Light weight (vs. 10" dobsonian)

"No" cool down (compared to 30 min to 1 hr for dob)
c) Sealed tube (its dusty in my area)
d) No collimation (for the most part), but can be if needed
e) No coma
f) Near color free (it shouldn't be this color free for FK-61 glass, but it is)
g) Large enough aperature (yes, its not as bright or big as the dob)

I thought I might need a 120 mm to bring in enough light, but I could not afford it, and I want to tell you this scope is BIG. Having had a few 80 mm scopes, I'm surprised how big this scope is - aperture-wise.

I've heard people say that there's something magical or special about the 4" aperture, and after my second light with this scope, I must agree. I was able to see everything I've seen with my 10" dob, although not as bright or as detailed. However, if you look for them, a 10" dob will show you objects you cannot see in this scope.

Since I always appreciate reading this part of the reviews to answer the eternal question, "What can I see what that scope", I've included the following first light logs from personal observing logs (GC=Globular cluster, OC= Open Cluster):

First Light (this is the part of the review I always read first): Santa Fe, New Mexico

SV102ED, 102mm objective, f/6.95, 709mm FL, used Plossls of 32 to 15mm, and 66 degree ultra wide (similar to Orion Expanse) of 9 and 6 mm:

M3 above Boo, nice fuzz ball at 20mm

M51 and companion - at least as bright as my 10" dob. Really nice and bright, especially ("esp.") at 15mm. The companion galaxy is definitely there.

M63 easily found at 32mm. Dim at 9mm. Nice at 20mm. Hint of structure.

M94 near Car Caroli, not large, dim at 15mm.

M101, extremely dim large oval, but a great find in this scope.

M81 and 82 extremely dim, washed out in Santa Fe city light. But I see them.

M104 easily located - nice sight at 32, 25, 20mm. Starts to dim at 15mm. Not dim overall not overly bright.

Leo Triplet - easily found under the tail of Leo (I have a word for them, but won't share it here). M65, M66, and ngc3628 nicely framed at 25mm. I would give them a subjective 'medium' brightness meaning not too dim, not too bright. Great image of all 3 at 20mm.

Other Leo Galaxies (under torso) wonderful, can just barely frame M95, M96, M105 (and one other near M105, not sure what it is) with 25mm. M95 is brightest of three.

Saturn with rings and Titan nice at 25mm. Beautiful, bright, but small at 9 mm. Very sharp with added Barlow (2.5 x TeleVue Powermate). However, seeing is so - so. And, the objects quickly move out of FOV.

Mars with 9mm and 2.5 barlow has definte disc (looks like not 100% illuminated), with some red flaring, but no details, just too small in the sky.

M35 at foot of Gemini - bright large points @ 25mm.

M36, M38 pinpoint stars, but not overly bright, near horizon.

M13 - nice huge fuzzball, one of my favorite targets. Esp. nice at 15mm. Also nice at 25mm.

M92 near by, bright dense core, smaller. Nice at 15mm.

Second Light (clear, but windy early during day)

(Same setup as above)

M37 nice at 32mm, good at 20mm, large powdery, nice. Central yellow star?

M36, sparse OC, okay at 20mm

M38, similar to M36 but more stars, looks okay at 20mm; dimmer than expected; likely bad seeing, not due to the scope

M35 around right foot Gemini; nicest of these clusters; great at 20mm; many stars of varying brightness.

Castor (right eye/head) split at 9mm; very nice at 6mm.

Eskimo Nebula NGC 2392 found by accident. Nebulous blob with stars inside. Good at 15mm. "Medium" size. Definite gaseous appearance.

Leo - Staturn and Titan at 32mm. Saturn remarkable at 9 and 6mm.

Leo Galaxies M95, M96, M105 nicely framed. At 32mm, all barely fit in frame.

Leo Triplet - bright obvious under tail -- especially nice at 20mm.

M104 (the Sombrero galaxy) quite nice at 32mm. A hint of structure. Two yellow stars to the left. Awesome down to 9mm.

M3, huge and beautiful esp. at 32mm. Huge GC.

Hercules - M13, grand and awesome much like M3 (@ 32mm) some outer stars resolved at 9mm, though dim. Also nice at 15mm, but brighter, nice at 15mm. Really nice at 20mm.

M92 bright, dense core at 32mm. Very nice at 20mm also.

Lyra - right on the horizon, not recommended. Yet saw M57 - can see donut hole at 9mm and 15mm with averted vision.

Vega -- Can't split double-double at 6mm or 9mm.

Little Dipper - M51 and companion - awesome at 15mm, nice detail.

M63 directly overhead, easy to find. Nice at 20mm. 15mm - smaller than M51 at 15mm.

M81 and M82 seen with 25mm and 20mm, dim lost in city light.

Scorpius tail just over horizon in east. Saw M80 @ 20mm, small but bright.

Third Light

One-third moon in Gemini. Cool, clear, but was a very windy today (seeing not the best tonight). Sold the 6 and 9mm "plossls" and replaced with 8-24mm Vixen LV zoom which has a low FOV. I also tried a TeleVue Nager 2-4 TV zoom and 3-6 Nagler zoom: both of these are two provide excellent view, but low FOV.

Saturn awesome at down to 2.5mm. 2 is too dim. Super-crisp at 3mm (in 3-6 zoom) but moves too fast in FOV.

Mars still has a few red flares in Nagler zooms. No detail, but definite small disc. Good at 2.5mm and even at 2mm.

LV Zoom darker and more contrast (than the previous plossls), narrow FOV, but easy to use.

M104 good to down to 15mm.

M68 very dim cluster (GC) near Corvus.

M13 Nice, several stars resolved at 8mm, 3-6 zoom good, 2-4 was very limited.

M92 nice, dense core, best at 15mm.

M51, found it, quite dim.

M101 could not find

Mizar and Alcor easy split.

M57 nicest at 13mm, but observed at 8mm and 3-6mm.

Double- Double split at 5mm, nice at 4mm.

Zenith difficult to reach with this setup, such looking for M3.

M80 nice.

Leo Triplet (the one under the tail), nice but washed in moonlight.

M4 nice near Antares. Large Powdery, not bright. Give it 'medium-small' in size, still good size.

M10, M12 nice GC in Oph. M12 looks irregular to me.

Fourth Light / Enter TeleVue Ethos 13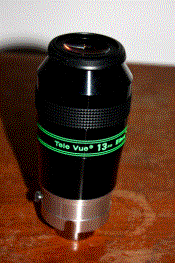 I sold all my other eyepieces, primarily due FOV, to buy a TeleVue Ethos 13mm eyepiece. I know, you want to quite reading right now. And I would be last person to buy a $600 EP, but I "accidentally" read one of the reviews on it, and also feedback on TV site. (I purposely skipped reading all reviews on Ethos, just due to the price.) Repeat twice: "we're not worthy!" But I want to tell you this 13mm has such as huge FOV (100 deg.) it can replace several eyepieces. This is one of those "sell everything you have to possess" eyepieces - it is that good, the holy grail of eyepieces. I'm not joking. Today was cloudy with a full moon, so I didn't have high expectations -- but had to try out the new Ethos.

Ethos is not as heavy as expected (say compared to Panoptic 35 I used to have), but still it took some balancing to get it to swing easily on the EzTouch. I suggest using the 1.25" slot instead of 2" as it seems to sit better. Below are all Ethos 13 observations, and in bad seeing (moonlight, etc.)

Saturn - beautiful! Titan and one small moon right there.

Mars nice, small disc.

Mizar and Alcor split clean.

M13 still nice.

Vega could see (but not split) double-double in same frame.

Moon - awesome! Huge! Fills up most (3/4) of EP. Super sharp - never seen anything quite like this. It's like super-HD. There is no expected yellow limb near the moon. All I can see to comment on is there is the slightest yellow line on the edge but not outside of the edge. I see birds flying over the moon.

Fifth Light (when is this review going to stop?)

Same equipment is previous: AT102ED 709 mm FL, 102mm objective. Only EP -- the Ethos 13. Odd to be using a 13mm EP as your 'finding EP', but it works, since the FOV is so very wide.

Slightly cool, slight breeze, almost new moon. (Pretty good conditions.)

Saturn - awesome ringed planet in center of jet black background.

Leo - M95, M96, M105, -- they look 'large' and amazing.

M65, M66, NGC3228 - large fuzzy looking.

M104 brilliant and wonderful above the tilted Corvus.

M13 huge, outer dozen or so stars resolved. Black background.

M57 can see donut hole, smoky looking.

Ethos gives a dark background with stars, like jewels much like looking at the sky unaided or in binoculars (although much better). Very flat field.

Cyg - albiero lovely huge split yellow and blue companion

M27 large and amazing

Awesome for tracking planes - they are huge and lights clear.

Be sure to tighten your diagonal and balance your scope.

M81 and M82 huge and distinct. Best (but not the brightest or most detailed, as a larger aperture scope will provide) I've ever seen them in any scope, even though they are slightly washed in Santa Fe city light. They were seen together in one view—but very "large" visually, compared to any other eyepiece I've used.

M101 faint, but huge and very obvious.

M4 very pretty many outer stars resolved. Nearby smudge thought it was M4 - is this the much dimmer NGC 6144?

The Ethos 13 is really nice - I can come back and find the object is still in view after several minutes - great for a visual / alt-az observer like me. It's hard to relate, but using the Ethos is like not using a telescope - like just looking at the night sky, but much larger.

M80 nice, dense, compact, bright

NGC 6231 (some call little scorpio) - nice like jewels near horizon.

M68 - soft fuzzball near corvus.

M6, M7 large near the horizon.

Jupiter rising - large and fuzzy just off the horizon (for you newbies - don't look at stuff near the horizon, it doesn't look good - but sometimes you just can't wait). Three moons lined straight to the west north west of Jupiter.

Ethos makes you philosophical - "heavens turning overhead, thin atmosphere separates me from the sky"

M22 awesome - bright outer stars resolved. Large. For whatever reason, everything looks larger in the Ethos.

M28 - small, dense, compact.

Trifid - smallish.

Lagoon nebula large and awesome. Floating, black and many shades of gray. What a site in this EP and scope - best I've seen it any scope or EP, even on near the horizon. I wish I had my old dob, as the view would have been even more incredible.

Omega and Eagle nebulas -- nice.

Now that Jupiter is higher, I can definitely see two rings on it.

M54, M70, M69, -- small, fuzzy, definite.

Butterfly cluster - huge, large, clear, definite, jewels on velvet

Split star in nose of Dolphinus.

Keep trying to put my eyeball right on the lens - not recommended. But my eyelash fell off on it - keep a lens brush handy.




In Conclusion

Negatives
To be balanced, here are few negatives to this setup to consider:
FK-61 glass is not as well color-corrected, nor does it have as sharp an image, sometimes giving red flashing on highly magnified images.
Scope did not come with a complete Feather Touch focuser, just the knob assembly is Feather Touch.
The scope is almost twice as heavy as an 80mm scope.
Case is not cheap looking.
Ethos is a large, heavy eyepiece, much larger than Nagler eyepieces. It will not fit in my standard lens case; I had to order a special plastic screw case to hold it. However, its lighter than some Panoptic pieces. This eyepiece is very expensive.
The EzTouch mount does not have a safety screw in addition to the primary screw on the Vixen end, unlike many Vixen mounts.
Positives
In conclusion, I honesty have the feeling that someone slipped a high-end APO into the box (I'm not complaining) which just happens to AT102ED on the side, instead of the scope I was supposed to get. Hands down, this is one awesome scope. I no noticable chromatic aberration in this scope (which should be there with FK-61 glass), on any target, except for some very slight red flaring on high magnifications, and slight yellow edge to the moon (a subtle line
on
, but not
off
the edge) - no purple flare, no yellow limb. For those who say FK-61 glass is substandard, or not real ED glass: it may be slightly less corrected than FPL-53, but having been an FPL-53 owner, I find the difference extremely small. I expected a lot less in this glass and scope, but instead received an outstanding value in build and optical quality. The mount in simply the best manual Alt-Az around, allowing you to focus on the sky instead of the mechanism -- just set it once and forget about it for the night. And, the Ethos, is well, the holy grail of eyepieces -- don't let the price scare you away. So, I highly recommend the Astro-Tech AT102ED, William Optics Ez-Touch mount, and the TeleVue Ethos 13.
Article: Astro-Tech AT102ED