CNers have asked about a donation box for Cloudy Nights over the years, so here you go. Donation is not required by any means, so please enjoy your stay.


0
Astrosystems Telekit
Dec 16 2008 03:59 AM | Brett Shinn in
misc
Discuss this article in our forums
ASTROSYSTEMS TELEKIT
REVIEW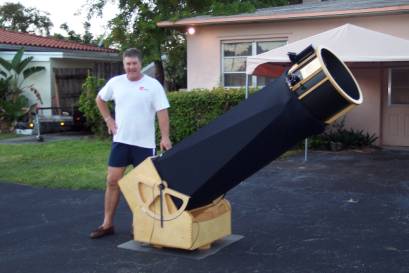 To give you a reference, I am 6'2" and 245 lbs.
This review is about a company called Astrosystems and one of its main key products, the Telekit.   The company offers high-end telescope making kits in numerous sizes 10, 12.5, 13.1, 14.5, 16, 17.5, 18, 20, 22, 24, 25, 28, 30 and 32 inch truss tube telescope sizes. The Astrosystems Telekit presents the amateur astronomer who wants to build their own telescope the ability to do so without having to piece meal it together on the fly.  The kits arrive with pretty much everything that you need minus supplies like paint, sand paper, etc.  Astrosystems also manufactures other astronomy parts but I think their main product is the Telekit.  Their web page is   www.astrosystems.biz  
My wife and I have only been observing for a little over two years.  After attending several Saturday night viewings at our home club www.scas.org and peering through the eyepieces of other scopes did my wife suggest that we buy one of our own so we could do our own thing.  Our first purchase was a 10" Orion classic DOB that really wet our appetite.  Our second purchase was a Celestron 8SE grab and go scope.  However, after owning the two above scopes for around one year two things became obvious to us, size really does matter and that we are pure 100% visual with no interest whatsoever in getting into astrophotography.  Hence, the hunt was on for what to buy, OR build.  We settled on the 18" mirror size because anything larger requires an extremely large vehicle for transportation and a really large stepladder for viewing.  Even though I am a white-collar office worker I have always been good with my hands so I decided to build.  The thrill and satisfaction of building your own telescope cannot be measured.  Completing a project of this magnitude will earn you kudos's at each and every star party not to mention what friends and family say and think.  You know exactly how it went together and how you can tweak it to perform the way you want it to.  By the time you are finished, you will have a very firm understanding of optics, collimation and woodworking. You will have complete control over the final appearance of the scope.
I am writing this summary 11/23/2008.  I have COMPLETEY finished the construction/assembly and have had the scope out three times.  I feel that I can now offer a very educated opinion of the finished telescope, the company Astrosystems "AS", and Randy at Astrosystems.  First, the quality of the materials that AS provides is excellent!  Randy and his team use quality wood and the cuts are precise.  When dry fitting them and epoxying them the fit is outstanding!  The hardware that they supply (spider, nuts & bolts, bearings) etc. is top quality.  The packing and labeling of the material is excellent.  Figuring out what is what and where it goes is a snap because the installation manual is very good.  AND OF MOST MPORTANCE, Randy's support was EXCEPTIONAL!   J.D. Powers would grade it "Best in Class".  His response to emails was normally 4 hours or less, and if I felt the need to call, he normally answered the phone himself or was immediately available to come to the phone.  It took me from the day I ordered the kit to first light 7 months and 7 days.  My original goal was to have first light by the end of September, first light wound up being October 11th, eleven days late.  Most of the scope material arrived July 9th so construction really only took 3 months and 2 days.  7 months is approximately the same time frame for ordering a large custom scope from one of the major builders like "O".  How many man-hours were involved?  My log shows 82 man-hours.  I did not include windshield time to Home Depot or other minor time involvements.  I'm sure that I probably could have done it in less time if I already had previous big DOB scope building experience and more experience with working with wood but I didn't.  What was my total outlay in money including the kit, mirror, Sky Commander, shipping, supplies, etc?  Probably right around $5,000.00 dollars.  A savings of probably $2,500.00 versus ordering a new scope.
In summary, you can buy with total confidence a Telekit from Astrosystems.  It is a quality product that is supported by a quality company.  If you have specific questions and wish to contact me by email, please do so at    bcshinn@comcast.net   and I will be more than happy to answer them for you. For a detailed review of the Telekit-18 WITH PHOTO'S, please visit  
THE BIG NIGHT,  F I R S T   L I G H T
10/11/2008 The clear sky clock showed that the evening "Saturday night" would be good.
Around 6:45 PM I screwed in the wheelbarrow handles and then wheeled the monster out of the dinning room and towards the front door of the house.  I had perhaps one inch of clearance on each side of the front door.  I then rolled it down the front steps on a couple of boards that I am going to turn into a ramp.  I then wheeled the scope over to the section of the driveway where I would have a good view of Jupiter.  The actual setup of the scope including removing the wheel barrow handles, the inserting of the truss poles, laying on of the shroud cover, then the dropping in of the upper cage only takes maybe five minutes.  By then my neighbor directly across the street saw what I was doing and sauntered over.  Because my scope is an F5.0 it is a little taller than most so seeing the laser circle over the laser exit hole that is in the focuser is a little hard to see from the very back of the scope while you're laying down on the ground turning the collimation knobs, so it can be helpful if you have someone helping you do the rough collimation so you do not have to be getting up and down, just have them tell you where it is, even though for the very final adjustments, you're going to have to get up anyway.   At any rate, within a couple of minutes I had the collimation spot on.  Now the bad news, the clear sky clock was off, I had a thin layer of clouds with the occasional large cloud that was also coupled with poor transparency due to the 20 knots of wind that was coming in off of the ocean that was bringing a lot of moisture with it.  I only live two miles from the ocean and a 1/4 mile from Biscayne Bay.  After it was dark enough, the first minor problem I encountered was getting the Telrad and scope aligned, this took about five minutes.  After that it was clear sailing.  I dropped in a 13MM Baeder Hyperion with no comma corrector or Barlow.  Even through the cloud cover, the view was impressive.  Furthermore, by then, several of my other neighbors had arrived and they were all impressed with the view because all of them have looked at Jupiter through my 10" Orion Classic and 8" Celestron 8SE.  They were all in agreement that the image as presented to the eye was much better in the big scope.   However, the very stiff 20-knot wind blew the scope around quiet easily; this was even after adjusting the brake to a fairly tight position.  I swapped out the 13MM to a 25MM to widen the view but it was still difficult to keep the scope on Jupiter so I decided to call it a night.  All in all, I was very pleased!  Scope breakdown is a snap and only take two or three minutes.  Getting it back in the house was no big deal using the boards.
SECOND LIGHT, WITH THE DSC SKY COMMANDER
11/03/2008      Between first and second light I installed the Sky Commander encoders and computer which was no big deal and only took a couple of hours.  After days and days of South Florida rain, all the forecasts for the evening were good so around 5:00 PM I started wheeling the scope out of the house.  First, the ramp that I built from the two boards was excellent; it truly made getting the scope in and out of the house a breeze.  Setup took maybe 15 minutes including collimation. I grabbed a neighbor's daughter who was finishing her afternoon run to help me collimate.  Yes it can be done alone but a second set of eyes really makes it a snap.  The moon was out so even though it wasn't even near dark, I used it to align the Telrad.  Total darkness, if you can call it that in my VERY light polluted neighbor's driveway was around 6:20 PM.  My house is directly between downtown Miami and downtown Fort Lauderdale with Hialeah directly to my West.  I normally setup in my neighbors driveway because their house has some trees that block several streetlights.  I turned on the SC, set the date then did the two star alignment using Polaris and Formulat.  I was very careful to center the two stars in an 8MM EP to improve accuracy.  I then decided to test the SC by pointing to Jupiter.  The SC arrows said to swing it around and bring it up a little bit.  Without looking at Jupiter while doing this I focused on the SC display, low and behold, the scope was dead on Jupiter; I was both impressed and thrilled.  I immediately said to h___ with Jupiter, which was really washed out by the moon that was maybe 5 degrees away and decided to go deep sky hunting.  With my 8" CSE and 10" Orion Dob, at best, it is a ****shoot from my location.  I punched in M57 the Ring Nebula and by using the SC arrows, swung the scope around to it, stepped up onto the second step of my step ladder and looked into the 17MM EP that I had switched to and lo and behold, it was dead center in the EP.  Once again, I was impressed.  From my home location, neither of my other two scopes can bring it into ANY EP.    I then went looking for M15 and M2, both globular clusters.  Once again, after swinging the scope to them, they were both dead center in the EP and both REALLY jumped out at me.  Let there be NO doubt about it, size does matter, aperture rules!  Additionally, a computer really does help find stuff in a hurry, especially in a very light polluted environment.  By this time, the usual assortment of neighbors had showed up who always want to see the big stuff like the moon and Jupiter so from that point on for the rest of the evening, I took the scope back and forth the two of them and  M15 & M2.  The repeatability or return ability of the scope via the SC to any object was excellent.  Whatever object I went to, it was dead center in the EP.  Needless to say, the evening was a rip roaring success.  Midway during the evening, my wife had wandered out and asked to see some stuff.  I put it on the ring and even she said wow.  The same comment came out of her mouth with the two clusters.  She was truly impressed.  She has seen all of the above from other 18" scopes from dark sites and was impressed that we could now see them from our own house.  I really didn't sleep that well last night, I was too happy with the performance of the scope!  EVERYTHING came together last night all at once.  I was truly very happy that I had decided to go the build it yourself route.  The feeling of accomplishment was almost overwhelming!
THIRD LIGHT
11/15/2008      On occasion I setup my scopes on the main ball field of the village that I live in www.biscayneparkfl.gov   and do an open invitation to any and all residents of the village and surrounding area.  During the course of the evening I generally have around 50 +/- viewers.  This night was no different and in-fact several of the attendees have used my other scopes so they have a benchmark to compare with.  The scope performed perfectly including the Sky Commander!  More importantly, whenever somebody asked me about where I bought the scope, I proudly said that I built it myself from a wood kit.  Needless to say, they were impressed.  On a side note, the Sky Commander is easier to use and setup than my Celestron computer on my 8SE.  The only difference is that the Celestron has auto align which means you can align on any 3 bright stars and it will know what they are.  With the Sky Commander, the user needs to know 2 stars from an available list of 30+ stars and then align on two of them, no big deal, I used Polaris and Formulat.  In summary, the night was a rip roaring success; everybody was truly impressed with the scope, views, etc.
SUGGESTIONS FOR FUTURE BUILDERS.
Read each section six or seven times end to end. Take your time and don't rush steps.  The manual isn't joking when it says to dry fit everything first, do it!
Purchase a whole bunch (Minimum 25) cheap paint brushes at Home Depot, after each coat of Poly I just throw the brush away.  They cost anywhere from a .75 cents to $1.50 each.
Purchase a minimum of 24 disposable plastic "one size fits all" throwaway gloves in the paint department.  Believe me when I tell you that you're going to use them.  A 12 pack at HD is only $3.00 dollars.
Purchase plenty of "60" grit and "320" or higher grit sand paper.  Probably 10 sheets of 60 and 10 sheets or more of 220.
On any first coat of Poly that is cut 50/50 with mineral spirits, put the first coat on thick, you can always sand out bumps, ridges, etc. before the next coat.  Four coats are best, the first is cut 50/50, 2nd & 3rd full strength, and 4th coat is sprayed on Poly from an aerosol can.
I have a 28" X 28" room fan.  Whenever I did any Epoxy, Poly or paintwork, after applying the epoxy/poly/paint, I placed the objects onto my worktable and then let the fan run on them at low speed for a minimum of 24 hours.  In the heat and humidity of south Florida, coupled with the cooling breeze of the fan, epoxy/poly/paint we're always hardened and setup within 24 hours.  In most cases, because of work/vacation schedules, the objects might cure for as long as two or three days before the next application.
I purchased four cans of (1) Quart, MINWAX Fast-Drying Polyurethane Superior Durability CLEAR SEMI-GLOSS from Home Depot.  Their part number is 2742663005.  I purchased four quarts instead of one gallon for two reasons.  Quart cans are easier to deal with and in my opinion, as you go through time, after you open a can; it is exposed to air and may start to degrade, especially in the heat and humidity of South Florida.  Hence, by using one quart cans, you use what you need as you go.  Yes you can save maybe $10.00 bucks by purchasing a gallon, but I like my idea of fresher is better.  I also purchase four cans of the same Clear semi-gloss in aerosol for the final coats.
I did the entire job with only machine sanders, I'm happy with the results.  You can probably get by with just a palm sander, it's pretty much all I used.  However, to finish the bottom of the rocker box, I asked my neighbor/friend to bring over his belt sander with a 50 grit belt.  I asked him to do the sanding with the belt sander.  One slip with that thing and you can really dig valleys into the veneer.  He is a master woodsman so I asked him to do it, he happily obliged.
For viewing, you will need a 5-step ladder.  I purchased one for $60.00 that includes a safety hold bar and a really nice tray for holding eyepieces, etc.
Budget a minimum of $250.00 for supplies like paint, Poly, brushes, etc. etc.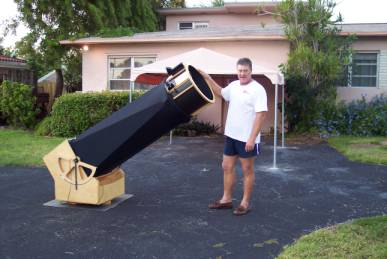 Article: Astrosystems Telekit