CNers have asked about a donation box for Cloudy Nights over the years, so here you go. Donation is not required by any means, so please enjoy your stay.


0
Reader's Choice: Gear of the Year 2009
Jan 22 2010 11:32 AM | CN_Admin in
misc
Discuss this article in our forums
Reader's Choice: Gear of the Year - 2009
Tom Trusock - 1/2010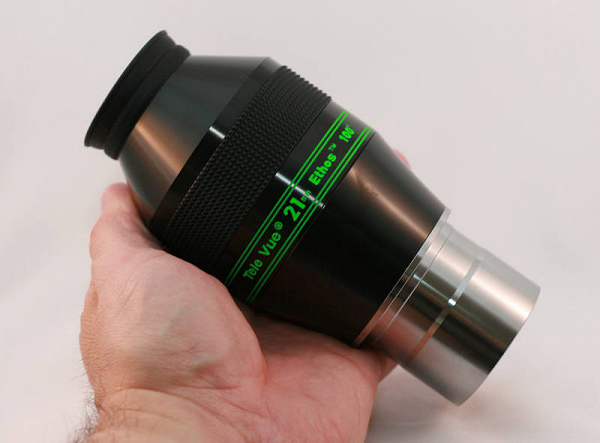 Those of you who've followed us for a while know it's that time again.  Once a year, in december, we ask our forum members to nominate what they feel were the most important, influential or plain and simply – just the best dang products of the last year.  Last year was a tumultous one to say the least.  For many, the unrest in the the fiscal markets meant many of us had less to spend on the hobby, and I know than many were very careful about how their hobby money was spent, and your selection speaks to that.  For some things, most noteably your top choices of the year – you felt there simply was no acceptable substitute, but in other areas, value for the dollar were the watchwords.



Tele Vue: 10 and 21mm Ethos



This is the third year running that Tele Vue has stolen the crown – and again with it's Ethos line of eyepieces.  Our forum members handily voted the 21mm Ethos into the top gear spot for 2009, but they didn't stop there.  The 10mm made the cut as well.   The 21mm just barely squeaked into 2009, but when it landed, it landed with a splash.  Yours truly was lucky enough to review one for the BBC: The Sky at Night magazine, and frankly – well, it's one of the best eyepieces this widefield junky has ever had the privilege to use.  Yes, the cost is stellar, but like everything else in life you do get what you pay for.  Kudo's once again to Tele Vue for continuing to set the innovative bar.

Website: http://www.televue.com
10mm - $620
21mm - $850
Available From: Various Dealers

Celestron: EdgeHD, CGE Pro and CGEM

Responding to the evolution in SCT-type designs, Celestron introduced their EdgeHD optics.  This aplantic Schmidt design reduces off axis coma, and provides a flat field all the way to the edge.  Featuring Mirror Clutches to hold the mirror in place, thus reducing image shift, tube vents to aid in cool down, and the ability to image at an amazingly fast f2 by removing the secondary and inserting an imager in it's place, the EdgeHD OTA are a noteable step forward in Celestron's compound telescope offerings. 

The EdgeHD OTA's are offered on Celestron's latest flagship mount, the GEO Pro. The Pro touts a maximum instrument payload of 90lbs, putting it – for most amateurs – solidly in the heavy end of things. With the proven NexStar control computer standard, and out of the box accuracy spec'd at +/- 9 arc seconds (further reductions are possible using the on board PEC) many amateurs consider it a value at it's $4999 price point. Although if that's a bit much for your needs (or your pocketbook) the forum members also took note of the Celestron CGEM (voted Gear of the Year for 2008) again this year.
Website: http://www.celestron.com
Price varies depending on size and configuration
Available From: Various Dealers

Astro-Tech: RC Astrographs

Our readers voted the RC astrographs from Astro-Tech in as one of their best buys of 2008, and AT has expounded on that success by expanding their line this year.  At prices far far below what the competition offers, many astrophotographers find these to be one of the best bangs for the buck on the market today. 

Website: http://www.astronomytechnologies.com/
8" RC - $1395
10" RC -  $2695
Available From: Various Dealers




Baader Hyperion: 8-24mm Click Stop Zoom



Talk about buzz.  This eyepiece has been getting some major play in our forums from day one, with many of our members saying its their all around favorite eyepiece.  At 8mm, the fov is an expansive 68 degrees, and a comfortable 50 at 24mm.  The eye relief is rated at 12-15mm, and the eyepiece comes with both 1.25" and 2" barrel sizes.   For $215, it's a whole eyepiece kit in one convient package.

Website: http://www.baader-planetarium.com/
8-24" zoom - $215
Available From: Various Dealers



Explore Scientific: 14mm 100 Degree Eyepiece



Forum members are clear about one thing: nearly everybody loves wide angle eyepieces.   That sense of immersion adds to any observing session.  Especially in modern eyepieces which manage to be both sharp and contrasty on and off axis.  While the Tele Vue Ethos satisfies those who can afford to foot the bill, the 2" nitrogen purged and waterproof ES 14 (at a price point often nearly $200 less than some of the competition), represents a superb value.  

Website: http://www.explorescientific.com/
14mm eyepiece - $399 to $499
Available From: Various Dealers



GalileoScope



Proving that our members have an eye towards outreach, you voted in the IYA2009 cornerstone Project as one of the best products of the year as well.  This low cost ($30) is designed to let educators offer students a glimpse of the same celestial wonders that Galileo first glimpsed 400 years ago.  This kit allows for no tools construction of a 50mm 500fl telescope that comes with a 20mm eyepiece and a2x barlow.  Further, the GalileoScope accepts any 1.25" eyepiece so when your young astronomer is ready to upgrade things a little bit, there's a whole expansion route to be considered.   Better yet, the telescope kit comes with educational materials for those interested in education outreach.

Website: https://www.galileoscope.org/gs/
Telescope Kit - $30 to $24 depending on quantity ordered
Available from: Galileoscope.org



TMB: 92L



TMB may be gone, but his legacy lives on.  With the original 92, TMB offered astronomers another chance at a rare optic: perhaps the ultimate portable astrograph.   A 92mm f/5.5 triplet APO with a premium FeatherTouch focuser.  While that focuser made it desirable for imagers, it also made it heavier.  For those who don't need the extra beef and capabilities of the FeatherTouch focuser, TMB has replaced it with a lightweight functional crayford.  Thus passing the savings (both in weight and cash) onto you.  The 92L weighs just under 7lbs, and is available for $1495.

Website: http://www.tmboptical.com/
TMB 92L - $1495
Available from: Astronomics.com



Canon: Digital Rebel XSi



The Canon XSi brings the live focus capability of the D40 to the lighter and less expensive Digital Rebel lineup.  At $485, the XSi also offers a 12.4 megapixel CMOS sensor, a 3 inch LCD and ISO ratings of up to 1600 in a body that weighs slightly more than a pound.

Website: http://www.canon.com/
Body only – Around $500
Available From: Various Dealers



Special Mention:  Cloudynights.com Website



Ok, this one is just kinda embarrassing.  Like when you hold a drawing and then win the prize.  But it's true.  We were nominated by the readers, and then the folks who voted in the poll overwhelmingly told us that the site was one of the best products out there.  While it's nice to thank the admins and mods – and certainly the sponsor – it's the members who make an online community worthwhile.   The astronomy community is fortunate to have such a place where friendly folks can come to share their love for the sky.  So a big thank you to each and every one of the nearly 40,000 members. 

Website: http://www.cloudynights.com
Forums, articles, product reviews and community – Free
Available from: Only Cloudynights.com!

Congratulations to all the 2009 winners, and here's wishing everyone the best in 2010.



Article: Reader's Choice: Gear of the Year 2009