CNers have asked about a donation box for Cloudy Nights over the years, so here you go. Donation is not required by any means, so please enjoy your stay.


0
Orion ED80
Jan 02 2006 04:14 AM | admin
Discuss this article in our forums
Orion ED80
By Rodney Heenan (Rodders)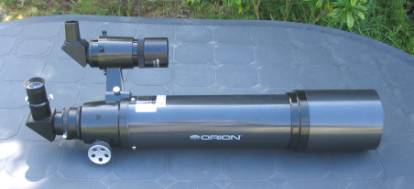 Description:
80mm doublet refractor containing one element of FPL-53 low-dispersion glass.
Diameter:
Multi-coated 80mm (3.2")
Focal length/Ratio:
600mm - F/7.5
Light Grasp:
7.8 sq. in.
OTA Weight:
5 lbs. 11 oz.
Focuser:
2" Crayford type
Price:
US$499 (OTA only)
Introduction
My interest in the night sky began when I was very young, however it was not until about two years ago at the age of 26 that I did take the real plunge into astronomy. Since then I have been the proud owner of three scopes, two of which make up my current collection (ED80 & C8 AS-GT). My observing interest spreads far and wide, but I would have to say that galaxy hunting and observing the planets is at the top of my list.

The reason I bought this scope was because I wanted to replace my first telescope, which was a 5" Sky-Watcher F/8.3 refractor (the same as the Orion version). Although this 5" scope did perform well (apart from some false colour), it was far too heavy for to the EQ-3 mount that it came with and it was not much of a grab 'n' go scope.

The decision was made to replace the 5" Sky-Watcher with the Orion ED80. After reading so many good things about these 80mm scopes, I was keen to get my hands on one and although I was going from a 120mm scope down to 80mm, I was sure that the pros would outweigh the cons.

So, why did I choose the Orion over the Celestron: Because the Orion version was cheaper. As silly as that might sound, Celestron has recently closed the doors on allowing their products to be shipped out of America. The only way I could have bought a C80 ED would have been to get it through Celestrons dealer here in New Zealand and that would have came at a large cost. Luckily, Orion has no such policies in place, so I made the following purchase from Oceanside Photo & Telescope (OPT) in California.

- Orion ED80 Optical Tube Assembly (OTA)
- Orion 9x50 Right Angle Correct Image (RACI) finder scope
- 100mm tube rings.

Total cost: NZ$980 (US$670) including shipping

I have always found the team at OPT great to deal with in the past so I had no problems dealing with them again.
The Set up

The scope was packaged well and arrived safe and sound within about 10-12 days.
After unpacking the scope, I took a moment to study my new toy and my first thought was : What a great looking scope! It was slightly larger than what I was expecting, but this is mainly due to the fact that it is a 80mm lens inside a 100mm tube. Setting the scope up on the EQ-3 only took about 10 minutes and. The overall weight was a bit more than I expected, however I did end up using a heaver 4kg counterweight to balance the scope with.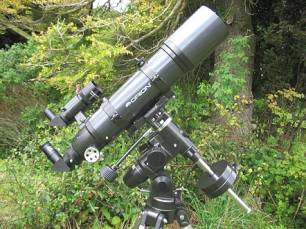 ABOVE: The ED80 at home on the EQ-3 mount.

The Optics

Somewhere between an Achromatic and Apochromatic refractor you will find the ED80. One of the lens elements of this doublet has been crafted out of high quality FPL-53 low dispersion (ED) glass. Because of this, false colour halos around bright objects have been almost eliminated and after testing it I do agree with that.

The 80mm lens has been fully multi-coated and this has given the objective lens a greenish colour to it.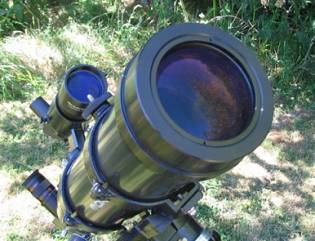 One advantage my old Sky-Watcher had over this ED80 is that the objective was held in an adjustable lens cell, this meant that if there was any collimation needed, it could be done simply by adjusting a few small screws near the objective. The ED80 on the other hand has no such system in place, so any adjustment needed will have to be made using the three screws that hold the focuser into the main optical tube. This is no major problem, however it may take a bit longer to do.

As you can see from the photo the dew shield just pushes on and unfortunately it is not a very tight fit. Although it will not fall of if the scope is turned upside down, it does start to come off when removing the dust cap.

The Focuser
One of the best things I like about this scope is its 2" Crayford type focuser and those great looking focus wheels. A quick play with the Crayford reveals a smooth focuser that requires little effort to move. This is far better than the rack & pinion set up on my 5" (120mm) Sky-Watcher.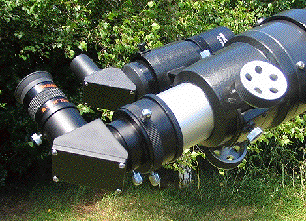 ABOVE: ED80 Crayford type focuser shown with 2 - 1.25" adaptor, diagonal and 25mm Celestron E-Lux E/P.
BELOW: The basic friction- based Crayford design.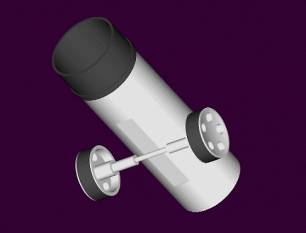 The Crayford operates on a friction-based system to move the focuser tube in and out. Four small rollers inside the focuser assembly allow smooth movement and the best thing of all is that there is no messy grease involved. A thumbscrew on the underside allows the operator to set the tension, however this thumbscrew will not lock the focuser into place when done up finger tight. This may create focus shift problems when attaching heaver cameras or CCD imagers.

Three screws placed at 120 degrees of each other hold the focus assembly into the main optical tube and when I removed these screws, I was pleased to see that the assembly did not want to fall straight out due to its snug fit.

The Finder scope

I believe that one of the most important parts of any telescope is its finder scope. After all, if you cannot find the object you are looking for in the finder, how are you going to locate it in the telescope. For this reason I chose the Orion 9x50 RACI finder. Because I had not used a right-angle finder before I was unsure how easy it was this going to be to use, however any worries that I may have had were soon put to rest after the first night. I have found the finder to be a great tool that produces a nice wide field of view and a clear image. The biggest advantage to it is that there is no neck strain while trying to locate objects.

First Light (mid November 05)

Well, I am pleased to say that the famous cloud curse did not find me (It must have gotten lost somewhere between California and New Zealand). The moon was out however, so there was to be no DSO observing.

- The Moon : the scope produced a very nice clear and sharp image of the moon right through my magnification range. There was a hint of false colour at the edge however you had to look hard to see it. My inexpensive eyepieces may have also caused this colour.
- Venus : The scope performed well on Venus and while using Orion's variable polarising filter (just to tone down the brightness a bit) the view was amazing. Although there is no detail to look at as such, it was great to see a nice sharp crescent shape.
- Mars : Also impressive. Mars was low on the horizon when I first looked at it but you could defiantly see colour differences on the planets surface. Unfortunately I was limited to 100x magnification due to my eyepiece collection. A possible plan for the future is to a buy a Nagler 3-6mm zoom for use on the moon and planets (should be good for doubles also).
- Alpha Centauri : I could not quite split this double at 24x but when I cranked the magnification up to around 45x the individual stars could clearly be seen.

Since the first night I have been able to test the scope out on various objects (in between the horrible cloudy weather) and I would have to say that the following were definitely highlights.

- Orion Nebula (M42) : the first low powered view I had of M42 with the ED80 is going to be one that I will remember for a long time. There was plenty of luminosity to be seen with good contrast and pinpoint stars. Using the 25mm Celestron E-Lux e/p, the main stars of the sword easy fitted into the field of view and once I increased the magnification to around 60x the Trapezium stood out well.
- Galaxy NGC 253 (in Sculptor) : Although you can pick this galaxy out in binoculars, I was amazed just how bright it appeared in this 80mm scope. I look forward to a lot more galaxy hunting with this scope in the future.
- The Pleiades : I had a nice view of this cluster the other night (first night out for almost 3 weeks) and was very impressed. Using the 25mm E-Lux e/p, this open cluster fitted into the field of view and the scope produced a nice pinpoint and sharp star images.

Conclusion
Pro's
Nice pinpoint stars, contrast and all round sharpness
Light weight & portable
Good focuser
Next to no cool down time
Affordable
Con's
Main dust cover is tight to take off and it may cause scratching to paint over time.
Dew shield can start to slip off while removing the dust cover
An adjustable lens cell would be an advantage
No true lock screw for the focuser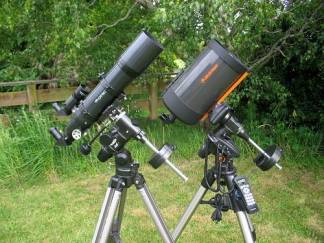 ABOVE:
The ED80 at home with its new friend, the Celestron C8 : ASGT
In short, the ED80 is a very capable small refractor. Suited to both solar system and deep sky, it is portable, light weight and almost colour free. It has produced views of the sky for me that I would expect from a larger instrument and I guess it just goes to show how easy it is to under-estimate smaller scopes. Despite a few minor issues, this scope is worth every dollar. I'm impressed and it's a keeper.
Note: I have no undisclosed interest in Orion or OPT, although I wish I did have because maybe then I could get cheaper gear.
Article: Orion ED80