CNers have asked about a donation box for Cloudy Nights over the years, so here you go. Donation is not required by any means, so please enjoy your stay.


37
User Reviews

I looked at HO telescopes for some time before purchasing mine. On paper, the design is elegant, and takes advantage of the 6063-T6 aluminum alloy used in all of the telescope's components. The sandwich mirror is innovative. The upper cage looks more rigid than a flat ring, but without being too heavy. In general the HO telescopes are unique and affordable. I am a previous owner of an Obsession Classic 20", and Dave Kriege's scope set a standard for what I was expecting from a Dobsonian telescope.
Read story →






I wanted to provide a review of my experience with a Starizona Landing Pad I recently purchased for my CPC 1100.
Read story →






I would highly recommend this battery for your portable equipment, I am convinced.
Read story →






SUMMARY: The Nexus II is an outstanding piece of equipment that allows anyone to use their Smartphone or tablet and see where their telescope is precisely pointed. It is an extremely cost effective and easy way for someone to add digital setting circles and a "Push-To" function to just about any telescope.
Read story →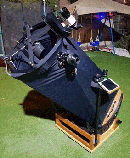 This instrument answers to all my requirements from a big dob and is mostly used during my dark site trips. While double stars and planets are not the specialty of this scope, it handles them fairly well, but requires extra good conditions - backyard usage is not optimal as atmospheric disturbances dramatically affect the views. DSOs is where this instrument excels and provides the best performance under dark skies, especially with faint galaxies. During my last dark site session, after the COVID-19 restrictions lifted, I had barely time to observe myself as others lined up to view instead.
Read story →






Overall, using the MaxBright II Binovewer has been a transformative experience for me. I have been binoviewing with my telescopes for well over a decade, but the experience has never been what I would call a pleasant one due to the myriad of quirks I find when using the William Optics Binoviewers. However, with the MaxBright II Binoviewer all the issues I previously encountered are now fully resolved, making my experience binoviewing for the first time entirely enjoyable.
Read story →






The Alphea 6CL AllSky Camera is a well-made ruggedized outdoor color camera with equally ruggedized connectors. There is no bubble level to aid vertical alignment. The Alphea camera is very expensive given the accompanying SkyWatch software is not reliable and the user interface not well thought out. The software has the feel of an explorative research project into what can be done with an AllSkyCam. The overall slow performance is unimpressive. I discovered many bugs and quirks. It includes many features, which are not well documented. This along with almost non-existent user support makes for an expensive and frustrating AllSky Camera experience. Given the present state of the software, the user might want to consider AllSkyEye. In summary, given all the issues I found with SkyWatch, I would still look forward to a significant software update because SkyWatch does show much promise.
Read story →





This tutorial/review will be a 2 part series. We will discuss in this series the capturing process from start to finish and then part 2 will delve into the processing of your acquired subs.
Read story →






The Orion and TMB refracting telescopes are both a joy to use, and will undoubtedly stay with me for life. I sometimes get offers to sell but have politely declined; as the reader will suspect, the thought of a sale has never entered my mind.
Read story →






Dec 13 2019 02:33 PM | Larry Carlino in
Telescopes
GSO Cass can be regarded as somewhat of a specialist instrument. Its excellent overall optical quality, fine lunar and planetary performance, reasonable size and weight, and bargain price make it a fine choice where sterling deep-sky and rich-field capability are not a priority. It is a good alternative to much pricier 5 to 6-inch apochromatic refractors for both visual and ccd work. In the price- to- performance ratio, I don't see anything in its price range that comes close (except, perhaps for a high-quality long-focus Newtonian [but try to find one!]) as a dedicated lunar and planetary instrument.
Read story →