CNers have asked about a donation box for Cloudy Nights over the years, so here you go. Donation is not required by any means, so please enjoy your stay.


19
User Reviews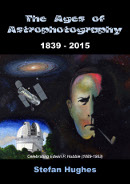 The author, Stefan Hughes, is a historian/ astronomer with a passion for astrophotography and genealogy (family tree research). His interest for ancestral research and the lineage of families gave rise to his first book "Catchers of the Light - The Forgotten Lives of the Men and Women who First Photographed the Heavens" in which he focuses on the background of the first astro photographers and astronomers 19th and 20th centuries. The second book, "The Ages of Astrophotography" is a must-read sequel which fits well on every astronomer's book shelf!
Read story →
6 comments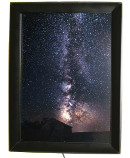 The owner of Stardust Gallery, Craig, was looking for volunteers to review an LED backlit lightbox containing either a Hubble image or an image of user choice. Since I had what I felt were fairly decent Milky Way images acquired from a session at a dark sky site late last Fall, I thought one of the somewhat processed images might be a good candidate to display inside one of the Stardust Gallery backlit lightboxes, and eagerly forwarded the image to the website.
Read story →
12 comments






The Rayox dovetail saddle (regular price $449 with adapter through Woodland Hills Telescope, with an initial discount for Cloud Nights members) is a breakthrough product that has significant advantages compared to existing systems, especially when working with heavy equipment. If this system had been available earlier, I could have avoided some potentially dangerous situations…
Read story →
10 comments






I have been using telescopes for film and limited CCD use for well over 20 years, and because of extensive business travel coupled with a spouse who cannot access the observatory due to disability, I needed a product that would be solid, reliable, allow for remote precise FOV rotation, temperature compensation, no requirement to find a zero-point and reinitialize the position of the drive motors, and easily adaptable to various optical tubes. As an engineer and former aircraft mechanic, I demand a great deal out of the build quality of anything that I own as well.
Read story →
11 comments






This review describes the Celestron Cometron 7x50s including my initial impressions along with examination during actual use for around 1 month. I live in a suburb in New England under Bortle 6-7 skies. I have 3 telescopes, the oldest of which I have had for one year.
Read story →
4 comments





This will not be a comprehensive, or even scientific review. I will just share what I would have wanted to know if considering purchasing one of these parallelograms.
Read story →
5 comments






I have been considering buying or making a 16 incher for a while now. Mirrors only (if you wanted to make your own scope) cost at least 1200€ to 1400€ (Hubble optics or GSO, not counting import duties and shipping cost). So, when I learned that Explore Scientific had a European sales on their Ultra Light series, placing the 16" at 1698€, I jumped on it!
Read story →
12 comments






This review describes the VITE 2x Barlow lens including my initial impressions of build and optical quality. I observe from a suburb in the southeast U.S. I have one telescope, an 8-inch Dobsonian, and have had it for approximately five years. The photos included in this review represent my first crack at astro-imaging. I wanted to try prime focus photography with my DSLR but my focuser does not have enough in-travel to do so. I used the Barlow to achieve focus with my telescope/focuser/camera combination.
Read story →
20 comments






With such a long dry spell in 2016, I started pondering how to get the most bang for my buck when I finally did get out with the scope. Just think. For the past fifty years, I've been manually searching for and finding objects, up to around two-thousand at this point. However, as time has worn on, I thought about it. On the past few observing sessions, going back a couple of years, my yield slowly dwindled. Why?
Read story →
23 comments






When doing astrophotography, most of us use a laptop for camera control, autoguiding and image display. At public outreach stargazes we often just want to take a single time exposure in order to show visitors what 'that fuzzy blob' they see in the eyepiece really looks like, it's often not at all convenient to set up a laptop. A tablet is an excellent tool for image display, but there's still the problem of a USB cable from the tablet to the camera. Many tablets don't even have a full size USB connection or require a special adapter or cable, but they all have WiFi. That's great if you're using a camera that has WiFi capability but what about those DSLRs that don't? Enter the TP-Link MR3040 Wireless Router.
Read story →
28 comments