CNers have asked about a donation box for Cloudy Nights over the years, so here you go. Donation is not required by any means, so please enjoy your stay.


43
User Reviews

I don't have words to describe my first view other than wow. The views from light polluted suburbia was beyond comprehension. In a 25mm Plossl included Jupiter was crisp edge to edge I discerned color in its banding amazed at the realization that the universe was in color and not shades of grey as in my four-inch scope. I spent the night scanning the skies and the review of once patches of fuzz in the sky with my smaller scope are now defined by galaxies and nebulas. I now had a better understanding of the word zillions. I can only imagine the viewing away from city lights.
Read story →






My CGE Pro started having pointing and tracking problems after installing the Celestron WLAN SkyPortal module and became completely useless. I found a "clone" of the MC online from Camera Concept in NY and after installation, all seemed to work fine. But as soon as I used the Skyportal module again, the same problems came again: Declination didn't respond correctly and the mount was completely messed up, even a simple polar alignment became impossible. I loved my CGE Pro, and I had no intention of buying a new CGX-L with tripod or using my CGE Pro as a flower stand or doorstop. Thus, I started looking online for those who had similar experiences and maybe solutions.
Read story →





Jul 01 2022 02:45 PM | retroformat in
Solar
I encourage anyone with a minimum of technical facility to build their own vintage solar telescope, and join with me on the sunspot counting journey. Next to the study of Earth-grazing asteroids, I can think of no more important branch of astronomy. Aside its obvious ties to climate change science, solar astronomy is extremely important to our understanding of, and ability to predict flares and coronal mass ejections, which have the potential to devastate modern society (google "Carrington Event").
Read story →






This is the second in the set of reviews about my Hubble Optics 14" Dobsonian, where I relate the performance of the installed GoTo system. I completed adding the Hubble Optics / SiTech GoTo system to my Hubble Optics 14" f/4.6 dob, but did encounter a bit of a learning curve on this, one which I'd like to share with anyone planning on upgrading any Dob to full GoTo.
Read story →






From what I was able to see, I conclude that the optics belongs to a Super APO class, which is highly suitable for both visual observing and astrophotography. Unfortunately, I have to state that the TEC 140 lost in the direct side-by-side chromatic aberration comparison test, otherwise the TEC is practically perfect from the optical point of view. The Phantom FCL 140-6.5 is, therefore, a great all-round refractor, and the manufacturer has promised to remedy the minor mechanical issue with the amount of "grip" of the rotary lock. Therefore, iStar Optical can be congratulated on a very well made optical instrument.
Read story →






The Sharpstar 94EDPH turns out to be a competent instrument and a good value for its $1495 asking price. It's a very good deep-sky telescope, is airline portable, and is, in all probability, a good choice for imagers, the 0.8 focal reducer yielding a fast optical system. As to the consistency of the optics and quality control, a sample of one has little statistical validity. My particular scope might be better than average (or worse), and the QC checklist from Sharpstar failed to catch the balky focuser and sagging dew cap.
Read story →






The Istar Phantom 140mm f/6.5 is a new entry in the large (5"+) triplet APO world. For the price to performance it is an excellent option. The vendor is already implementing upgrades (eg 80mm removable section from OTA tube) and recognizes need to make further improvements in its mechanics (eg 2" twist tight clamp). The optics are superb and are even better than the advertised 0.9 Strehl minimum guarantee. If you are interested in a super high performing 5+" triplet APO, that is much less than comparative peers, don't be scared, I highly recommend you take a look at a Phantom!
Read story →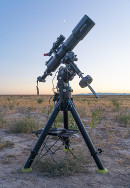 In general I really like my G11T. It is well built, should last for decades from what other owners of Losmandy mounts say. It seems to work really well with auto guiding. It is very stable even with my C14. It is very different from my Celestron mounts and to be fair It took a while for me to learn how to use those mounts also.
Read story →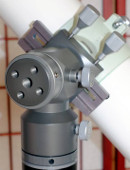 After several weeks of field use of the NoH CT-20 mount for general astronomical observing with both my TSA-102 and APM-152 refractors, I found the operation and use of this mount to be highly intuitive in the field. The axis friction knobs are conveniently located and are tactile-distinctive from the saddle plate knobs that hold the telescope on the mount, so there was never any question in the dark as to which knob-type I was operating. Operation of the mount was also smooth and precise throughout the testing and general field observing sessions. At no time did I ever find that the CT-20 mount was anything but superlatively capable to handle even my large 6-inch f/8 refractor.
Read story →






Overall, I think that this mount is good value for money and a good choice for my purposes. I'm confident that the mount will be more than adequate for my needs.
Read story →