CNers have asked about a donation box for Cloudy Nights over the years, so here you go. Donation is not required by any means, so please enjoy your stay.


45
User Reviews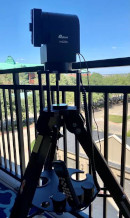 I would recommend the HAZ46 mount to anyone that wants a rock solid, portable, easy to use mount with excellent GoTo, tracking, and sharp star tracking (for up to 30s exposures as tested). It is an expensive mount and does not fit every pocket book, so price is one negative aspect especially for imaging aficionados who may not want to pay a lot for a simple alt-azi mount. I cannot comment on long term astrophotography, however, after shooting about 15-20, 30 second exposures with my dslr's I am very pleased with how tight the stars appear. I am happy to say that the HAZ46 strain wave gear/motor control system is a vast improvement over the older MiniTower2, etc. which I have used for many years. The HAZ46 Mount is a keeper and will be fielded at both of the upcoming eclipses for solar imaging and viewing.
Read story →






I am fascinated by the scope. It is simple, elegant, well made and performs well (in limited testing) – and it has a history, which I always consider important. (will your Uber Chinese APO still be around in 50 years with a story to tell…?)
Read story →






I think Ales went the extra mile to make a telescope that can please many amateur astronomers. Affordable, excellent glass, and a well thought out ring, plate, and handle system. Mine came fully assembled and ready to go from Starizona.
Read story →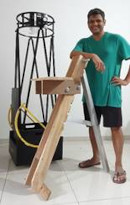 Yes, it is huge and yes it is heavy but it is exactly as advertised. It is absolutely portable. I could dismantle and stow the whole rig, the wife and 1 and a half kids into my hatchback and drive a 100 Kms without too much discomfort. The next time would be a Bortle class 2 sky some 190 Kms away. I suppose we will take breaks more often along the way to stretch our legs. The mirror box is heavy but nothing that an able backed person couldn't handle. Anyone interested in this one has my whole hearted endorsement.
Read story →






I used this telescope a lot. A LOT! I took it out to the backyard every single clear night I could. This telescope showed me the planets (Venus, Mars, Jupiter, and Saturn). It showed me M13, M57, M45 (a closer look than with the binos), M7, M8, M20, and the moon in close detail. It also showed me a power line in great detail; the distant object I used to align the finder scope with the main scope.
Read story →






I would recommend the mount to anyone that wants a stable mount with tracking, but does not require Go-To. While I cannot speak to any long astrophotography tracking, it seemed well enough for visual and short exposure astrophotography which suits my [current] purpose. This looks to be a keeper.
Read story →






I don't have words to describe my first view other than wow. The views from light polluted suburbia was beyond comprehension. In a 25mm Plossl included Jupiter was crisp edge to edge I discerned color in its banding amazed at the realization that the universe was in color and not shades of grey as in my four-inch scope. I spent the night scanning the skies and the review of once patches of fuzz in the sky with my smaller scope are now defined by galaxies and nebulas. I now had a better understanding of the word zillions. I can only imagine the viewing away from city lights.
Read story →






My CGE Pro started having pointing and tracking problems after installing the Celestron WLAN SkyPortal module and became completely useless. I found a "clone" of the MC online from Camera Concept in NY and after installation, all seemed to work fine. But as soon as I used the Skyportal module again, the same problems came again: Declination didn't respond correctly and the mount was completely messed up, even a simple polar alignment became impossible. I loved my CGE Pro, and I had no intention of buying a new CGX-L with tripod or using my CGE Pro as a flower stand or doorstop. Thus, I started looking online for those who had similar experiences and maybe solutions.
Read story →





Jul 01 2022 02:45 PM | retroformat in
Solar
I encourage anyone with a minimum of technical facility to build their own vintage solar telescope, and join with me on the sunspot counting journey. Next to the study of Earth-grazing asteroids, I can think of no more important branch of astronomy. Aside its obvious ties to climate change science, solar astronomy is extremely important to our understanding of, and ability to predict flares and coronal mass ejections, which have the potential to devastate modern society (google "Carrington Event").
Read story →






This is the second in the set of reviews about my Hubble Optics 14" Dobsonian, where I relate the performance of the installed GoTo system. I completed adding the Hubble Optics / SiTech GoTo system to my Hubble Optics 14" f/4.6 dob, but did encounter a bit of a learning curve on this, one which I'd like to share with anyone planning on upgrading any Dob to full GoTo.
Read story →