CNers have asked about a donation box for Cloudy Nights over the years, so here you go. Donation is not required by any means, so please enjoy your stay.


40
User Reviews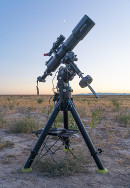 In general I really like my G11T. It is well built, should last for decades from what other owners of Losmandy mounts say. It seems to work really well with auto guiding. It is very stable even with my C14. It is very different from my Celestron mounts and to be fair It took a while for me to learn how to use those mounts also.
Read story →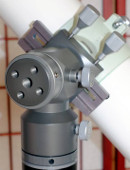 After several weeks of field use of the NoH CT-20 mount for general astronomical observing with both my TSA-102 and APM-152 refractors, I found the operation and use of this mount to be highly intuitive in the field. The axis friction knobs are conveniently located and are tactile-distinctive from the saddle plate knobs that hold the telescope on the mount, so there was never any question in the dark as to which knob-type I was operating. Operation of the mount was also smooth and precise throughout the testing and general field observing sessions. At no time did I ever find that the CT-20 mount was anything but superlatively capable to handle even my large 6-inch f/8 refractor.
Read story →






Overall, I think that this mount is good value for money and a good choice for my purposes. I'm confident that the mount will be more than adequate for my needs.
Read story →






I strongly recommend the ACL200 for wide-field astrophotography. It also has some uses for (fully manual) nature and landscape photography. The optical performance is exceptional, and the physical construction is unusually well suited for astronomical use.
Read story →






Well here is another product that has received a lot of hype and press, but without divulging much useful information about the telescope itself. Well needless to say, the hype worked on me….and I took delivery of my (used) Unistellar EVscope today.
Read story →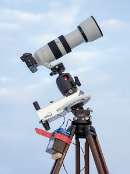 After some waiting my Astrotrac 360 arrived, and the drive looks great straight out of the box. Beautifully machined, light weight, and compact. Just what I was asking for, after moving to a city, leaving my fully equipped small observatory behind me at the countryside.
Read story →






This astronomical binoviewer is offered by Denis Levatić of Croatia (denis0007dl@gmail.com) as an after-market modification of new Zeiss binoviewer bodies. Mr. Levatić's value-added modifications to these Zeiss binoviewer bodies are then offered under the moniker of "The Carl Zeiss Apochromatic & Sharpest Binoviewer".
Read story →






There is no review of this eyepiece on internet and i bought it and found interesting to make a video about it.
Read story →





iOptron's iPolar upgrade, which replaces the optical scope on the iOptron SkyGuider Pro, does not accurately provide polar alignment when compared to results measured using identical equipment operating Sharpcap Pro and the specified guide camera and scope. Data was collected while simultaneously running both the iPolar alignment software and SharcapPro on the same equipment. The deficiency is consistent with an issue in the iPolar system's calculation of altitude parameters in polar alignment after plate solving.
Read story →






I looked at HO telescopes for some time before purchasing mine. On paper, the design is elegant, and takes advantage of the 6063-T6 aluminum alloy used in all of the telescope's components. The sandwich mirror is innovative. The upper cage looks more rigid than a flat ring, but without being too heavy. In general the HO telescopes are unique and affordable. I am a previous owner of an Obsession Classic 20", and Dave Kriege's scope set a standard for what I was expecting from a Dobsonian telescope.
Read story →