CNers have asked about a donation box for Cloudy Nights over the years, so here you go. Donation is not required by any means, so please enjoy your stay.


45
User Reviews

From what I was able to see, I conclude that the optics belongs to a Super APO class, which is highly suitable for both visual observing and astrophotography. Unfortunately, I have to state that the TEC 140 lost in the direct side-by-side chromatic aberration comparison test, otherwise the TEC is practically perfect from the optical point of view. The Phantom FCL 140-6.5 is, therefore, a great all-round refractor, and the manufacturer has promised to remedy the minor mechanical issue with the amount of "grip" of the rotary lock. Therefore, iStar Optical can be congratulated on a very well made optical instrument.
Read story →






The Sharpstar 94EDPH turns out to be a competent instrument and a good value for its $1495 asking price. It's a very good deep-sky telescope, is airline portable, and is, in all probability, a good choice for imagers, the 0.8 focal reducer yielding a fast optical system. As to the consistency of the optics and quality control, a sample of one has little statistical validity. My particular scope might be better than average (or worse), and the QC checklist from Sharpstar failed to catch the balky focuser and sagging dew cap.
Read story →






The Istar Phantom 140mm f/6.5 is a new entry in the large (5"+) triplet APO world. For the price to performance it is an excellent option. The vendor is already implementing upgrades (eg 80mm removable section from OTA tube) and recognizes need to make further improvements in its mechanics (eg 2" twist tight clamp). The optics are superb and are even better than the advertised 0.9 Strehl minimum guarantee. If you are interested in a super high performing 5+" triplet APO, that is much less than comparative peers, don't be scared, I highly recommend you take a look at a Phantom!
Read story →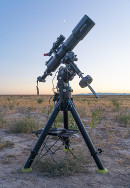 In general I really like my G11T. It is well built, should last for decades from what other owners of Losmandy mounts say. It seems to work really well with auto guiding. It is very stable even with my C14. It is very different from my Celestron mounts and to be fair It took a while for me to learn how to use those mounts also.
Read story →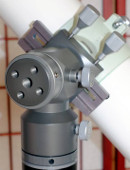 After several weeks of field use of the NoH CT-20 mount for general astronomical observing with both my TSA-102 and APM-152 refractors, I found the operation and use of this mount to be highly intuitive in the field. The axis friction knobs are conveniently located and are tactile-distinctive from the saddle plate knobs that hold the telescope on the mount, so there was never any question in the dark as to which knob-type I was operating. Operation of the mount was also smooth and precise throughout the testing and general field observing sessions. At no time did I ever find that the CT-20 mount was anything but superlatively capable to handle even my large 6-inch f/8 refractor.
Read story →






Overall, I think that this mount is good value for money and a good choice for my purposes. I'm confident that the mount will be more than adequate for my needs.
Read story →






I strongly recommend the ACL200 for wide-field astrophotography. It also has some uses for (fully manual) nature and landscape photography. The optical performance is exceptional, and the physical construction is unusually well suited for astronomical use.
Read story →






Well here is another product that has received a lot of hype and press, but without divulging much useful information about the telescope itself. Well needless to say, the hype worked on me….and I took delivery of my (used) Unistellar EVscope today.
Read story →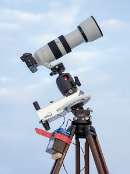 After some waiting my Astrotrac 360 arrived, and the drive looks great straight out of the box. Beautifully machined, light weight, and compact. Just what I was asking for, after moving to a city, leaving my fully equipped small observatory behind me at the countryside.
Read story →






This astronomical binoviewer is offered by Denis Levatić of Croatia (denis0007dl@gmail.com) as an after-market modification of new Zeiss binoviewer bodies. Mr. Levatić's value-added modifications to these Zeiss binoviewer bodies are then offered under the moniker of "The Carl Zeiss Apochromatic & Sharpest Binoviewer".
Read story →