CNers have asked about a donation box for Cloudy Nights over the years, so here you go. Donation is not required by any means, so please enjoy your stay.


0
Atlas/Skywatcher EQ-6 Replacement Saddle
Discuss this article in our forums
EQ-6 replacement saddle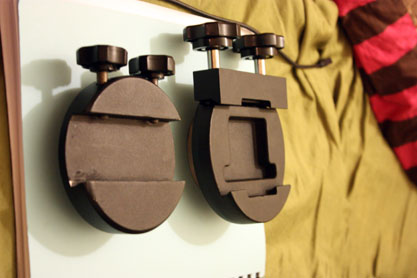 The Atlas/Skywatcher EQ-6 is well known as a heavy duty mount on a budget. However, it comes standard with a saddle that only accepts the vixen style dovetail. It you wanted to mount the 3" wide losmandy type dovetail, you were forced to buy $100+ replacemnt saddles from ADM or others. I was just about convinced i would have to spend big money when i found that orion made a replacement saddle of their own for about 1/3 the price. It looked fine and the price was right, so i ordered it.
After it came i became convinced it was a good buy. As you can see it the pictures, it is much bigger than the standard saddle. Also, on the replacement the entire side is pressed agains the dovetail bar, not just two screws. This causes less marking on your dovetail. On the bad side, the machining, finish, and overall quality is not up to the standard of ADM. I have a side-by-side mounting bar and C8 dovetail from ADM and they both are impeccably made. They also may hold up better for larger loads with their more solid construction, but without testing i cannot be sure.
Overall, the EQ-6 replacement saddle does everything you need it to do for about $36, where the next cheapest is about 3x that. If you want to mount your losmandy type dovetails to your EQ-6 this is the cheapest solution, but if you are planning to mount a big load perhaps consider one of the more solid ones.
Article: Atlas/Skywatcher EQ-6 Replacement Saddle