CNers have asked about a donation box for Cloudy Nights over the years, so here you go. Donation is not required by any means, so please enjoy your stay.


0
Celestron Anti-Vibration Pads
Discuss this article in our forums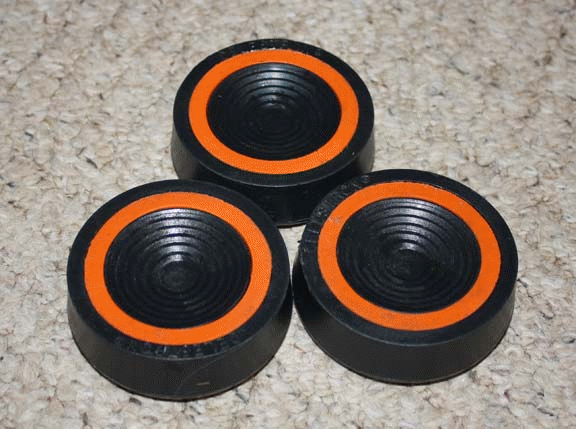 What can I say about these except, they work! Of course, this is a review so I'll say more!
I was a bit skeptical about plunking down $60 for what appeared to be 3 hockey pucks, but my scope is a Celestron 8SE which does get a little shaky at high magnifications so I thought I'd give them a try.
When I received them, they seemed to be solidly made, relatively heavy for their size, and able to take some abuse. This is a good thing since they spend their lives on the ground getting kicked, tossed around, and in my case run over by a lawn mower when I forgot to bring them in one night (oops!)
The orange material between the inner and outer black parts is Sorbothane, which is specifically designed to absorb vibrations. You might wonder how pads at the bottom of your tripod legs can help with vibrations at the top. Well, apparently the vibrations travel down the leg and are reflected back up from the bottom, reverberating back and forth like a tuning fork. These pads absorb the vibrations when they reach the bottom of the leg and stop them from traveling back up.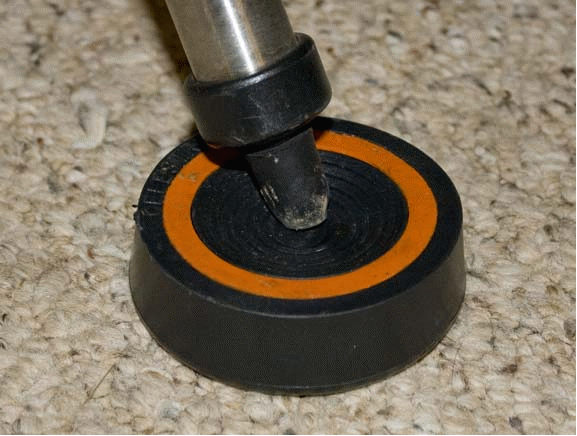 And they work well! When you tap the scope and time how long it takes for the vibrations to settle, these pads cut that time approximately in half. A significant improvement!
You'll find the greatest improvement on hard surfaces like concrete, gravel, or hard packed dirt. Contrary to what you might think, these solid surfaces make vibrations worse because they easily reflect them back up the leg. But, you'll still get noticeable improvement even on surfaces like grass or wooden decks. The only time I've found that I get little effect is when the ground is soft and muddy in the spring so that the tips of my tripod sink into the ground. In this case, the whole yard acts like an anti-vibration pad!
The fact is, these pads will make your tripod perform like a substantially more expensive and sturdy model! Occasionally, I forget to use them with my scope, but as soon as I start observing I notice the difference and run back in to get them. It's that obvious!
Highly recommended!
Disclaimer
I have never worked for, with, or in the general vicinity of any astronomy gear company, nor do I care to. I have a good job, thank you very much.
Article: Celestron Anti-Vibration Pads