CNers have asked about a donation box for Cloudy Nights over the years, so here you go. Donation is not required by any means, so please enjoy your stay.


0
Celestron Power Tank
Discuss this article in our forums
If your telescope need electricity, then you need a something more than batteries. Maybe some kind of large battery that has 5 different outputs and two flashlights? Sounds good!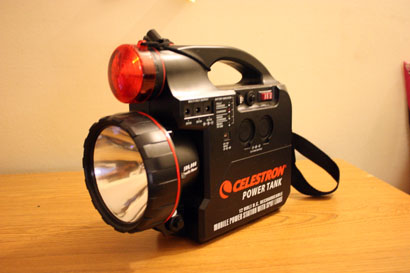 The power tank is a must have accessory for any power-hunger set up. It has two cigarette-lighter 12v outputs, a 3v output, 6v output, and 9v output, a low power flashlight with a removable red cap, and an 800000 candle lamp. The mutliple outputs allow you to power your scope, your dew heaters, and a few other small accersories you might be using from a single power source. When i first got it, i did not think the 800000 cangle lamp would be very useful, after all we are trying to keep light away as much as possible. However, for cleaning up afterward it is absolutely amazing. With such a powerful light you can be sure you didn't forget anything on the ground.
My experience with the power tank has been limited to powering an EQ-6 with no dew heaters. Power just a single mount the battery has lasted through multiple observing sessions without needing a recharge. It has been mentioned that the power supply may be limited with you start including multiple dew-heater systems drawing power as well but i have not been able to test this.
This product is as simple and straightforward as the review. I needed a big recharable battery, i got a big rechargable battery with a few flashlights strapped on. Seems like a good deal to me. And at a price around $50 it really beats buying batteries.
Article: Celestron Power Tank