CNers have asked about a donation box for Cloudy Nights over the years, so here you go. Donation is not required by any means, so please enjoy your stay.


0
Duracell Power Pack 600
Discuss this article in our forums
In New Jersey we usually have many nights of clouds followed by one or two clear nights. On those clear nights I tend to try and stay out late. The other thing we have in New Jersey is a dew point that is usually close to the ambient temperature so some type of dew control is needed.
A couple of nights ago, I took out my Celestron 9.25 on an ASGT mount with a Thousand Oaks Dew Control and Kendrick 10" dew strap.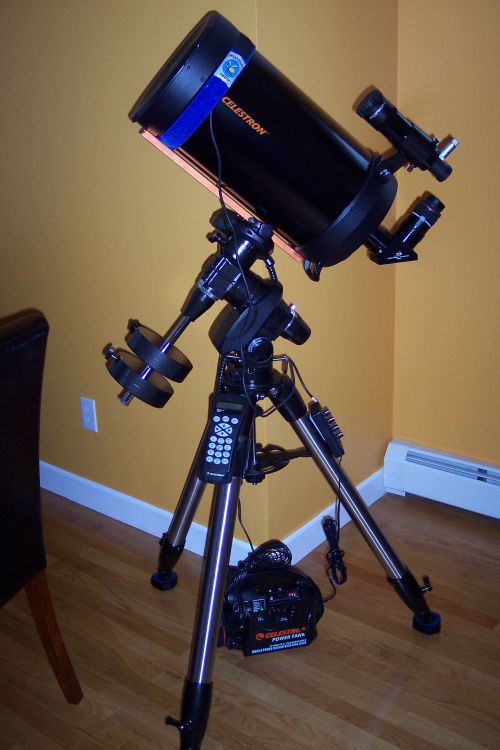 After 4 hours of viewing, the Celestron 7AMP Hour power pack ran out of battery. Several things contributed to only 4 hours of run time, the first was that it was in low 30's, the dew heater was cranked up all the way and as it was a great night I was slewing too many objects.
As soon as Mars came up, the battery switched into low power mode which meant my session was done.
As the battery has died on various occasions I decided I needed a new battery, from reading the forums, I decided I wanted to buy the Duracell Power Pack 600.
I ordered from Tiger Direct for a price of $139 with free shipping. Considering the weight of the battery, free shipping was a definite benefit.
Amazon.com also sells the battery, but Amazon.com does not take paypal and I only purchase astrogear using paypal.
I get the battery within 3 days of ordering. The battery comes nicely double boxed. The first thing I notice is how heavy the battery is, compared to the Celestron power pack. I read the instructions which are clear and written in correct English.
Some pictures of the Duracell Power Pack:
Front and back of Powerpack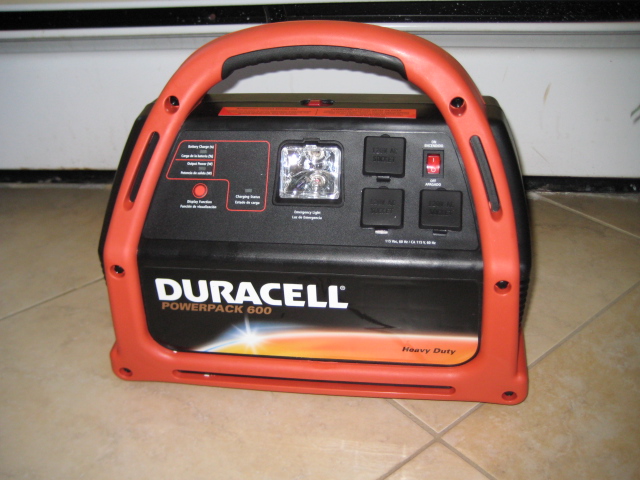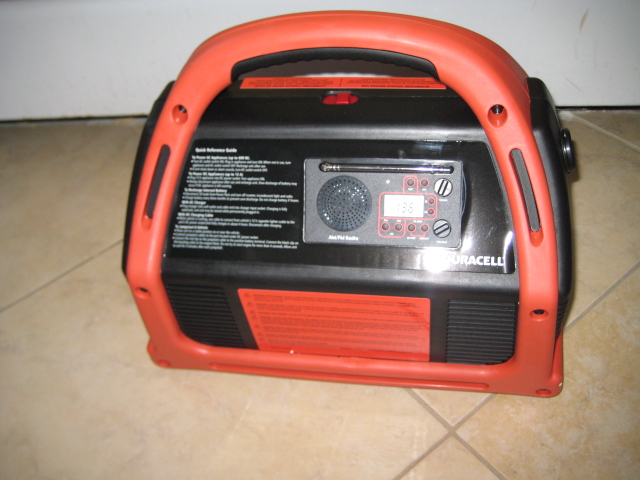 Size comparison between Celestron 7AMP power tank and Duracell: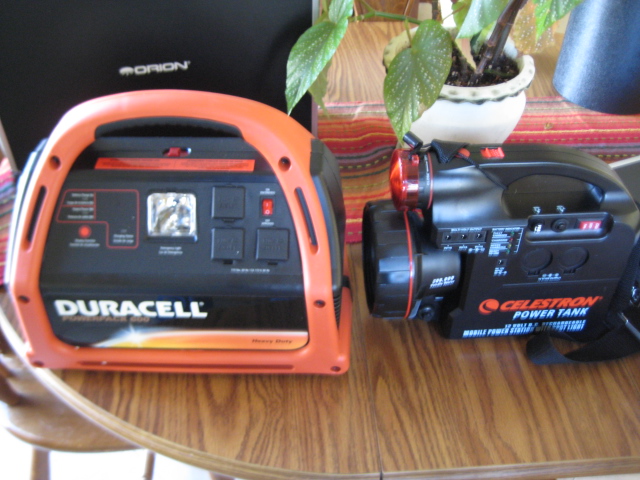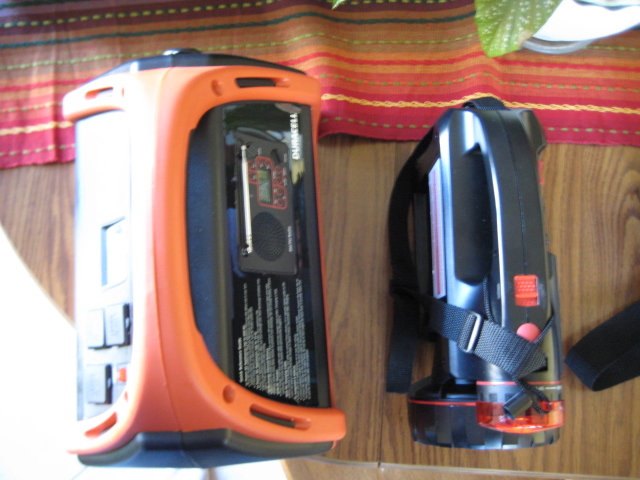 And lastly the large wall wart: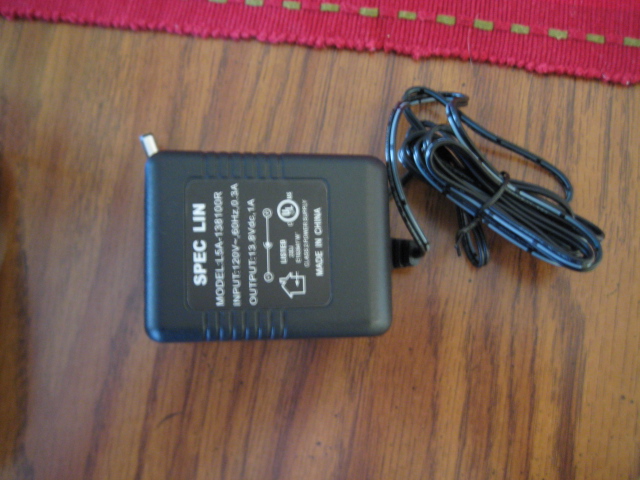 The manual says to charge it for up to 35 hours, the first time. I tried it and the battery went into trickle mode after 3 hours. To be safe I let it charge overnight. While it was charging I read the manual in detail and there is a lot to like about the battery, so I have documented the pros and cons below:
| | |
| --- | --- |
| Pros | Description |
| Cost | The battery is $139, which is a very reasonable cost, considering it has an inverter to run 120 volt AC equipment, a 28AMP Hour Sealed Battery, a charger that changes to trickle mode and several other nice to have features. |
| Trickle Charger | My one biggest complaint about the Celestron Power Pack was that you had to unplug the charger or you could overcharge the battery. The Duracell goes into trickle mode, so that it can be left plugged in all the time. I generally charge the batteries every week so I won't leave it plugged in, but not worrying about overcharging is great. |
| % Battery Life Reading | The Duracell has a % of useful live reading which gives one an idea of how much battery life they will have. I can't vouch for how accurate it is, but it is better than the power Tank which a yellow light comes on when you are done. |
| Battery size | A 28 AMP Hour is probably as much power as I need, I set out my 6" scope last night, cranked up the dew heater and left it running all night long and the battery still had 80% battery life. Since I can get 4 hours with a 7AMP hour battery pack on the 9.25 I expect to get at least 12-16 hours with the Duracell which is more than I need. |
| Handle/Build Quality | The Duracell has a very nice handle to carry it. The build quality is nice, mostly smooth plastic with some padding on the feet. |
| Accessories | The Duracell is very full featured, including some nice add ons such as French Language Stickers (for all our friends in Quebec), three 120 volt AC outlets, a car battery booster cable that comes in its own bag for storage, a flashlight and a radio. |
| Cons | Description |
| Size and Weight | The battery is very heavy, it weighs over 25 pounds and is large. I don't mind it, but be prepared it is another heavy item to carry on top of the scope, mount, etc. |
| Wall Wart | The wall wart is HUGE. This thing is 2 inches by 3 inches, considering that size usually equates to a lot of energy being used, I won't be leaving this plugged in all the time. Please note the manual recommends that you leave the battery plugged in when not being used. |
| No red light | The light that comes with the battery is white and pretty strong, don't turn it on at a star party |
| Too much stuff | I really only wanted a battery pack, some features such as the clock and radio are not really needed. I used the radio last night and the sound quality is ok, I guess if you use this at a construction sight, having a radio is nice, but it's a feature I don't need. |
| No way to turn off the clock | There is a clock and radio and while you can turn off the radio, the clock can't be turned off. |
Conclusion:
In the end, I would buy the battery pack again as I feel that the Pros outweigh the cons. If you find yourself running out of power and want a large power pack, I would recommend the Duracell Power Pack 600.
Article: Duracell Power Pack 600