CNers have asked about a donation box for Cloudy Nights over the years, so here you go. Donation is not required by any means, so please enjoy your stay.


0
Galileo Mars' Eye Red Dot Finder
Discuss this article in our forums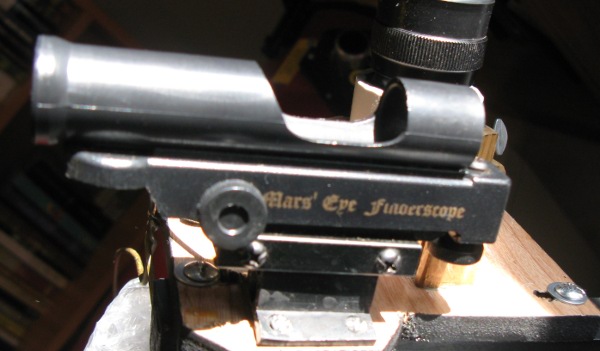 I had a new scope--a home-built F/4 8" travel dob--and needed a red dot for it. The two Walmarts around here that I visited were all out of the Daisy RDFs I use on my other scopes, so I ordered a used Galileo Mars's Eye red dot finder from a CN seller.
Visual impression: The Galileo brand of low-end astronomy goods seems to like an annoying blackletter font and gold lettering. But who cares? It'll be dark when I use it. The finder also has more plastic tube to it than the more open-air design of the Daisy, which I suppose adds to the weight.
Attachment: The Galileo RDF has a dovetail mount (just like the Daisy that I am used to) but also includes a 3/4" high plastic riser that screws to the OTA with four screws, and has a dovetail on it. The riser is designed for attaching to something curved, and when I screwed it tight to a flat focuser plate, it cracked a little. But this does not seem to affect functioning or security of attachment. It was nice not to have to make a dovetail or to have to permanently attach the finder to the scope. As a nice touch, the screws for attaching the finder to the dovetail are about 5/8" in diameter and knurled (in addition to a slot for a screwdriver) so one can take it off the dovetail and put it back on without a screwdriver.
Alignment: There are nice knurled knobs for adjusting the azimuth and altitude. This is much nicer than the screws on the Daisy (I ended up gluing something to one of the screws on one of my Daisy finders to make it easier to adjust in the field). I hate fiddling with a screwdriver in the dark. There doesn't seem to be much play, which is nice.
Battery: A single 3V CR2032, as usual. I actually had some spare CR2016s, which are also 3V but thinner, so I used that, together with a penny to make up the thickness.
The main function: The red dot has three settings, which we might call super bright, bright and off. Super bright is much too bright, unless one is sighting the moon. Bright is too bright, but usable, especially if one blinks with one's eyes between the finder and the sky. The dot is also kind of big, but not unusably so. I am guessing I could open it up and put in a larger resistor, but I haven't got around to it. The lens is darkened, just like on a Daisy, so one does need to use this two-eyed (or blinking betwen the eyes). On my Daisy finders, I polished off the dark stuff on the lens, but I haven't done it here yet. Polishing it off would presumably also make the red light less bright.
Overall evaluation: Does the job, though a little too bright, and I really appreciate the nice adjustment knobs.
Article: Galileo Mars' Eye Red Dot Finder